The Dumbing Down of the American Restaurant
Tom Colicchio, the celebrity chef, thinks 50 percent of restaurants may not survive the pandemic, and that they're going to have to change.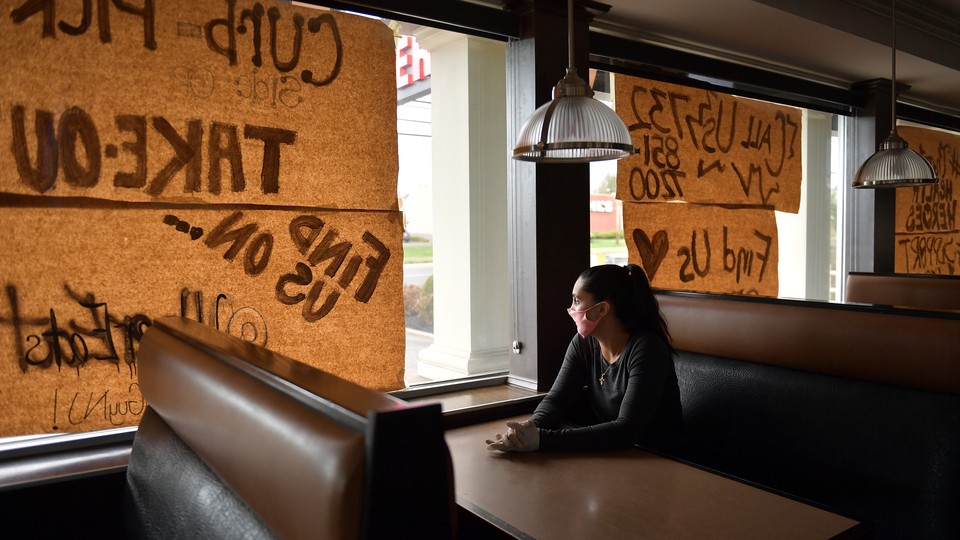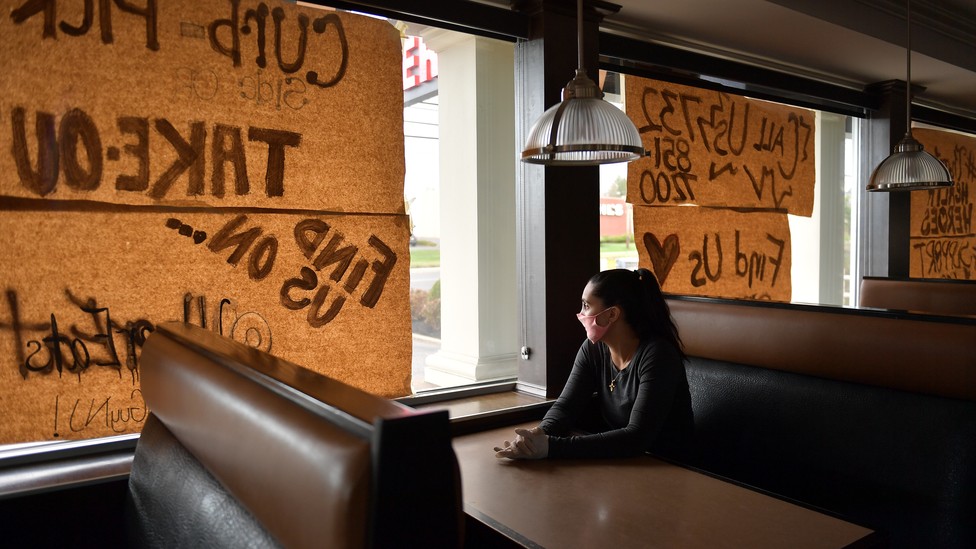 Three months ago, one could have easily argued that restaurants had reached their zenith of cultural and economic significance to the United States. But the coronavirus has dragged restaurant spending down 60 percent, and $3 out of every $4 is going to chains. The golden age of restaurants may be coming to a sudden end.
Tom Colicchio, the celebrity chef known to many Americans as a head judge on Top Chef, has been one of the more vocal advocates for restaurants during the pandemic. He's also been relentlessly dire about the near future of the restaurant business. "Restaurants have become a part of culture," he told me, but "the boom times of the last few years are over … Restaurants are going to have to change."
We spoke this week about the tough present and future of the U.S. restaurant industry. This interview has been edited for length and clarity.
---
Derek Thompson: One month ago, you said that you thought 50 percent of America's restaurants would not reopen. Are you now more or less optimistic about the future of restaurants than you were a month ago?
Tom Colicchio: Less optimistic. The James Beard Foundation did a survey of restaurants, and only 20 percent of them said they'd definitely remain open through the shutdown. Even if they get their restaurants open, they might immediately lose half of their seating to social distancing. Most restaurants can't get by with that.
The question isn't when we open up. The question is: When will the public feel safe to go to restaurants? If the disease is still around, people won't feel safe. And if they return to restaurants, and the bartenders and waiters are wearing masks? I don't think people are going to feel safe.
The boom times of the last few years are over. That reality just shifted in a major way. We're looking at a major recession, and maybe a depression. So who's going to go out there and spend right now? Restaurants are going to have to change.
Thompson: How do you see restaurants trying to adapt?
Colicchio: Restaurants will have to cobble together a business of delivery and community-supported agriculture. They'll sell proteins and vegetables and fish and cheese. They'll use their supply chain to act as a grocery store.
But in my case, for at least two of my restaurants, most of the business comes through private parties and conferences. For the foreseeable future, that's gone. I don't know how to make up the income. The only way to sustain yourself is to get major concessions on rent and shrink the staff. And, by the way, both of those things could make the recovery slower.
Thompson: You've been extremely critical of the federal response, including the Paycheck Protection Program. Why don't you think these measures will help the restaurant industry recover?
Colicchio: The problem with PPP is that it's not there to help small business. It's there to keep people employed. That might sound cynical, but it seems like it's designed to keep people off unemployment, at a time when unemployment insurance is very strong. [Editor's note: The CARES Act dramatically increased weekly unemployment benefits during the pandemic.]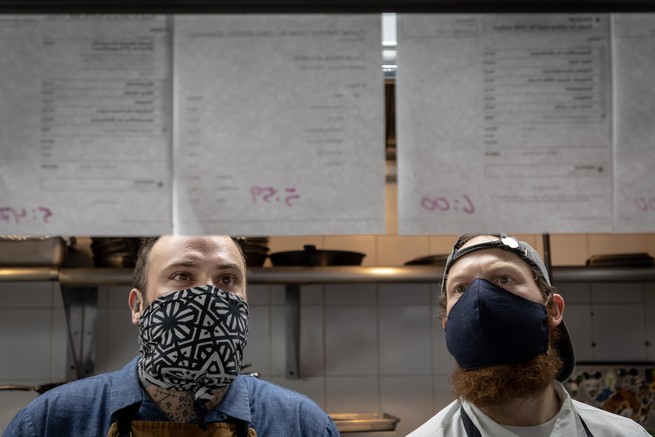 For businesses like restaurants that are mandated by the government to close, all PPP does for them is get them to keep employees, or hire back employees, that they might just have to lay off in two months, when PPP is over.
Thompson: You're saying PPP helps companies for the very short term but when the doors open up, a lot of them are going to die anyway. What would be better?
Colicchio: We are calling for $120 billion of replacement income to flow through restaurants, to pay our bills and our landlords. And that is based on what the loss of revenue will be over six months. [Editor's note: This restaurant-stabilization plan is designed to last through the end of 2020, meaning that it would start in July.]
Publicly traded restaurants could not tap into this money, and neither would restaurants with more than 20 locations. This is a plan that actually gives restaurants a runway to remain open. It would act more like a countercyclical program to keep restaurants alive during the crisis, rather than a block grant where the money runs out long before the crisis ends.
Thompson: There are so many different kinds of restaurants, from fast food to fast casual, like Chipotle, to fine-dining establishments. Who is surviving the pandemic?
Colicchio: The fast-food restaurants and drive-throughs are doing quite well. Some restaurants that do takeout are doing well too, but a lot of them will have to close because the delivery business is going to get spread out very quickly. From what I've seen and heard, some of the higher-end restaurants seem to be doing better than the lower-priced neighborhood places when it comes to takeout.
Thompson: That makes sense to me. I'm cooking five or six nights a week and doing takeout on weekends. But because takeout is the special occasion, I tend to order from the sort of restaurants where I'd be excited to dine out in a normal economy. So, without meaning to punish smaller neighborhood places, I'm implicitly setting the threshold for dining "out" pretty high.
But I wonder: Is this shift to delivery really sustainable? I've spoken with some restaurateurs who say they depend on booze and dessert to maintain their profit margins, and nobody orders booze and dessert to go.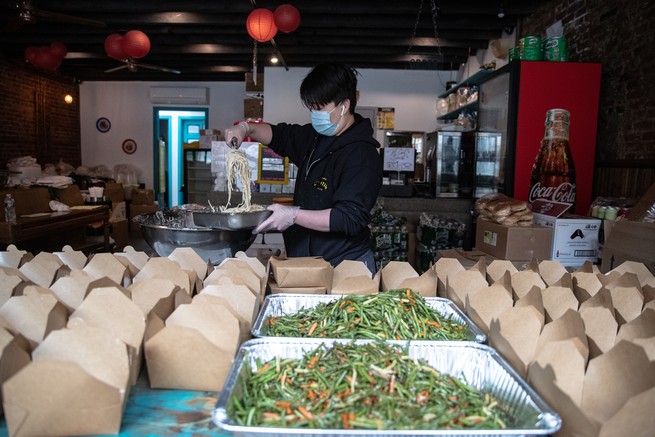 Colicchio: I think the bigger problem is that delivery services are charging 30 percent fees [for processing, delivery, and commissions]. That's just not sustainable for most restaurants. The most I can afford to pay is about 11 percent for delivery services, based on my payroll for front-of-house staff. With delivery, I still have to pay rent and overhead and the kitchen. What I'm cutting out is front-of-house. Eleven percent is all I can afford.
In New York City, there's a bill where they want delivery charges capped at 10 percent [of the total purchase price of an order]. That would work. It would also push more people to call the restaurants directly.
If I were going to do my own delivery—if I were to bring delivery services in-house, where my own waitstaff delivers the food—I would probably limit deliveries to a certain radius around the restaurant. But the customer would pay for that service. Right now, the customer is getting the benefit of the delivery, but the restaurants are paying for it, and many of them can't afford it.
Thompson: I've spoken with several retail analysts about the possibility of automating more of the restaurant business. They point to places in China and Japan that use tablet ordering and conveyor belts. Do you think American restaurants are ready to automate more of their business—or that diners would want that?
Colicchio: Sure, I could see more automation. Even if it means reading the menu online before you come into the restaurant, to cut out that interaction. That would change the whole dining-out experience by shrinking it 30 to 45 minutes.
The other possibility is that people could order through an app when they arrive at the restaurant. But all that will do is eliminate the need for servers. You still need chefs in the kitchen. It would be a little like going to a restaurant at a New York airport where you order through the tablet.
Thompson: That's a chilling thought.
Colicchio: Automation is very possible for fast-casual or lower-priced restaurants. But at the high end, there's an amount of hand-holding that people expect when they dine out. They go to restaurants for that experience.
Thompson: I wonder how all of these changes could affect the literal taste of restaurant fare in America. After Prohibition, there was a die-off of high-end restaurants that needed to sell alcohol to stay in business. There was a coinciding explosion of diners. So the flavor of American cuisine shifted meaningfully toward comfort food: burgers, fries, milkshakes. Today, I'm seeing some of the same thing. Alinea in Chicago is moving from $400 prix-fixe menus to delivering beef Wellington and mashed potatoes. Do you think the taste of restaurant fare could change?
Colicchio: I wouldn't say taste. The actual items start to change. Certain foods you can't prepare for delivery, because it has no tolerance to be reheated. That's not a matter of taste; that's a matter of menu. And presentation, that's going to be gone, because you don't get presentation in a to-go box.
When you think about a restaurant—think of Alinea, Per Se, Jean-Georges—they're all using many of the same techniques and ingredients. The biggest difference is style in plating and atmosphere. Those are things you can't really put in a delivery box. I think that's what's forcing the move to comfort food.
There's a price point that the high-end restaurants can't maintain right now. If people don't want to spend $100 to go out, restaurants have to bring prices down. Which means you have to cook different food or cut back staff. Eight cooks on a line become five. And all of a sudden you're in comfort-food mode.
Thompson: Millions of people who didn't see themselves as cooks have been forced to do a lot more cooking because of the pandemic. I wonder how you see this cooking-from-home trend intersecting with the future of restaurants. Will this make us better chefs, so that our reliance on restaurants is meaningfully reduced?
Colicchio: In the longer run, I actually think it could be the opposite of what you said: The more people cook, the better appreciation they have for what a chef does at a restaurant. What I cook at home is very different than what I cook at a restaurant. People who are home cooks are going to get tired of their own food. If you go to a restaurant, it's about service and hospitality and the physical environment that's created in a restaurant.
Restaurants have become a part of culture. I think when they feel safe, people will go out just as frequently, and restaurants won't be in danger of losing that customer base.
Thompson: In the past decade, it seems to me that you've seen several key restaurant trends—the rise of high-end fine dining and the boom of fast-casual places like Chipotle and Sweetgreen. Both of those trends benefited from strong labor markets in cities, leaving people with disposable income and stoking demand for fast food that wasn't "fast food." What's next?
Colicchio: I think we're going to see a dumbing down of restaurants. We saw this in the 1980s, when everything turned into a bistro. We're going to have to rely on other sources to find income. You'll have places try to remake themselves as a casual restaurant, as a supermarket, as a fast-casual restaurant. That's a lot of things that have to happen at the same time. I have a sense that restaurants are going to try to do a little of everything. But that means they won't do everything well.