Summer Is Approaching. Bring Camp Back.
The risks are manageable, and parents and children alike would benefit from cautiously reopening outdoor programs.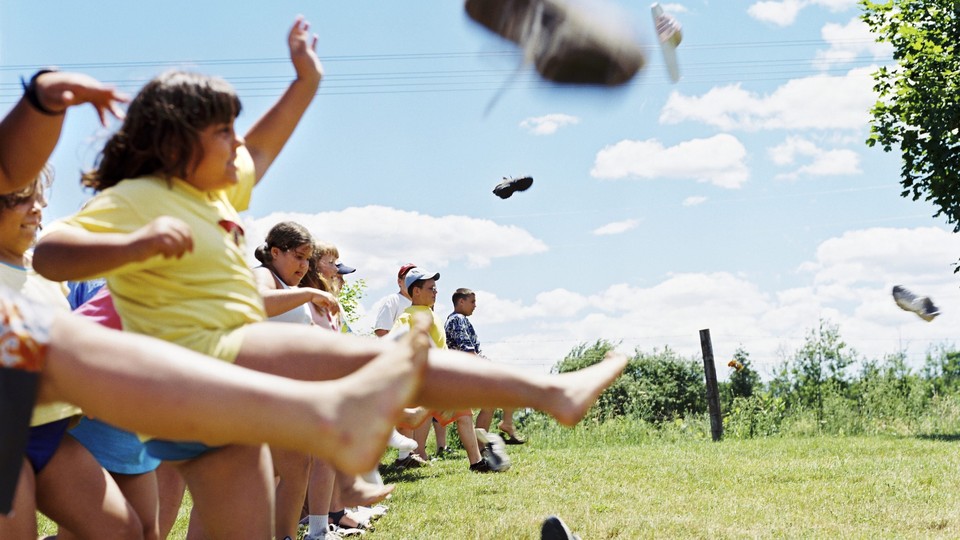 Children, too, have become victims of the pandemic. The problem goes beyond those hospitalized for COVID-19 or diagnosed with a mysterious new inflammatory syndrome associated with the coronavirus. The damage is far more widespread: Although tens of millions of American children show no medical symptoms of COVID-19, their education, mental health, and development have suffered because of the virus. Adults need to help them regain normalcy. One way to do that is by opening summer camps as soon as possible. Children face a relatively small risk of harm from summer camps, the risk that their participation poses to adults can likely be managed, and the benefits of giving families at least the option of sending children to camp are substantial.
Abruptly, American children had their life turned upside down by COVID-19. They have been separated from friends, teachers, and schoolmates. All extracurricular activities—sports, dance classes, play rehearsals, band practice, and just hanging out with friends—have ended. They have been rushed indoors and told to learn from screens. Now they face a summer in isolation—stuck at home with long stretches of unstructured time, away from their peers. That is unhealthy.
Many people have worried about the educational delays that online learning will cause, especially for younger children who are not easily taught virtually. Playgrounds have been roped off, leaving kids to make do with Zoom playdates. Many parents have noticed how unsatisfying these can be—just as Zoom meetups can be for adults. For children especially, virtual life is no substitute for real life.
The pandemic is causing children to miss out on play and socialization during an especially crucial period of their life. As the American Academy of Pediatrics stresses, social play is essential for children's health and well-being, improving brain development, reducing stress, and teaching emotion management. Playing with peers also develops language and academic skills; promotes prosocial behavior, such as negotiating, devising, and following rules; helps children learn to make friendships; and enhances their sense of agency. And this social activity can also affect physical well-being: Evidence suggests that childhood social activity is associated with better physical health by adolescence.
Children aren't the only ones who suffer from being home all day. For parents, the burden of working while providing child care and serving as teachers' aides—without the assistance of schools, sports, social clubs, and other organized non-familial activities—is enormous and unsustainable.
Reopening summer camps across the country will benefit entire families. American children need to socialize, exercise, and learn in order to continue along their developmental trajectory. And American parents can't work at full productivity unless their children are taken care of.
Obviously, reopening camps poses risks. Nothing in life is risk-free. Governments, restaurants, retail stores, nail salons, theaters, and a myriad of other establishments are developing detailed protocols with the goal of a structured and phased reopening of economic and social activities. The protocols are meant to reduce viral-transmission risk. But they cannot totally eliminate it. Unfortunately, Americans have not had much leadership or guidance on how to reopen. The flow chart issued by the Centers for Disease Control and Prevention for schools and summer camps is totally inadequate, providing no template for standard operating procedures. It only asks each camp to develop some plan, without detail or guidance on what minimal standards are appropriate.
For camps, reopening safely could mean organizing campers into physically separate "pods" to minimize cross-group exposure, and requiring everyone on site to wear masks and wash their hands regularly. Camps might even include face-mask making as an arts-and-crafts activity. Engaging in as much outdoor activity as possible while avoiding indoor spaces will also reduce risks. There are few documented cases of transmission outdoors, especially when combined with other public-health measures. Coronavirus transmission depends on exposure to the virus over extended periods of time, especially in a closed, poorly ventilated setting with lots of sneezes and coughs. When indoors, keeping windows open for ventilation and frequently disinfecting surfaces can mitigate some risks. Summer camps are uniquely positioned to implement zones of reduced transmission.
Despite such precautions, some children will inevitably become infected with the virus. This is a serious problem, but the available data can help us put the health risks to children in perspective.
Although children are not immune from serious complications, their chances of becoming severely compromised by COVID-19 are low. There are more than 1.5 million confirmed coronavirus cases in the U.S. right now. By a credible estimate, children account for about 50,000 of them.
As with adults, the risks are higher for children with serious comorbidities—diabetes, cancer, immunosuppression, obesity, and so on. Indeed, a study of 46 intensive-care units found that more than 80 percent of children hospitalized because of the coronavirus had preexisting conditions. Unfortunately, not enough data are available to determine the true number of hospitalizations, ICU admissions, and total COVID-19 deaths among children. However, data on hospitalizations from pediatric ICUs suggest that fewer than 500 children have been admitted, with 26 deaths. In the epicenter of the outbreak—New York City—only 10 children have died out of nearly 16,000 total deaths. These deaths are tragic, but the number is strikingly low, given the scale of the pandemic—and in comparison with the other risks that children face. In an average year, about 12,000 children die from unintentional injuries, such as those sustained in motor-vehicle accidents. In 2020, the coronavirus will be a leading cause of death among American adults, but far down the list for children.
COVID-19 is distinct from other infections, such as H1N1 and malaria, which strike children harder than they do adults. Most important, in countries that have reopened some schools, such as Denmark and Germany, infections appear to have risen modestly, but no evidence indicates that a massive outbreak has occurred among children—or adults. Completely protecting children from harm is impossible, but the available evidence suggests that, for most children in the United States, the risk of COVID-19 at summer camp is very modest.
In fact, camps' greatest risk is to adults—to camp counselors, camp administrators, parents, and other adults in children's households. That many on-the-ground camp counselors are, in practice, under 25 is helpful in minimizing hazards. Older camp administrators who choose to reopen will have to devise precautions to protect themselves. Those who are more risk averse can't be forced to work. Families would be under no obligation to enroll their children. For some parents, such as those with serious health problems or those living in multigenerational houses, sending kids back and forth to camp may be too much of a risk. For others, camp will offer both them and their children a welcome relief. Families will have to make educated decisions based on their own comfort level.
Crucially, opening up will depend on the continued expansion of testing in local communities. If a state has to issue a stay-at-home order as a result of a spike in cases, camp may be impossible. Communities should try to bring back summer camps, but they should be prepared to suspend them if public health demands it.
Camps can be a real solution for many groups affected by the pandemic: children with free time but no social life or activities, young adults in need of a job, parents who need to be free of all-day child-care responsibilities, camps that need revenue to survive, and communities that wish to feel the beginning of a return to normal.