America's Next Crisis Is Already Here
State and local governments are being hit hard by the pandemic, and the consequences could be dangerous for democracy.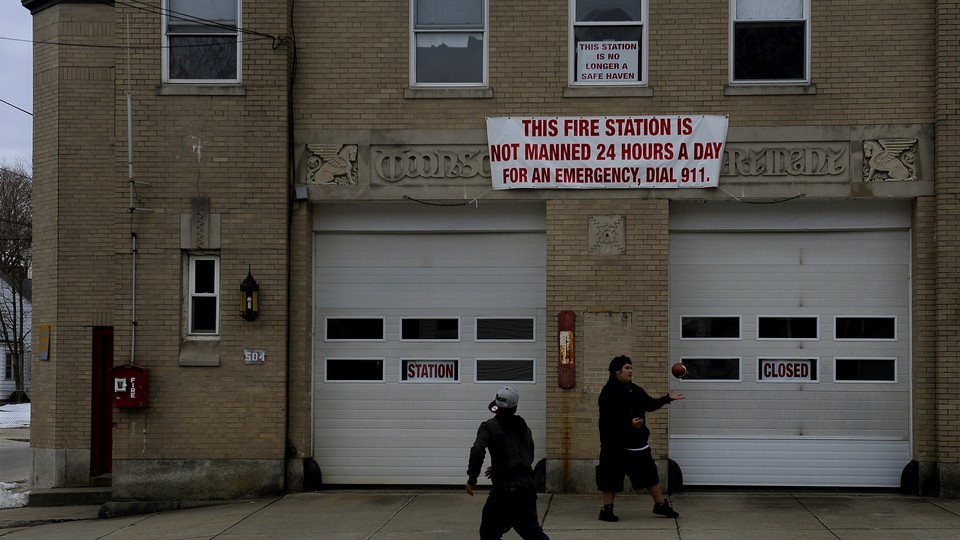 The coronavirus pandemic has eviscerated state and local finances. The country's roughly 90,000 nonfederal-government entities provide and pay for most of the government services that Americans receive. Factor out federal defense spending and the federal government's contributions to health care, and state and local governments do most of the government spending too: $4 trillion worth, or more than one-fifth of America's gross domestic product.
State and local governments lay the groundwork for prosperity, often literally—building roads and airports, courts and schools. Those they employ or contract—including police officers, firefighters, teachers, health-care workers, garbage collectors, and building inspectors—make the rest of the economy hum.
But the dollars that state and local governments rely on to support public services are withering. Closed shops and offices, empty streets, and the obliteration of the travel and entertainment industries threaten nearly every source of state and local revenue. Talk to state and local officials, and those who serve and study them, and you'll soon discover that they're preparing for a grim triage of services.
The stakes couldn't be higher. The loss of essential services hurts a community's health, safety, and quality of life. It is also politically dangerous. When governments fail to protect their constituents during a pandemic and cut back on social services in its aftermath, they can sour their constituents on democracy and help fuel political extremism.
Government and think-tank estimates project total losses in state and local revenue at 15 to 45 percent, shaving up to $1.75 trillion a year from the most essential things governments do. A survey by the U.S. Conference of Mayors and the National League of Cities found that nine out of 10 American cities plan to make deep cuts to their budgets and services. Half of those will need to make last-resort cuts to their police and fire departments.
Public schools are overwhelmingly dependent on state and local revenue. If the estimates that school-district revenues across the nation will drop by an average of 15 percent or more prove right, the country would likely lose one in 12 teachers. In the worst-hit states, one in five may go.The speed with which this crisis has hit local economies exceeds that of even the Great Depression.
Senate Majority Leader Mitch McConnell and President Donald Trump have been openly skeptical about approving aid to plug these holes, but congressional proposals to provide $200 billion are gaining bipartisan support. House Democrats are mulling $1 trillion in aid. But even that eye-popping number may be unequal to the scope of the crisis, which could leave state and local governments struggling for years.
"The crisis started to really hit me in February, when we started to talk to the local hospitals," Paige Cognetti told me. Cognetti became the mayor of Scranton, Pennsylvania, in January, after she was elected to replace a mayor headed to prison for bribery and extortion. "By early March, it was clear that we wouldn't have our big Saint Patrick's Day parade. That usually brings in a lot of money for businesses in town, and it struck me then that this crisis would affect us for a long time and hit city services. A lot of things keyed off of that decision."
Cognetti soon closed city hall to the public. "We looked objectively at what it takes to run a city. We decided to keep police and fire whole in order to keep everyone safe, and to move everything else online." She furloughed 43 of 600 city workers, making Scranton one of the first municipalities in the country to take that step in the current crisis. "I took a lot of heat for that, but again, we were looking at the absolute necessities ... police, fire, public works, and garbage. If garbage piles up, people panic." Cognetti holds town-hall meetings twice a week on Facebook Live. "It really doesn't cost anything. For $5 a week, we can communicate with the community." She said the city has not released any revenue or spending projections, because there's still too much uncertainty.
"The economic health of a community determines its resilience," Michael Nadol, a former deputy mayor of Philadelphia, explained to me. Now a consultant, he has played the role of receiver for municipalities that get in such deep financial trouble that the courts appoint an expert outsider to steer their finances. "The worst-hit communities are those up against it already. It's parallel to who's suffering from the virus. The vulnerable places with vulnerable populations suffer most." Nadol said that mid-size cities, many of which have big-city challenges without big-city revenues, will be among those that suffer the most in the near term. Over time, the pain will spread wider and deeper.
The fiscal crisis is building just as most cities in America are creating and adopting their budgets for the coming fiscal year. No one knows what revenues will look like, or whether federal aid will materialize. In a normal year, federal aid accounts for only a quarter of the trillions that state and local entities spend. The rest comes from whatever state and local sources they tap to fill their coffers. Most communities in the United States rely on a mix dominated by local property taxes, state income taxes, sales taxes, and fees. All these sources are falling short.
About two-thirds of all locally collected revenue—as opposed to funds collected by the state and passed on to local governments—comes from property taxes. Before this crisis, property taxes raised $500 billion for local use, funding services including schools, police departments, and fire departments. For now, in the early stages of the pandemic, property taxes remain one of the most stable sources of revenue. But they are a time bomb that may demolish many budgets in a year or two.
Michael Pagano, of the College of Urban Planning and Public Affairs at the University of Illinois at Chicago, studies local governments in financial crises. He told me that property taxes are paid at rates determined one to three years before the tax is paid, cushioning the impact for now. "Governments more dependent on property tax have more time to adapt to the crisis," he said. But Pagano warns that if this crisis runs long enough, large numbers of property owners who are in trouble may not be able to pay their property taxes.
More than 36 million Americans have filed for unemployment, and many others have seen their income decline. Households are paring back expenses to daily essentials and deferring payments on rent, mortgages, and taxes. When citizens stop paying property taxes, local governments can force tax-foreclosure sales of the delinquent property. But when the pain is this widespread, that can compound the underlying problem, forcing governments to provide for the residents they've left homeless and to pay for the upkeep of property they can't sell, and driving down the tax value of surrounding properties. Detroit's Wayne County, anticipating a wave of delinquency, has temporarily suspended tax sales and evictions.
Pagano added that property values in some parts of the country are already sinking—which will eventually depress assessments and revenues as well. Property taxes may be the most stable source of local revenue, yet in a prolonged crisis, they get shaky too.
How about nonfederal income taxes? They provide about $400 billion in state and local revenue. With high unemployment and salaries getting shaved, the size of the hole here is uncertain, but undoubtedly huge.
Sales taxes? Retail sales account for about 70 percent of all economic activity in the U.S., and before the crisis, the sales tax on purchases delivered about $600 billion to state and local governments. Retail sales dropped by 16.4 percent last month, on top of an 8.3 percent hit in March, but state and local sales-tax receipts can drop by disproportionally greater amounts. One reason is that essential goods, such as food and drugs, and services such as health care are often minimally taxed. U.S. Census Bureau estimates suggest that sales-tax receipts in the U.S. could drop by 25 percent.
Road taxes have hit the skids too. The nonfederal share of fuel taxes pays for half of states' road-related costs, $40 billion worth. Overall, traffic and fuel consumption are down 20 to 30 percent, and in cities as much as 40 percent. So are the related revenues.
People are drinking more, so how about liquor taxes? In the state and local tax cocktail, they're just bitters, accounting for $10 billion. Capital-gains taxes? Most investors lost money in the market swoon. Airport taxes and gate fees? Hotel and entertainment taxes? Stadium revenue? These old, reliable sources of revenue won't deliver much money right now.
Municipalities that relied on travel and entertainment are in a particular bind. "We're somewhat unique in Sandusky," says Eric Wobser, the city manager of the Ohio town of 25,000 on Lake Erie. "We're a smaller town with an influx of 10 million visitors every year who come for Cedar Point [an amusement park] and water amenities. A disproportionate amount of our revenue is seasonal." A lengthy closing of Cedar Point would slash 45 percent from Sandusky's city budget, mostly due to lost sales taxes and other tourism-related sources. "On March 16, when our governor announced the state would close restaurants and then schools, I thought it would be a few-weeks thing. In Sandusky, we were planning to announce our big plans for the 150th anniversary of Cedar Point. When I realized the park could not open, I saw that the rest of our economy would shut down. We will be one of the most affected communities, per capita, in the country."
After the Great Recession in 2008, communities across America learned that they needed big rainy-day reserves for when disaster struck. In early March, such reserves overall were at all-time highs, and communities generally had money to run for 30 days following a shock. Sandusky put aside $5.2 million to cushion against a hit to its $24 million annual budget. But Sandusky, like all other places with such reserves, didn't plan for anything like the present reality. "We thought we were in healthy condition. We had lowered our debt, raised our taxes, built reserves. We planned new infrastructure and created a $2.3 million fund to improve century-old, out-of-code local housing," Wobser told me.
Those improvements were shelved indefinitely. "Now we've already cut 10 percent from our budget, eliminated positions," Wobser said. "So far, we've avoided cutting public-safety personnel, but the next round of cuts will impact that. And we'll deficit spend this year and next. It's devastating. We'll be reducing police and fire. The city is not so property-tax dependent, but the schools and libraries are."
Wobser said those will take big hits too, given that "most of the city's revenue sources will be zero." Like a lot of older cities, Sandusky is adjacent to newer communities that have drawn away its revenue sources. "There are a lot of unincorporated areas where our middle class and retail went to. They took from us and their needs are not the same." Wobser hopes that if more federal relief comes, it takes into account the deeper needs of legacy cities, with their vulnerable populations. "We need something that's redistributive," he said.
Sandusky may be unique as a tourist destination in Ohio, but entire states, including Florida, Nevada, and Hawaii, have built their economy around tourism. They tend to favor policies that keep taxes and services low in comparison with other states. Low taxes make them especially attractive to retirees, who bring their savings with them. Now these states' economies are hit hard.
In Nevada, one in four jobs is in leisure and hospitality. Las Vegas suffered some of the worst job losses in the country, as the pandemic hit, and all but went dark. Three-quarters of the state's population lives in Clark County, which expects its municipal budget to be cut in half, with sharp reductions in services, including public safety, health care, and education.
Florida raises more than 70 percent of its revenue through sales taxes, and tourists typically pay 20 percent of the total. But tourism is wrecked, and the state's own shoppers are stuck at home. Florida Governor Ron DeSantis has promised no consequential cuts to services. But that's happy talk in a state that already struggles to deliver the services its citizens need. Florida's dysfunctional unemployment system lacks the resources necessary to deliver federal money to hundreds of thousands of jobless workers.
The ratings agency Moody's forecasts that Florida will suffer a budget shortfall of $6.5 billion to $10 billion. That will be compounded by $1.74 billion in coronavirus-related Medicaid expenses. Add that up, and the state budget may be facing a 25 percent hole. And that's just the state's revenues; localities will have their own large losses. "We're trying to find 127 million tourists to have the confidence to come back and patronize our state," Jimmy Patronis, Florida's chief financial officer, said recently. "This is a one-of-a-kind enemy that we've never seen before."
Florida faces some unique challenges, but the general picture holds true elsewhere as well. "We expect our revenue sources to fall off a cliff," Jorge Elorza, the mayor of Providence, Rhode Island, told me. "We don't know what's around the corner, except that it's uncertainty atop uncertainty." Providence relies heavily on property taxes, he said. The city can get through the short term without drastic action, but "as the city puts together its next budget, it will need to have an extremely painful discussion."
Elorza expects cities to face compounding problems, as needs increase and revenues decline. "At the city level, we bear the brunt of the burden to help people," he said. "If people are being foreclosed on and lose their home, they turn to their cities for support. But that need now is coming when the cities are most strapped. If there are deficiencies at any other level, we at the local level have to try to fill the void."
Even communities on the firmest fiscal footing face trouble ahead. Montgomery County, Maryland, profits from its proximity to Washington, D.C. "We have a robust tax structure with our combination of income tax and property tax," the county's budget director, Richard Madaleno, told me. "We're in a vibrant community with wealth; we have a 10 percent budget reserve of $500 million and a fully funded retirement system." Madaleno said that the county is budgeting for a 15 percent unemployment rate. In the short term, that will be cushioned by Congress's addition of $600 each week to individual unemployment checks and 13 weeks to the coverage. But a large proportion of local services, including education, are paid for by state sales taxes, which, Madaleno said, are in a "medically induced coma."
As the crisis extends, not even a big new federal package of aid for states and localities can rescue the county from deep cuts. "Just as the economy starts to wake up," Madaleno said, "we will have another wave of disaster as state and local governments start cutting back, especially on things like infrastructure projects that provide jobs that are critical to weathering a downturn. We're not like a family. We cannot tighten our belts. We have to organize [COVID-19] testing, do contact tracing, and everything else. We need to spend more in a crisis as our revenue goes down."
Budgeting puts a lot of pressure on state and local governments under any circumstance, but it is particularly hard when elected officials, administrators, and citizens need to connect remotely. The mayors and city managers I talked with have worked to move meetings online. But efforts to engage local communities in the hardest decisions their governments will ever have to make have run headlong into the confusion and desperation of ordinary Americans.
"I did a town-hall meeting with a news station," Elorza said. "We invited the public to call in, and the overwhelming number of questions to me were from people wondering where their stimulus check was." That's an urgent question, but one that local officials aren't able to address.
The problem is compounded by the collapse of local news outlets during the pandemic, as advertising has evaporated. Penny Abernathy, of the University of North Carolina, keeps track of the local-news business. By her count, the United States has 5,500 small dailies and weeklies and nearly 150 state and regional papers. "The bulk of both the loss in circulation and the loss in journalists has occurred at the state and regional level," Abernathy told me. "So that has wiped out all of those critical beats that we used to rely on, whether … it was [health], political coverage of the state, all the great investigative work … And then on the local level … what's been wiped out is, you no longer have someone showing up for the routine government meetings, like the school board."
The shift to digital meetings and the disappearance of local news coverage are widening the gap between the affluent, highly educated, engaged voters who are able to make local governments respond to their desires and the rest of the population, who have greater needs but less leverage. "People can log in to public meetings from home," Elorza said. "We will continue to invest in that. But I am concerned less about the technology than about the equity and how we can support people without high-speed internet." And a similar divide is visible among municipalities. "Larger cities have the resources to use tech better; smaller ones do not."
"It's very difficult to get citizens involved by Zoom," said Madaleno, whose county is among the best educated in the U.S. "In prior years, the budget hearings were full of teachers, parents, etc. wearing T-shirts, holding signs. Now all of that has disappeared. You can sit at home and watch people deliberate, but that's not the in-person aspect that's critical to democracy. It's one-way, and it's more true on the local level." There are certain people in every community "who have the officials' cellphone numbers and who can get someone on the phone," Madaleno added, but "a hearing is for everybody."
When crises hit and the public demands action, executives often gain new powers. New York State's legislature, for example, ceded Governor Andrew Cuomo unilateral authority to make cuts to the budget for up to one year.
That extraordinary authority demands robust oversight to guard against self-dealing, corruption, and incompetence—and it requires democratic feedback and participation to ensure that government remains responsive to the needs of its constituents. But all too often, that's not what happens.
"We seldom have leaders as wise, accurate, and just as we wish," Archon Fung, a professor of citizenship and self-government at Harvard, wrote in the Boston Review, but democratic engagement can check their power and compel them to serve us better. Relinquishing the process of democratic deliberation in favor of centralized authority, he argued, means surrendering citizens' orientation "toward the common good [and to] do their part to make society work well."
Cognetti, Elorza, and other mayors are betting on the potential of technology to draw citizens into the process of governance. Perhaps with enough outreach and education, technology can increase citizen participation—-and passion.
But in the current crisis, it was the small number of camo-wearing, assault-rifle-toting protesters in Michigan who most effectively made their presence felt. President Trump insisted that the Michigan protesters were "very good people"; the threat they posed led to the abrupt cancellation of the state's legislative session.
Such protests remain exceptional, but they point in a worrisome direction. "There is a rough consensus in political science that governments in crisis tend to veer toward the extreme right and authoritarianism," the Northwestern University political scientist Jeffrey Winters told me.
Kristian Blickle, an economist at the Federal Reserve Bank of New York, studied Germany in the grip of the influenza pandemic, from 1918 to 1920. He found that the German cities where the most people died spent the least per capita on their inhabitants in the years just after the pandemic. These were also the places where right-wing-extremist parties did especially well in elections a decade later. His findings, Blickle wrote, show "that pandemics may not only affect the provision of public goods, but that they may have a direct effect on extremist voting."
If Blickle's study has lessons for states and localities facing deep cuts to revenue and services now, one might be that democracy is best maintained when governments have the capacity to serve their constituents. That would seem to argue for a federal aid package big enough to save state and local governments from making the deepest cuts now—and capable of fending off the rise of extremism.
But any such package would have to make its way through the U.S. Senate, where Mitch McConnell has already expressed his skepticism. "One possible way to understand Mitch McConnell's reluctance to offer aid that he believes will overly favor so-called blue states," Winters said, "is that the right is worried about what the big federal relief packages Congress has already passed show, namely that big government can redistribute wealth and improve lives. And that Americans have the power, through our government, to make such giant redistributions happen."
For now, state and local governments face a worrying mix, with revenues in steep decline, expenses skyrocketing, oversight disappearing, and democratic participation dropping. If they're going to meet the needs of their people and bolster public faith in the democratic experiment, they're going to need help from the federal government—and greater engagement from their constituents.