Oklahoma's Suspect Argument in Front of the Supreme Court
The state claims that affirming a reservation in eastern Oklahoma could lead to thousands of state criminal convictions being thrown out. But that argument doesn't seem to be based on facts.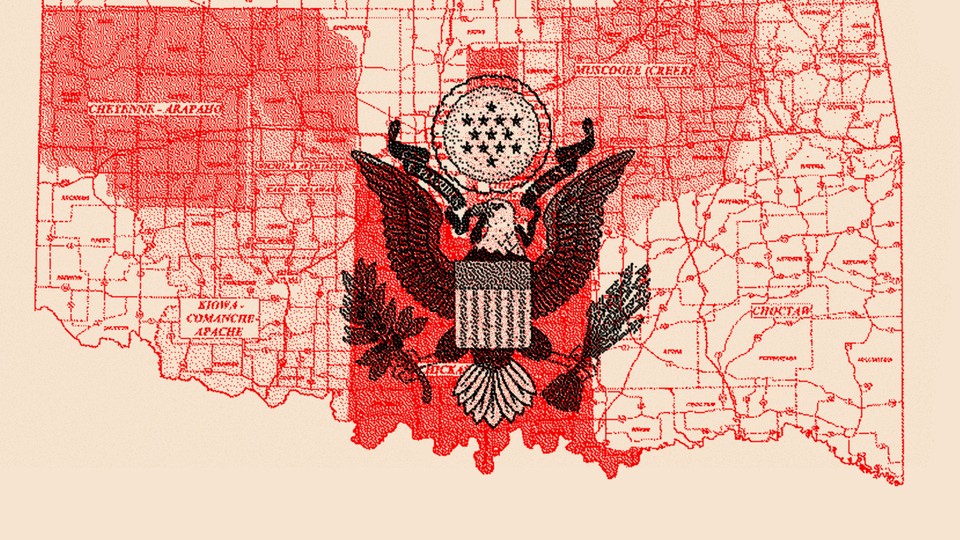 Next week, by teleconference, the Supreme Court will hear a case that will determine whether much of Oklahoma is an Indian reservation. While the case hinges on a textual legal question, much of the discussion—inside and outside the Court—has focused on the potential impact of the decision. Oklahoma argues that if the Supreme Court affirms the reservation in the eastern half of the state, decades of state criminal convictions could be re-opened and possibly thrown out. On the surface, that sounds like a realistic fear. But as a careful examination reveals, it is anything but.
The background to the case is a bit winding, but it starts on an August night in 1999, when Patrick Murphy pulled his girlfriend's ex-husband out of the backseat of a Dodge sedan, slashed his chest and neck, cut off his genitals, and left him on the side of the road to bleed to death. Murphy was arrested, found guilty, and sentenced to death by the state of Oklahoma. But in 2017, the Tenth Circuit Court of Appeals ruled that Oklahoma didn't have jurisdiction to prosecute the murder, because it had occurred on the reservation of Murphy's tribe, the Muscogee (Creek) Nation. Oklahoma said that reservation no longer exists.
The day Murphy won in federal court, Jimcy McGirt was serving life without parole for sex crimes against a 4-year-old child. Although Murphy's case was still pending before the Supreme Court, Native inmates at the James Crabtree Correctional Center in Oklahoma were filing petitions claiming that their crimes had happened on reservations too. McGirt was one of them. With only eight justices (Neil Gorsuch had recused himself), the Supreme Court was unable to reach a decision last summer in Carpenter v. Murphy (now called Sharp v. Murphy). It appears that McGirt's case got picked this term so the Court could answer the reservation question with all nine justices weighing in.
Generally speaking, states don't have jurisdiction over crimes committed by Indians on Indian land—only the federal government and tribes do. But Oklahoma has been exercising criminal jurisdiction in the disputed territory for well over a century. Oklahoma argues that because a total of five tribes share a very similar legal history, the Supreme Court's decision—depending on how it is worded—could impact a total of 19 million acres, or 43 percent of the state. Murphy and McGirt are not the only Indians who've been prosecuted there.
In a brief in McGirt v. Oklahoma, Oklahoma warned that if the Supreme Court rules that the state's eastern half is Indian country, "thousands of state convictions" could be thrown out and have to be retried in federal court. But "because of statutes of limitations, stale evidence, or insufficient resources," those new trials may not result in new convictions, but rather, the implication was, violent criminals—such as McGirt and Murphy—walking free. "That's 155 murderers, 113 rapists, and over 200 felons who committed crimes against children," Lisa Blatt, a lawyer for Oklahoma in the 2018 oral arguments for Murphy, said of the convictions that could be reopened.
The justices seemed alarmed by Blatt's numbers when—in a rare move—they asked both sides to answer additional questions, including whether any law exists that would allow Oklahoma to maintain criminal jurisdiction, regardless of whether or not the land is a reservation.
But I couldn't find any public record for the numbers Blatt cited—even in the briefings for both cases. When reached for comment, Blatt said she couldn't speak for the state and directed me to Oklahoma's current counsel. I had already asked the Oklahoma attorney general's office where the numbers had come from, but it also declined to comment. So I decided to find out for myself.
In response to an open-records request, the Oklahoma Department of Corrections provided a list of 1,887 Native Americans incarcerated as of December 31, 2019, for crimes that occurred in counties in the treaty territory of all five tribes. With the help of a paralegal, I spent months looking up the court records for approximately 300 of these inmates. While Oklahoma seems to count all 1,887 inmates, or something close to that, in its warnings to the Supreme Court, our research showed a small fraction—fewer than 10 percent of the cases we investigated—would actually qualify for a new trial.
(One small note about our data: Two groups of people represented in the data set won't be impacted by the Supreme Court's decision. Those are people who self-identify as Native American but don't have proof of tribal citizenship or Indian blood, and people whose crime occurred in a county that straddles the reservation area of the five tribes but actually happened outside the jurisdictional boundaries—of which we were able to identify 26. The data additionally do not include non-Native people convicted of a crime against a Native victim, or people who entered prison since January 1—of which there are at least 85. At least 200 people represented in our data have left prison since December 31.)
Interestingly, the federal law our findings turn on also comes from Oklahoma. To challenge a state court's ruling upholding a conviction, an inmate needs to qualify for what is called federal habeas relief. This process moves a state conviction to federal court—and could produce the slew of new trials with stale evidence that Oklahoma warned about. The law that shapes how many people would actually qualify—the Antiterrorism and Effective Death Penalty Act (AEDPA)—was passed by Congress in 1996 following the Oklahoma City bombing. Among other restrictions, it places a one-year time limit after a conviction is finalized for petitioning for federal habeas relief.
Within the 1,887 Native inmates prosecuted in eastern Oklahoma, we examined four groups to see who might qualify. First, we looked at everyone convicted of murder or rape in the first degree, because—compared with property theft or drug possession—the prospect of a new federal trial for these crimes would be particularly traumatizing for victims and their family members. Of the first group, people convicted of first-degree murder, less than 10 percent are eligible for federal habeas relief. Of the second group, people convicted of first-degree rape, about 5 percent are eligible.
The third group we examined (which included some of those also in the first or second group) was all the inmates sentenced to death, life, or life without parole, and those with a release date so far away (80-plus years) that their sentence was functionally life. While these inmates would have the most to gain by getting a new trial, less than 10 percent are eligible for one.
Inmates with longer sentences tend to have older convictions, which means, for the majority, the one-year time limit has long run out. Wanting to know if the findings would be different for people with shorter sentences, we looked at a sample of 50 violent offenders with a release date around the median (about five years from now). Of this fourth group—convicted of crimes including murder, rape, and child abuse—only 14 percent are eligible. Most pleaded guilty and never appealed their case.
In total, less than 10 percent of the nearly 300 convictions we examined are still within the one-year statute of limitations created by the AEDPA. While our research did not cover every inmate, it revealed a clear pattern: The majority are ineligible for federal habeas relief.
Even for that lucky 10 percent, the prospects of freedom would still be dim. They would still have to go through a long and complicated appeals process—for many, without the right to a lawyer. Several inmates who tried to start appeals similar to McGirt's got shut down for filing in the wrong court. One inmate we classified as qualifying for federal habeas relief has only until August to start the process; another has until just before the end of June.
The AEDPA does provide exceptions—albeit very narrow ones—in which the time limit is lifted. If the Supreme Court affirms the reservations in Oklahoma, would that count? Unlikely: Because more than 140 inmates did the same thing McGirt did—filed appeals based on Murphy—we don't have to wait to see what the courts will do; they're already saying no.
In August, the federal court serving eastern Oklahoma ruled on a petition for habeas relief from an inmate whose one-year statute of limitations had run out. It said that it was too late. In Barbre v. Whitten, the Eastern District Court of Oklahoma wrote, citing precedent, that the one-year limit is extended "only in rare and exceptional circumstances," and that nothing in the Tenth Circuit's ruling "added anything to the factual basis of Petitioner's claim." In other words, a new court ruling about the reservations wasn't enough to lift the one-year statute of limitations.
Unlike federal courts, Oklahoma state courts don't have a statute of limitations for jurisdictional claims; they can be raised at any time. But Oklahoma's highest court for criminal appeals is already throwing out most of the cases making the reservation argument. In the avalanche of reasons cited by the court's orders—including errors in how petitions were filed or that the issue is still pending at the Supreme Court—is one that will stick no matter the outcome. The Oklahoma Court of Criminal Appeals is telling inmates that any issues that could have brought up in their first appeal but weren't are waived—that the court fails to see why reservation arguments "were not and could not have been asserted."
If the reservations in eastern Oklahoma have always been reservations, it's not a new area of law. Petitioners could have brought it up at any time.
The irony of Oklahoma's argument that the Supreme Court decision could open a floodgate of appeals is that the gate is already open. Since the Tenth Circuit took Murphy's side in 2017, jailhouse lawyers have been helping people file writs and petitions across the state. There are clusters from certain prisons; someone even made a standard form that petitioners can fill out with their name and case details. Rather than a slew of new federal trials, these 140-plus petitions and writs have produced a slew of denials and dismissals. In layman's terms, they've resulted in court filings and paperwork, not releases or new trials.
Within all the cases that have come up since 2017, Oklahoma courts are holding a small batch—we identified fewer than 40–until the Supreme Court makes its decision. Almost universally in these cases, inmates made the reservation claim in their initial appeal and would also qualify for federal habeas relief. In other words, even if the Court finds that eastern Oklahoma is largely reservation land, it looks like the net impact of three years of inmates filing reservation claims would be a few dozen new trials.
Asking who qualifies for federal habeas relief leaves out the question of who would want it in the first place. Winning a federal habeas petition does not get you out of prison. It gets you a new, federal trial—which could come with a new, federal sentence. While inmates are waiting for those things, they are simply transferred from state custody to federal. For many cases, especially drug-related crimes, federal sentencing can be harsher. Also, it's unclear if time served on the state sentence would count toward a new federal sentence, which means that pursuing federal habeas relief actually risks adding years to your time behind bars. With help from Desi Rodriguez-Lonebear, a doctoral candidate at the University of Arizona, we found that a third of inmates in our data—not counting people sentenced to life or death, or those who would be out by the time the Court is likely to make its ruling—have already served more than half their sentence.
The appeals process is not swift, and the habeas process requires multiple stages in multiple courts. Just the paperwork phase in one court alone can take almost a year. Of the 1,887 people in our data, a quarter will be out within two years of the Supreme Court's decision—regardless of the outcome. For many inmates, simply waiting for their release date would be a shorter path to freedom than appealing their conviction.
The legal question presented by McGirt has nothing to do with any of this. It is a black-and-white reading of the text in a series of laws Congress passed in the late 1800s and early 1900s. But Oklahoma is not trying to win on the text alone; it is trying to win on fear: fear that affirming the reservations would reopen "thousands of state convictions," allow tribal members to seek "millions in tax refunds," and "plunge the State into uncertainty for decades to come." But like the assertions around some past convictions, the speculative fears forwarded by Oklahoma don't seem to be backed up by real numbers or documented research. And like the ins and outs of the criminal appeals process, numerous existing laws—concerning fee land, tribal civil jurisdiction, and even the application of environmental laws in Oklahoma—would curtail the fears Oklahoma is warning about.
If the potential consequences of affirming the reservations in eastern Oklahoma are going to persuade how the justices vote, those consequences should be real. They should be fact-based. And they should be proven. Despite the state's claims in court, that's not the case here.