Not Everyone Is Happy With the Supreme Court's Live Broadcasts
Lyle Denniston, one of the most seasoned Court watchers of all time, is unimpressed by the new format.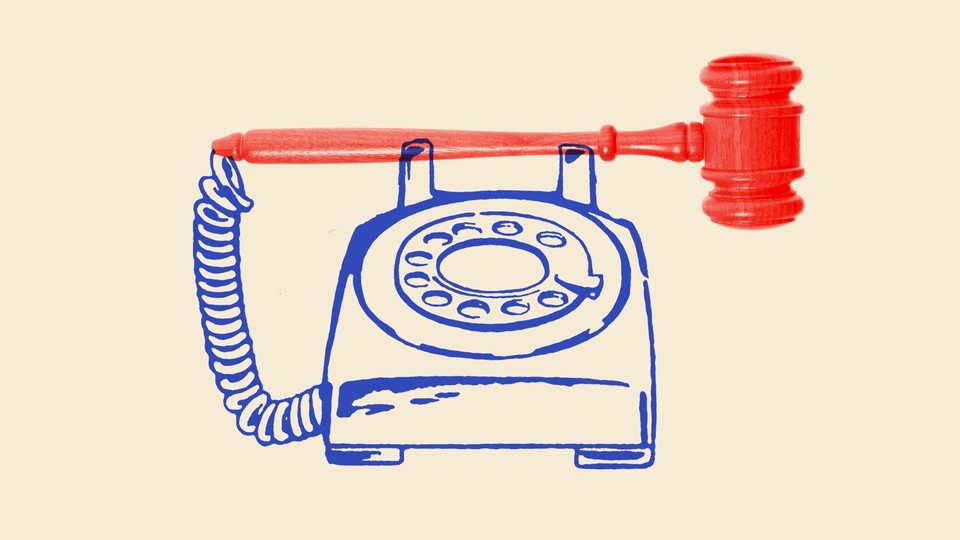 It would be nice to have a serious discussion of the Supreme Court's new telephone-argument format. Alas, that discussion has already been largely derailed by what dramatists call "noises off."
There's embarrassment enough to go around in that episode; my shamefaced confession is that I didn't hear it. So I will move on to matters of substance.
Is the new format better?
The Court suspended oral arguments for the rest of March on March 16 and extended the postponement through April on April 3. But as the lockdown stretched on, pressure to complete the term's business grew, and on April 13 the Court announced that it would hold arguments by teleconference during May. It has also begun releasing opinions without ceremony, simply by posting them on the Court website at times announced in advance.
The adoption of the teleconference format meant that there was no longer any real rationale for barring the public from listening in real time; media outlets would have access, and the sound would be easy to transmit to the public. Thus, last Monday, Americans for the first time listened in on a live broadcast of the Court.
From my perspective, the new format has been, if nothing else, a pleasant change. But I was curious as to whether that perception was more widely shared. I am lucky enough to know one of the historic figures in the story of the Supreme Court—Lyle Denniston, the legendary reporter who covered the Court without a discernible break from 1958 until his retirement in 2016. To talk with Denniston about arguments is like quizzing Cal Ripken Jr. about baseball. By one estimate, Denniston has observed (and occasionally interacted with) one-quarter of all the justices in Supreme Court history. I think it is safe to say that he has sat through, and analyzed, more high-court arguments than any other living person (including any justice)—probably more than anyone else ever, now or in the future. (Denniston also was a visiting professor at the school where I teach, the University of Baltimore. His lecture series is here and his online course is here.)
Denniston's views are always worth listening to, and he is not shy about sharing them. I was intrigued to find how deeply we disagree: He despises the new format.
My time listening to arguments—a mere 10 years—has left me both fascinated and repelled by the current Court's management of this crucial part of its proceedings. I think that oral arguments, no matter at what level, have three important functions. First, they allow the judges to share with advocates what they are thinking, and allow the advocates to address any misconceptions or confusions in their minds. Second, they give the judges of a multimember court a way to talk with one another, bouncing questions off of lawyers to bring into the discussion points that one judge may want a colleague to consider. Third, when well done, they offer the public a glimpse into the feature of judging that, lawyers like to tell themselves, is key to its legitimacy: reasoned judgment that applies law and precedent to facts and grapples with how to both reach a just result and, equally important, explain it.
By those criteria, the past 10 years of argument have been dreadful. The high bench has undergone what might be called judicial warming—the transformation from a relatively cold bench (that allows lawyers to complete their thoughts and lay out their conceptual frameworks with only occasional interruption) to a distinctly hot one. A number of today's justices seem to compete to ask the most questions, and to prevent advocates from completing a thought (and often a sentence).
To put it more colorfully, oral arguments, Roberts Court–style, seem like a Thanksgiving with the dysfunctional family from hell. Chief Justice John Roberts, like an ineffective paterfamilias at the head of the table, tries to keep everyone civil. The imperious matriarch, Justice Ruth Bader Ginsburg, commands attention by speaking her perceptive questions in a voice so low that everyone has to quiet down and listen. Justice Clarence Thomas, like a teenager who would rather be with his friends, ostentatiously sulks. Genial Uncle Stephen Breyer asks questions that are sometimes incomprehensible, often relevant, but almost invariably prolix. Justice Samuel Alito loses his temper unpredictably. Justice Sonia Sotomayor interrupts with abandon.
Other Supreme Court reporters seem to glean hints from these arguments; I regularly feel otherwise—that I come out of the courtroom understanding a case much less clearly than when I went in.
For these reasons, I have been somewhat charmed by the new format. During telephone arguments, the chief justice calls on each justice in descending order of seniority. Roberts cuts a justice off when he judges time is up, but otherwise the justices no longer interrupt one another; in fact, on occasion one justice has asked a lawyer to complete his answer to a question asked by the previous justice. Each specific turn allows at least one complete question-and-answer exchange.
And, of course, we are at last hearing regularly from Thomas. His questions from the bench over the past decade had—until last week—reached a total of two. His silence was dispiriting—with lifetime tenure in one of the most influential jobs in the world, he seemed unwilling to do it. I have enjoyed the return of Thomas's voice—which I usually disagree with, but which I think should be heard by the public.
I was surprised, then, to read Denniston's emphatic tweets after last week's arguments wrapped up:
Likely I have heard far more arguments over 62 years, and I disagree. This harms equal status of each Justice, gives the CJ arbitrary power, diminishes cross-bench exchanges, promotes wool-gathering by lawyers, prizes order over depth, lets technology triumph, looks amateurish.
I called Denniston at his home in Maryland. The purpose of oral arguments in his view, he told me, is to "create an agenda for conference," the private meeting a day or two after arguments at which the justices give their views, vote on a result, and assign opinions. Otherwise, he said, "why should there be a process beyond the written material?" The teleconference oral arguments, he argued, fail to serve that purpose.
The role of Roberts in the new format is twofold: First, he controls the microphone, and second, he tacitly reenforces the existing hierarchy among the other eight justices. Being the chief justice doesn't, or shouldn't, give him a thumb on the legal scales; at conference, he presides but has no extra vote. But control of the sequence, Denniston told me, gives at least the impression that he is more than first among equals.
In that respect, Denniston said, the new procedure—by which Roberts calls on each justice in turn, then intervenes to move on after one or two questions—"is the fundamental problem with the new format." It makes Roberts appear more powerful, and with that power he can "control the substantive part of the case …  At least in [last] week's argument, he was cutting people off not only in mid-sentence but also in mid-thought, both justices and counsel, and yet he was allowing argument to go on" for an hour and a half. Policing and extending the time are self-aggrandizement. "He can't have both," Denniston said.
This problem, if it is a problem, could be solved easily without a change in format. "It may be what I'm asking for is just a degree of humility from the chief justice," Denniston admitted.
Like a lot of us, though, Denniston's real critique of the Court goes beyond the procedures it uses. Previous arguments, as I say, have seemed to me like a Thanksgiving dinner in hell. But as Denniston pointed out, "The food fight at Thanksgiving depends upon having a drunk uncle there, or a misbehaving cousin."
The seeds of dysfunction are sown in the politicized appointment and confirmation process, he argued. Any nine justices, including this set, are "a collection of eccentric and odd personalities. No matter what technique [of running arguments] you adopt, you're not going to solve that problem."
The current process, he suggested, brings new justices to the bench "believing they have scores to settle and agendas to achieve." Serving in the current political and media atmosphere had already changed the nature of the job, even before the pandemic. "The fact that the justices now are so commonly on the public stage, Ginsburg in particular, exhibiting themselves as they do on public television and commercial television too, tends to lead them to carry that kind of exhibitionism back into the courtroom with them," Denniston said.
But Denniston does not share my reservations about the conduct of the current Court during live oral arguments. On Twitter, he wrote, "Having groaned thru some of the Truman justices, the condescension of Frankfurter, the dyspepsia of White (Byron), the lackadaisical attitude of Douglas, the emptiness of Burger and Clark, etc., I'll take this crowd, hands-down. I would like to have Souter back, though."
On Souter, at least, Denniston and I agree.