This Summer Will Scar Young Americans for Life
With jobs and internships canceled, Generation Z is entering a summer of uncertainty—and the damage could last forever.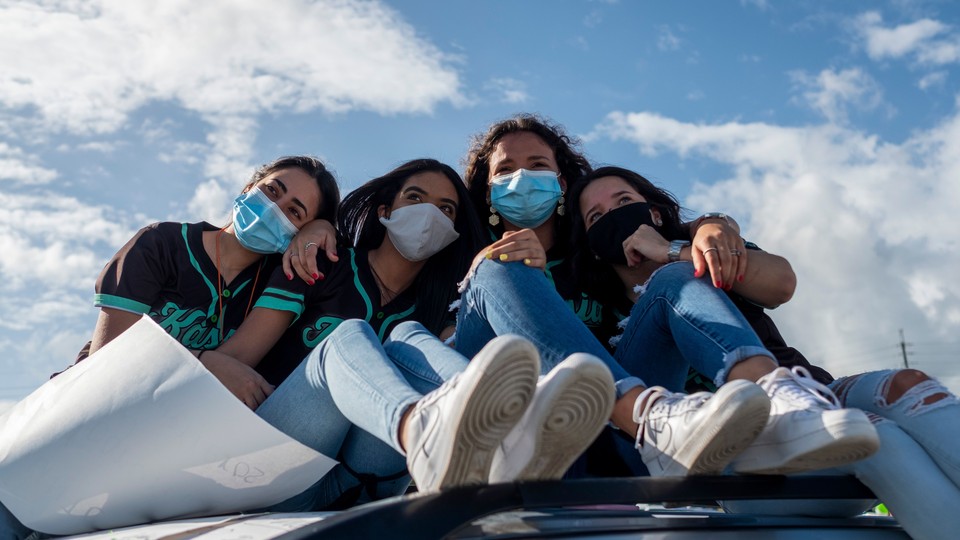 The summer after her freshman year in a New York City high school, Carmen Lopez Villamil made $2,000 working in a molecular-biology laboratory. "Turns out I don't like biology," she said, laughing. "But it was incredible." She got to design her own research project, worked alongside scientists, and developed a relationship with a mentor. This year, with her junior-year coursework nearly complete, Lopez Villamil was counting on another paid gig facilitated by the city's Summer Youth Employment Program.
Those plans are now dashed. With the novel coronavirus killing thousands of New Yorkers, the mayor's office has canceled the program, which serves 75,000 students a year. Many other ways for young people to pass July and August—internships, summer school, training initiatives, community-college courses—have been pared back, put online, delayed, or called off entirely. On top of that, as seasonal jobs disappear and mass layoffs affect a wide swath of business sectors, youth unemployment is reaching Great Depression levels. School's out, and not much else is going on. "I don't know anyone who has an internship or job for the summer," Lopez Villamil said. "That's scary financially. And emotionally—we're going to get so bored."
Millions of younger Americans are facing an idle, empty summer, meaning lost earnings and work experience, missed hours of education, and unmade professional networks, as well as a whole lot of stress and boredom. The pandemic and the recession it has caused are forcing an unwanted communal caesura on Generation Z. And it threatens to leave scars that might take a lifetime to fade.
Young adults, those aged roughly 16 to 24, are in a delicate transition. Generally, kids go to school. Adults work, in the home or outside of it. But teens and 20-somethings? They go to school, they enroll in training programs, they work, and they do some combination of those things—and sometimes they do very little at all.
But the coronavirus and the economic depression have forced dramatic vocational changes on the young. Young workers were heavily concentrated in the hardest-hit industries, including food service, hospitality, retail, and leisure. Millions of jobs at mall kiosks, concert venues, movie theaters, and sandwich shops have disappeared. Moreover, teenagers and people in their early 20s normally pick up millions of seasonal jobs in the warmer months, doing things like landscaping, lifeguarding, camp-counseling, waiting tables, and selling food at sports stadiums. Much of that work is gone too.
Mia Smith, a rising senior at a Washington, D.C., public charter school, had planned on volunteering at a children's hospital and working in a preschool this summer. Neither is happening now. "I've been doing paint-by-numbers and some crafts that I would never do normally," she told me. "I definitely spend a lot more time working out, doing that to pass the time. But as of right now I have no idea what I'll do."
Others, including Tim Jacklich, a recent graduate of Notre Dame, have seen their start dates pushed back. He was planning on doing work-study in Mexico City, where he had been placed via a special Fulbright program, beginning in August. He now anticipates beginning in January at the earliest—provided that the border reopens. For the moment, he is starting a digital internship, trying to figure out a temporary job, and living at home in the Chicago suburbs. "I'm getting to spend time with my family," he told me. "But it has contributed to a sense of not really experiencing independence. I'm living under my parents' roof."
Overall, no cohort has seen bigger leaps in joblessness than Generation Z, and this dynamic is likely to intensify as the school year ends and summer work fails to materialize. The unemployment rate for people ages 16 to 19 climbed from 11 percent in February to 31.9 percent in April; for those ages 20 to 24, it went from 6.4 percent to 25.7 percent. (Full-time students and others not looking for work are not included in the measure.) In contrast, the jobless rate jumped to 11.5 percent for workers ages 35 to 44, from 2.8 percent.
Contributing to the tsunami of job losses is the closing of public summer-jobs initiatives, like the one Lopez Villamil took part in. Before the coronavirus crisis hit, these municipal programs offered paid work to young people, reserving many positions for low-income and at-risk youth. But public-health directives and local financial shortfalls have made the programs untenable. "The historic notion of summer youth employment requires people gathering. We don't know when we're going to be able to do gatherings," New York Mayor Bill de Blasio said at a press conference. In one survey, one in three localities that offer these programs said it had canceled them, including New York City; Lexington, Kentucky; and the Chickasaw Nation, in Oklahoma.
Another locus of losses: internships, held by roughly 1.5 million young people a year, many from higher-income families. Airbnb, Yelp, StubHub, Halliburton, and Wayfair are among the big companies that have canceled their programs outright, along with myriad smaller firms. In a recent survey, one-third of internship holders said their programs had been called off. Others had been shortened, delayed, or moved online.
Elena Klonsky is a rising senior studying political economics at UC Berkeley. She had been looking for an internship, perhaps in financial technology or data science, when the pandemic hit. Before entering their final year in college, many students feel pressure to find a summer gig that might turn into a full-time job offer. But businesses have "stopped the application process," Klonsky told me. "At least in my case," she added, "it didn't work out with any of them."
These job changes come as the educational landscape has been upended: More than 50 million American students have been sent home. For some, that means going to school online. For many, it means not doing much of anything. Millions of kids lack the computers and broadband service to take part in online learning, and many school districts have struggled to adjust their curricula. Harvey McGuinness is a high-school senior in Santa Fe, New Mexico, who acts as a liaison between students and the local school board. "The public schools did an excellent job of making sure that as many people had access as possible. And they did it really quickly. I mean, within the span of a week and a half of shutting down," he told me. But, he added, "even my principal had to do some of his meetings from the school parking lot in his car, because of the Wi-Fi. This was a problem that wasn't just with students. It was with faculty members, too. It was chaos."
The decision about whether to go to school is being rapidly upended as well. Surveys suggest that one in five college students is unsure if they will attend this fall. In a survey conducted by Civis Analytics and the Bill & Melinda Gates Foundation, half of the parents of high-school students said their kids' postsecondary plans had changed, with large shares of kids opting for cheaper or closer options, or postponing enrollment.
Pretty much anywhere you look, the stuff young people do has disappeared—language programs, study abroad, volunteering, even babysitting and dog walking. Sasha Tucker, a high-school student in New York City, was planning on studying ancient Greek and joining a summer journalism program in the coming months. Instead, she said, she's doing some hiking, and a lot of figuring out what to do. "Everyone is very worried about how boring it's going to be," she said. "We've already been cooped up inside with our parents for over two months now."
About one in 10 members of the 16-to-24 population was not participating in education, formal employment, or training—a group known in social-science shorthand as NEETs—before the coronavirus pandemic. Now … who knows? But many of the young people I interviewed said they did not know anyone in their cohort with formal plans for the next few months.
Summer-job losses don't just mean kids losing pocket money, or college students having to stay in their parents' basements for a few months longer. Not all teenagers get financial support from their family. Many 20-year-olds have children of their own. Because of the crisis, many young people are giving up altogether on going to college or starting a business. The pandemic recession has thus thrust Gen Z, as a cohort, into a deep state of financial precarity.
The effects are intergenerational. Two years ago, Carmen Lopez Villamil told me, her summer laboratory job helped her family pay its bills and pay down some of its credit-card debt. This year, she will not be able to contribute much, if anything, to the family coffers. Her father lost his job, and a single mother and her child who live with the family as tenants have stopped paying their rent. By canceling New York City's summer-jobs program, the mayor is "depriving us of that money, which is scary," Lopez Villamil told me. "My family, I think we'll be fine this summer. I don't think that's the case for everyone."
Government aid is less available to younger workers than to more established ones. Students who are about to become NEETs when their academic year ends are ineligible for the beefed-up unemployment-insurance payments in the stimulus: You need to have a job and lose it to claim benefits. "There's no freaking relief for these folks," Heidi Shierholz, a former chief economist for the Labor Department, told me. "Conceptually, people who would have been looking for and finding a job after they graduate this spring are just as much out of a job because of the virus as someone who had to leave a job to take care of a kid whose school closed."
Plus, study after study has shown that joining the labor market during a recession depresses earnings for decades. "There are scarring effects," Shierholz said. "You just do worse. You might not have a job. If you have a job, you may not get one that uses the education that you just got. Then it stalls you out. When things pick back up again, you might look slightly less desirable than somebody who's new and didn't spend the last two years working at Starbucks."
Employers might be more willing to excuse résumé gaps, given the unprecedented nature of this recession. But for years, the number of qualified people looking for work may greatly outpace the number of good jobs available. "I just can't really shake the feeling that, maybe a year from now, if I'm interviewing for a job, they're going to be asking me, 'What did you do during the pandemic?'" said Klonsky, the Berkeley student. She spent the past semester in London; her parents live in Australia. "I mean, the best answer I could give would be: 'Dealing with border control a lot,'" she said.
For young people hoping to join a summer-jobs initiative or get an internship, the pandemic means fewer opportunities to get ready for the labor market, build workplace skills, and flesh out a résumé. Subsidized summer-jobs programs, like New York City's, have proved hugely valuable for at-risk youth, for instance. Losing them means leaving hundreds of thousands of young people a little further behind. "They've been shown to reduce criminal-justice involvement, decrease mortality, improve school attendance and graduation rates, and improve soft skills," says Amanda Briggs, an expert on workforce-development policies at the Urban Institute. "They have this connection to a positive experience in the summer that can help them in the immediate term and also potentially in the longer term."
More broadly, public-policy experts worry that this idle summer will widen existing inequalities. Rich kids will have their paid internships moved online, or will be able to enroll in virtual summer courses. Poor kids, with no laptop or smartphone, and their job at a landscaping company canceled, will be left with nothing. Because of long-standing educational and labor trends, says Shayne Spaulding, another workforce-development expert at the Urban Institute, young black and Latino men are most at risk.
Perhaps the greatest risk of all is persistent joblessness due to a sluggish recovery from the pandemic shock. An idle summer might become an idle year; an idle year might become an idle generation. Having large numbers or a persistent presence of NEETs is a societal failing, and comes with a heavy societal cost: higher rates of crime, slower growth, social exclusion, wasted potential.
Preventing a temporary disruption from becoming a permanent scar is an urgent policy concern, making it all the more important for Congress and the Federal Reserve to help businesses stay open and families stay afloat. But young people also need age- and situation-specific policies: free training programs, free community college, and a huge expansion of subsidized-jobs initiatives aimed at helping the most vulnerable, among them teenage parents and young people living in high-poverty areas.
For her part, Lopez Villamil is fighting the summertime abyss. She is planning to take college courses online at the City University of New York over the summer, and become more involved in public-policy activism. Along with some of her teenage peers, she has been pressuring members of the city government to fund the summer-jobs initiative. Still, the prospect of a transformed summer, an economy in free fall, and a public-health crisis frightened her, she said. "There was a tipping point, when people we knew started dying," she told me. "My friends were like, 'Okay, we no longer really care about school or the future.' We feel so powerless."