Why Are So Many Republicans Remaining Silent?
Not a single congressional Republican from Florida was willing to comment about President Trump's attacks on their former colleague Joe Scarborough.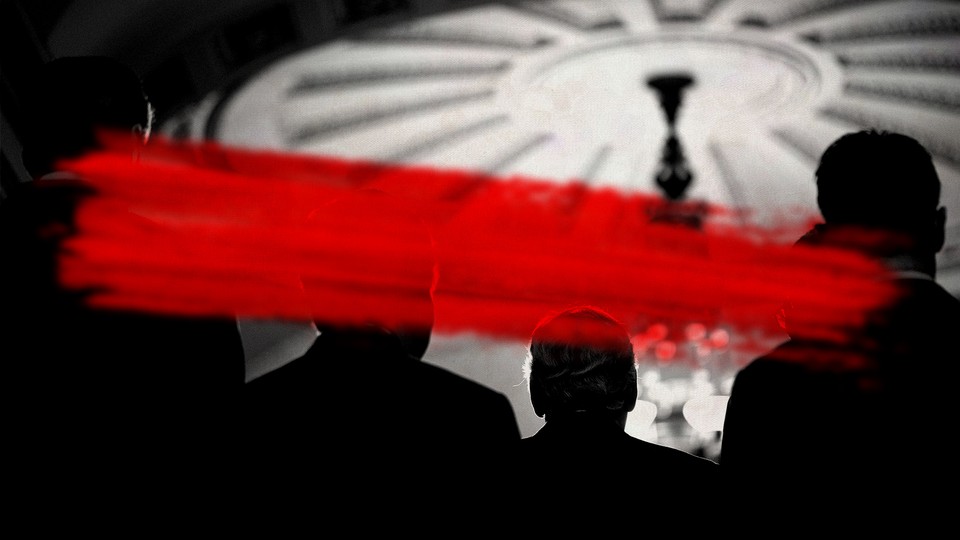 Earlier this month, Representative Adam Kinzinger told his constituents that he is worried by the excessive number of conspiracy theories he has seen circulating lately on social-media sites.
"As leaders, we have a choice," he told his constituents in a video message posted to Facebook. "There's far too many who will simply reflect back that paranoia, to feed fuel to that fire, if it'll help their reelection … We need to push back against these attempts to divide and destroy us."
Days later, President Donald Trump disseminated a conspiracy theory for the ages. In the midst of an ongoing pandemic that has killed 100,000 Americans, he attacked a cable-television host, former Representative Joe Scarborough, with a thinly veiled murder allegation. "A lot of interest in this story about Psycho Joe Scarborough," Trump wrote. "So a young marathon runner just happened to faint in his office, hit her head on his desk, & die? I would think there is a lot more to this story than that? An affair? What about the so-called investigator?"
In fact, there is no evidence of an affair or foul play in the staffer's death almost 20 years ago. Kinzinger quickly pushed back against the leader of his political party. "Completely unfounded conspiracy," he wrote on Twitter. "Just stop. Stop spreading it, stop creating paranoia. It will destroy us."
Why was his principled stand so lonely?
There are many reasons, besides general concern about conspiracy theories, that a Republican member of Congress would want to speak out on behalf of a former representative being unfairly attacked.
As members of a coequal branch of government charged with checking and balancing the executive, legislators might also feel duty-bound to rebuke flagrant abuses of the presidential pulpit, if only to deter future executive misbehavior. As public figures, they'd presumably all hope for defenders if the president were spreading thinly veiled murder accusations about them.
And even if they're not concerned for Scarborough as a victim, they might have noticed that Trump's attack on a political adversary did collateral harm to the still-grieving widower of the woman who died. "The President of the United States has taken something that does not belong to him—the memory of my dead wife—and perverted it for perceived political gain," that widower wrote in a letter to Twitter asking that Trump's tweet be removed. "I would also ask that you consider Lori's niece and two nephews who will eventually come across this filth in the future."
That message apparently moved Utah Senator Mitt Romney to speak out Wednesday morning, when he tweeted, "I know Joe Scarborough. Joe is a friend of mine. I don't know T. J. Klausutis. Joe can weather vile, baseless accusations but T.J.? His heart is breaking. Enough already."
The same morning, Representative Liz Cheney told reporters in Washington, "I do think the president should stop tweeting about Joe Scarborough. I think we're in the middle of a pandemic. He's the commander in chief of this nation, and it's causing great pain to the family of the young woman who died. So I would urge him to stop it." But this trio was among the rare exceptions of the 197 Republicans in the House and 51 Republicans in the Senate. Silence was the rule. There was no rebuke from the GOP House Minority Leader Kevin McCarthy (who sidestepped questions about the matter, professing ignorance) or Senate Majority Leader Mitch McConnell; no reaffirmation of basic decency as a valuable norm by a few dozen members; no call from a frustrated caucus to refocus presidential attention on the disease ravaging the country rather than one accidental death.
Perhaps that dereliction of the duty to protect and defend basic decency should not surprise anyone at this point. Trump bullied Ben Carson and Ted Cruz, implying that Cruz's father killed JFK and likening Carson to a pathological killer. "Now those targets count as Trump's most faithful servants," Jonathan Chait observed in a recent New York magazine column. Trump has been conditioned to expect reward rather than rebuke from prominent GOP officials after he behaves badly.
But I didn't want to infer too much from silence. So I reached out to the offices of the Republican members of Florida's congressional delegation, who represent the state where Scarborough served and the dead woman lived, seeking comment. I tried Senators Marco Rubio and Rick Scott, as well as Representatives Matt Gaetz, Neal Dunn, Ted Yoho, John Rutherford, Bill Posey, Daniel Webster, Gus Bilirakis, Ross Spano, Vern Buchanan, Gregory Steube, Brian Mast, and Francis Rooney. I also reached out to the Republican Party leadership of the counties of Escambia, Okaloosa, Santa Rosa, and Walton, in Scarborough's former district.
I have yet to receive a response from any member of the congressional delegation. The one GOP county official who replied to me defended Trump's conduct. No one expects every member of Congress to comment on every controversy. But the president's indecent behavior makes the silence among his many supporters in the GOP conspicuous. "There are many in the GOP power structure and pro-Trump media who have lost loved ones in unspeakable ways who would be gutted if the president spread malicious lies exploiting their tragedy," the CNN anchor Jake Tapper wrote.
Yet despite the widower's pleas, most "sit silently." And that silence, like past silence on Trump indecencies, all but guarantees more abuses of this kind by the president. I'm hoping to be able to update this story with responses from Republican officials; my email address is conor@theatlantic.com.