Even a Bolder Biden Will Only Go So Far
The pandemic has expanded his ambitions—just not enough to challenge the Pentagon.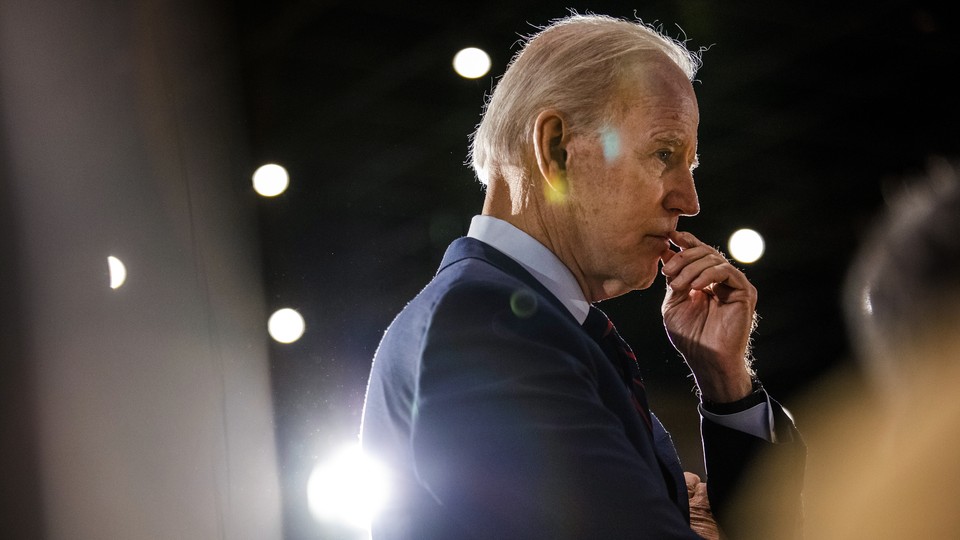 On Sunday, Alexander Burns of The New York Times reported that Joe Biden is "seeking big Democratic ideas." With his congressional allies, the former vice president is "racing to assemble a new governing agenda" that is "far bolder than anything the party establishment has embraced before." As examples of this "exponentially bigger" agenda, Burns cited conversations the Biden campaign is having about massive new investments in public works and the green economy, a push to expand health care and child care, stronger labor protections, and new requirements that corporations share their wealth with their workers. The article lingered over discussions within Democratic policy circles about a universal basic income, a federal jobs guarantee, a revised tax code, and an effort to rebuild America's manufacturing base.
Yet, in more than 2,000 words, it offered no details about foreign policy at all. Similarly, Gabriel Debenedetti of New York magazine recently described Biden's plans for a presidency "more ambitious than FDR's," but largely avoided international affairs.
These omissions are telling. While the COVID-19 pandemic and the need to win over Bernie Sanders voters have pushed the Biden campaign to embrace a more ambitious domestic agenda, little evidence indicates that the presumptive Democratic nominee is doing anything comparable on international affairs. That's a pity, because America's relationship with the world needs dramatic rethinking too.
Last week, the Biden and Sanders campaigns unveiled six "unity task forces" to rally Democrats around an agenda that merges Biden's incrementalist instincts with Sanders's more transformative ones. The task forces—which include big names like Alexandria Ocasio-Cortez, John Kerry, and former Attorney General Eric Holder—cover climate change, criminal-justice reform, the economy, education, health care, and immigration. Foreign policy isn't on the list.
The Biden campaign does have foreign-policy working groups, lots of them. They're broken down into subcategories: defense, intelligence, the Middle East, and so forth. Democratic-foreign-policy insiders told me that these panels include hundreds of wonks, who produce reams of documents, which are sent to top Biden advisers like Antony Blinken, Julianne Smith, and Tom Donilon. But the working groups don't wield much power; one former Obama-administration official characterized them to me as "window dressing." And because the identities of the people chairing them are secret, they are harder to influence than the unity task forces established on domestic policy. "The fact that they don't have a public foreign-policy working group means advocates are jumping through hoops to figure out who to talk to," one progressive foreign-policy activist told me. "It makes it harder and more challenging to communicate with the campaign." (This activist and the former Obama-administration official spoke on the condition of anonymity because of the sensitivity of the matter.)
This comparative secrecy might be less of a concern had Biden laid out a more specific foreign-policy agenda. But compared with his major primary rivals, he's been vague. Take the defense budget. During the primary, Elizabeth Warren proposed cutting military spending by $800 billion over 10 years. Sanders suggested cutting it by $1.2 trillion over 12 years. Biden's plans are more opaque. A February 2019 Politico survey identified him as one of the candidates who wanted to "boost the defense budget." In November, by contrast, he told Military Times, "We can maintain a strong defense and protect our safety and security for less." Reading the entrails, the Brookings Institution's Thomas Wright suggested in The Atlantic in March that while "defense-budget cuts are possible" in a Biden administration, "top priorities are reforming and modernizing the military to reflect new technologies and repairing civil-military relations."
In other words, Biden isn't planning to expend much political capital to shrink the Pentagon. Stephen Miles, the executive director of the progressive advocacy group Win Without War, told me he worries that a Biden administration may embrace the principle of "parity," in which—to gain Republican support in Congress—"domestic investments like health care, education, and infrastructure must be matched dollar for dollar with more money for the Pentagon's bloated budget." Laicie Heeley, a former analyst with the Budgeting for Foreign Affairs and Defense program at the Stimson Center, predicted to me, "When it comes to defense, a Biden presidency is likely to look very much like an Obama presidency, and that's going to look not so different from a Trump presidency when you really look at the numbers."
The pandemic—which has already killed roughly 30 times as many Americans as 9/11—offers Biden the chance to break out of the parameters established by his predecessors. As the national-security analysts Joseph Cirincione and William Hartung recently noted in The National Interest, the U.S. spends $740 billion a year on the military and $11 billion on global public health. Hospitals teeter on the edge of bankruptcy while the Pentagon spends about $500 million a year on marching bands.
Biden could use these ghastly discrepancies to challenge the view that military spending can only be trimmed at the edges. One way to do that is by demanding that the Pentagon pass an audit, something—as Fareed Zakaria recently pointed out—it has never done. Another is to aggressively challenge the Trump administration's plans for massive increases in spending on nuclear weapons. A third is to call for the repeal of the 2001 and 2002 congressional resolutions that have given three presidents the power to wage war for nearly two decades. On his website, Biden says he'll "end forever wars." But unless he ends the legal basis upon which those forever wars rest, the U.S. is likely to continue dispatching Special Forces and launching drone strikes with minimal congressional oversight.
Instead of challenging the Pentagon's sky-high budget, Biden's highest-profile foreign-policy foray since clinching the Democratic nomination has been to try to out-hawk Donald Trump on China. In April, the Biden campaign ran an ad, filled with menacing images of Chinese troops, that accused Trump of having "rolled over for the Chinese." A pro-Biden super PAC accused the president of "outright acquiescence to China." Getting to Trump's right on China may strike Biden's advisers as a shrewd way to neutralize the GOP's line of attack. But it perpetuates the Cold War narrative that hawks are already using to sustain massive defense spending.
The impetus to out-hawk Trump also makes it harder for Biden to expand America's commitment to the World Health Organization, which the president and his allies have derided as a tool of Beijing. On his website, Biden proposes greater international cooperation against COVID-19. His campaign, however, has spent far more energy bashing China than defending the WHO—thus helping to create a political climate that makes such cooperation harder. It's another example of Biden's refusal to do in foreign policy what he appears ready to do in domestic policy: Use the pandemic to fundamentally reshape the American political debate.
Just because Biden isn't laying out a transformative foreign-policy vision doesn't mean he wouldn't be a significant improvement over Donald Trump. Blinken, Jake Sullivan, and Colin Kahl, who served as Biden's national-security advisers while he was vice president and remain influential now, are widely regarded as thoughtful, capable, and decent.
The problem is that Biden's political team appears convinced that, while campaigning on an ambitious progressive domestic agenda would boost his election prospects, campaigning on an ambitious progressive international agenda could leave him vulnerable to Trump's jingoistic attacks. As a result, Biden is failing to use the pandemic to win a mandate for a radically different foreign policy. Given what Democrats should have learned in recent months—about the desperate need to free up money to fight off a near-depression, and the desperate need to improve international cooperation before the next pandemic hits—it's a failure that may haunt them for a long time to come.