Barr's Flynn Dismissal Motion Portends Greater Abuses Ahead
The attorney general has openly enlisted as an arm of the Trump campaign and brought the full powers of his office with him.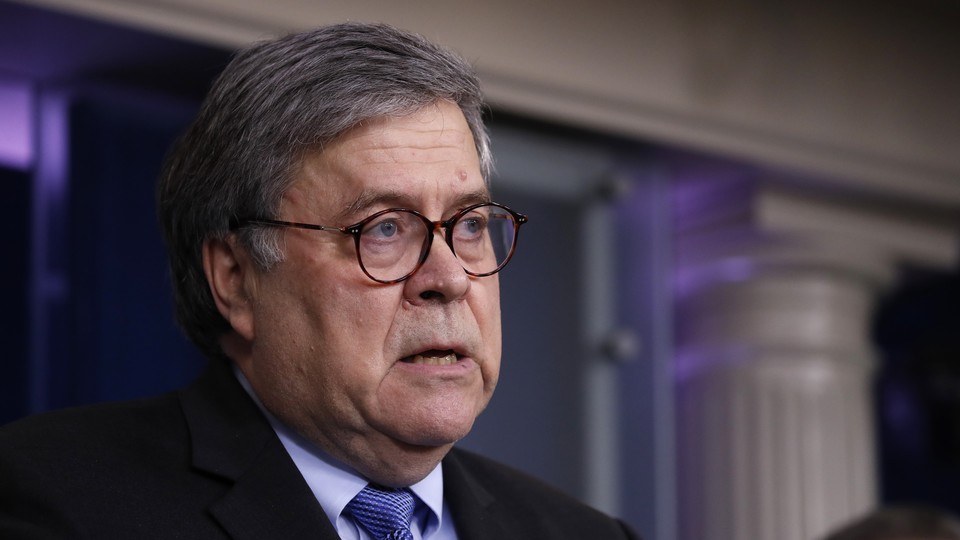 The government's motion to dismiss the case against Michael Flynn has brought a new urgency to long-standing concerns about Attorney General William Barr's handling of his job. In the past 15 months, the combination of Barr's belief in an all-powerful chief executive and a president who thinks that he can do anything he desires has resulted in many actions that have severely undermined trust in an evenhanded and independent rule of law. But the Flynn dismissal motion reflects a new level of open defiance of established norms. There is reason for serious concern about what lies ahead.
The government's supposed justification for the motion to dismiss—that it is no longer able to prove its case against Flynn for false statements made to the FBI—fails the laugh test, based on undisputed facts. Flynn twice pleaded guilty to lying to the FBI about a conversation he had with Russian Ambassador Sergey Kislyak urging Russia not to retaliate for recently imposed U.S. sanctions. Donald Trump himself fired Flynn as his national security adviser in February 2017, saying that Flynn "had lied to the vice president and the FBI." There is no serious reason to doubt that Flynn lied, or that his actions created a risk of blackmail by the Russians. Now, after bringing charges and securing guilty pleas that were carefully scrutinized by the court, Barr's Justice Department insists that the case is legally defective. This claim is larded with legalisms, but at its root, it is empty.
A parallel cause for alarm is the media barrage that Barr engaged in during the several weeks preceding the Flynn dismissal motion, stating repeatedly that the entire Russian-interference investigation, including the investigation of Flynn, was a malicious plot. These comments were obviously made to advance a primary narrative of Trump and his reelection campaign. But not only that: Given its timing, Barr's press initiative also provided political cover for the meritless Flynn dismissal motion.
In an early-April interview with Fox News' Laura Ingraham, Barr called the Russian-interference investigation "one of the greatest travesties in American history," and said that it was undertaken "without any basis" by investigators who were trying "to sabotage the presidency."  "We're not dealing with just mistakes or sloppiness. There is something far more troubling here, and we're going to get to the bottom of it." Over the next several weeks, Barr spoke on the same subjects with the radio host Hugh Hewitt and CBS's Catherine Herridge. As the basis for his flamboyant claims, he relied on the ongoing criminal probe into the Russian-interference investigation, which he is personally overseeing with the help of U.S. Attorney John Durham. Barr's repeated public reliance on information supposedly unearthed by this ongoing investigation plainly violates Rule 1-7.400 of the Justice Manual, which prohibits comment on "the existence of an ongoing [criminal] investigation" or on "its nature or progress before charges are publicly filed."
The Flynn dismissal motion and Barr's careful lead-up to it show an attorney general who has openly enlisted as an arm of the Trump campaign and brought the full powers of his office with him. What is new is not Barr's belief that executive power should be largely unchecked, or his alliance with a president who disdains all limitations. It is his brazenness. Barr's willingness to publicly advance such flagrant and implausible allegations against his own department, and then take official action based on them, raises unprecedented perils not just for the Justice Department's work, but for all of American democracy.
These recent events are not surprising in light of Barr's conduct since he took office last February. In just over a year, Barr has repeatedly undermined the Justice Department's strong tradition of independent, unprejudiced fact-finding, where conclusions are protected against political interference. His personal whitewashing of the findings of Special Counsel Robert Mueller's report concerning obstruction of justice, his public contradiction of Inspector General Michael Horowitz's findings of regularity in the initiation and oversight of the FBI investigation into Russian interference, and his insistence on conducting his own, personal and largely redundant investigation of that same matter are prime examples. He has disrespected the integrity and authority of the department's experienced career attorneys by repeatedly putting political cronies into special oversight roles to review the work of others and engineer changes in the government's advocacy positions for transparently political reasons. In a number of instances—the Flynn and Roger Stone cases among them—these acts of political interference have been undertaken in flat defiance of norms in place since Watergate: that the White House generally keeps its nose out of criminal cases and always steers clear of cases that involve presidential associates or the president's personal or political interests.
Barr's conduct paints a clear picture of what is to come for the Justice Department and the nation. Certainly, he can be counted on to continue to do the president's bidding by intervening in cases pending before the department that are of interest to Trump. So, too, he will use his powers as attorney general to promote the "deep state" conspiracy narrative, as he has done so vocally during the past month. But that is not all. He is now speaking openly about "bringing to justice people who were engaged in abuses," based on the 12-month-old Russian-interference investigation that he is personally overseeing. Recent reports of the declassification of documents to identify various Obama-administration officials foreshadow what may lie ahead. And Barr told Hugh Hewitt on April 21that the departmental policy about timing indictments to avoid impact on an election does not apply to charges being filed against anyone but the candidates themselves.
While no direct judicial or other remedy is available to stop such gross abuses—the attorney general has broad discretion and can do a great deal of harm before a case ever gets to court—Barr may have made a crucial mistake in implementing the president's desire to have Flynn's prosecution dismissed for no good reason. For dismissals of indictments are proper only "with leave of the court." Judge Emmet Sullivan's appointment this week of a respected former judge and Mob-boss prosecutor to oppose the government's motion gives reason for hope that Barr's gross abuses of his office will receive the attention and treatment they deserve in a court of law.