A Ramadan and Eid in Isolation
I am trying to help my family find their own special connection to the holy month this year.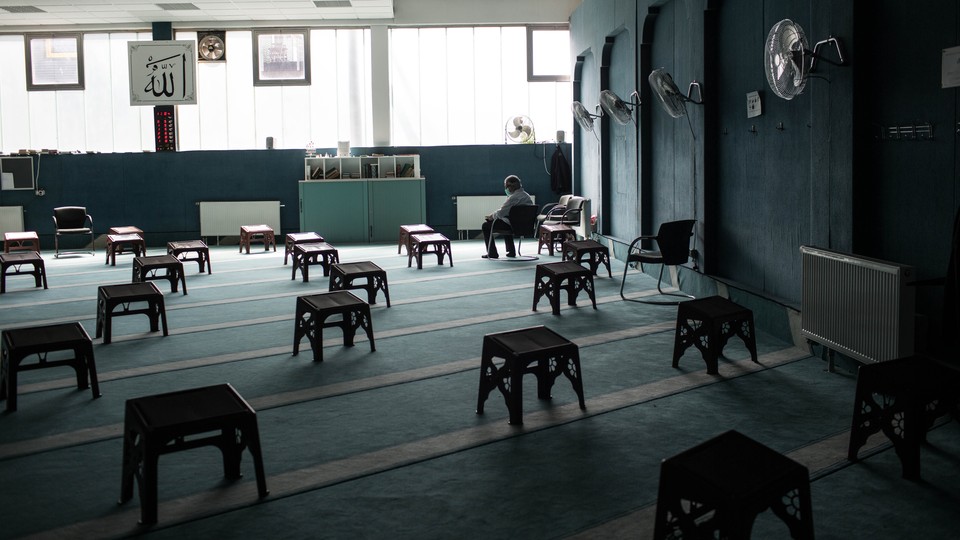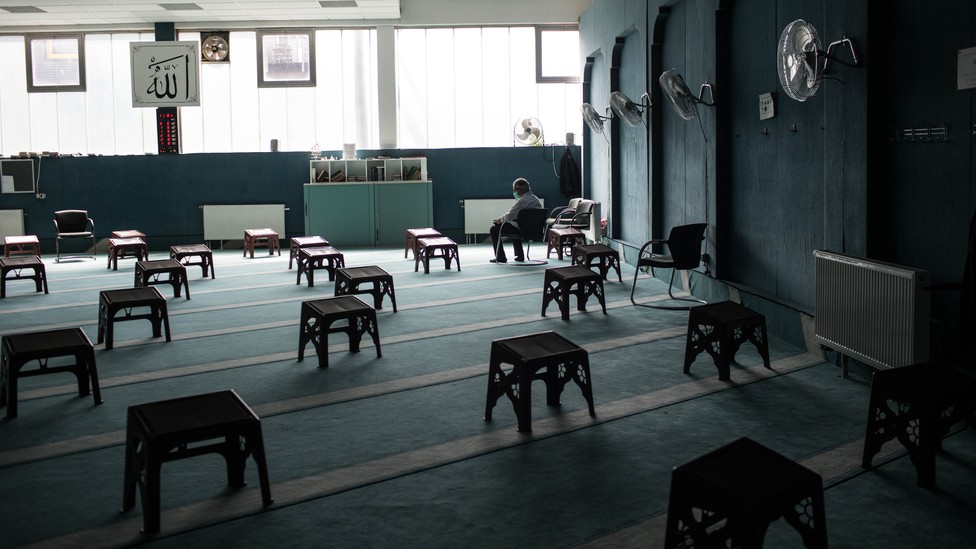 I started my Ramadan prep late this year. Usually, I would have spent the weeks leading up to Islam's holiest month taking a careful inventory of supplies and preparing the staples and treats that help my husband, my two sons, and me weather long days of fasting. Every family has a different traditional early-morning meal, or suhoor. In my household, we make homemade egg muffins, fruit salad, and meat-filled pastries. My parents reheat rice and curry from their previous night's dinner and, inexplicably, finish with Raisin Bran. My usual preparations, though, were derailed by the coronavirus's many restrictions on everyday life—and by my own sadness about how different Ramadan would be this year.
During Ramadan, I find solidarity in the fast, an instant connection that comes from abstaining from food and drink alongside hundreds of millions of others. However, the sense of community—attending communal prayers, visiting friends and family, breaking fast in large gatherings, and anticipating Eid al-Fitr's celebration at the end of the month—is what has propelled me and my family through past Ramadans. None of that is possible this year. The holy month is supposed to disrupt everyday life, but this year it has been disrupted by a worldwide calamity. Muslims globally are experiencing the strangest Ramadan ever. The feeling of togetherness that is so important during this month is difficult to replicate alone at home, but I am trying to help my family find their own special connection to this Ramadan.
I started fasting for the entire month when I was in the seventh grade, in the early '90s. I persevered even when my classmates waved their lunches in front of my face and asked whether I was hungry. I smiled obligingly and feigned being tempted by their soggy, gravy-drenched french fries. Of course I was hungry, but I understood that my hunger was self-imposed, and therefore more a state of mind than an immediate need.
For many people who regularly fast, there is usually a point, about three days in, when your body adjusts to the lack of food and drink. Some even report an unusual ability to concentrate. This isn't to say that fasting is easy. It is not. The difficulty is the point.
When I was young, I focused on the South Asian treats my mom whipped up nightly for iftar, the meal we eat to break our daily fast. During Ramadan, my mother, an immigrant from India, would make Hyderabadi delicacies from "back home": fresh pakoras, vegetables coated with chickpea batter and deep-fried; samosas, meat and vegetable pastries, also deep-fried; dahi vada, lentil dumplings, deep-fried and soaked in yogurt. (Do you notice a pattern?) Such intricate snacks were reserved for this special month, and helping my mother prepare them was my first introduction to the soul-nurturing power of food. We lived with extended family for many years, so during various childhood Ramadans, my grandmothers, aunts, and cousins would all crowd into the kitchen at iftar time to help fry pakoras or assemble the sweet sherbet drink falooda, made with rose-flavored syrup, basil seeds, and milk. We would listen to Reflections on Islam, a Toronto-based Ramadan radio program that featured poetry, songs, scripture, and community announcements, as we waited for sunset, food, and piping-hot chai.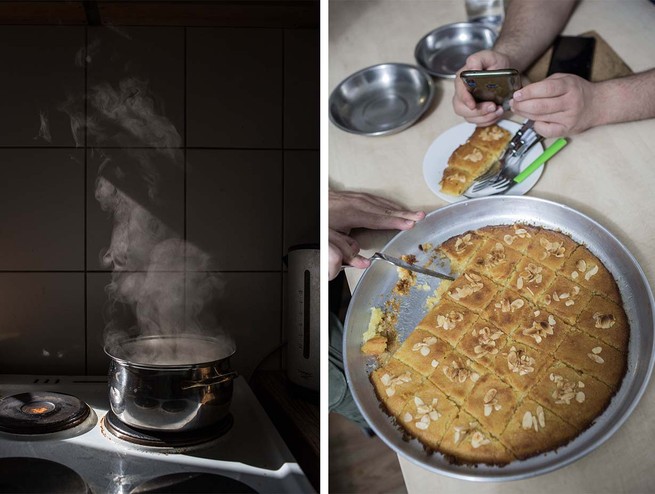 After dinner, my family would go to the mosque for taraweeh, the special communal prayers performed by Sunni Muslims. Our local mosque was filled nightly with a thousand worshippers. I can still hear the reverberation of their "Ameen," a powerful echo of confirmation that seemed to shake the floor. I miss the feeling of standing shoulder to shoulder with my fellow Muslims, knowing I'm part of something larger than myself, a single person participating in a global tradition.
When places of worship closed their doors in mid-March, there were rumbles that the lockdown might last all the way to Ramadan, which started on April 24. Not attending the mosque during the holy month was unthinkable. Then the unthinkable became reality. Now my family must find that Ramadan spark without the many people who make it meaningful.
In a month largely spent not eating, we end up thinking a lot about food, so that's where I started. I'm not as gifted in the kitchen as my mother is, but I know that the beauty of this month comes from making an extra effort. My husband and I take turns cooking dinner, while my sons assemble fruit salad or fry samosas. Sometimes I'll make chana, spicy chickpeas, or haleem, a savory lentil-and-meat stew, if we're feeling fancy. Afterward, we all clean up together and discuss the next day's menu.
Because we're in isolation, my husband, sons, and I have started to pray the five daily prayers together, whereas before we would have observed them separately. Because we can't go to the mosque, we've started listening to and watching online spiritual lectures and programs, usually together in the half hour before we break our fast. After dinner, we congregate for the nightly prayer, and then get ready to repeat the routine the next day, and the next, and the next, for the whole month.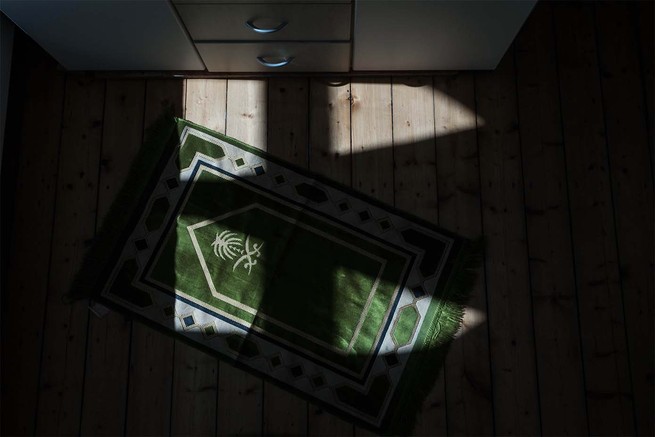 In this way, the days have passed, but I still haven't let go of my dread, because I know my family will feel the disruption of this pandemic most acutely on Eid, the end-of-Ramadan celebration. Usually, we would all head to the mosque, dressed in our finest, for prayer and socializing. Afterward, we would enjoy lunch at my parents' home—a meal of khichdi (lentils mixed with rice), meat curry, sesame-coconut chutney, and crispy papadum (spicy lentil chips). For dessert: sheer khurma, a traditional pudding made with vermicelli, nuts, and milk. Following the customary Eid nap, we would make our way to a large family party, where my kids would be showered with gifts and enough money to line their pockets for the next six months.
I've been trying to imagine what Eid will look like this year. Maybe I will be adventurous and attempt to make my mom's traditional lunch. Perhaps we will visit my parents and talk with them from the driveway for a few minutes. If my kids are very lucky, envelopes full of cash might be paper-airplaned into their grasping hands. But the day won't be the same. I know the uncertainty that has dogged us all month will be our companion on Eid too.
Still, this month has seen a few positive developments. My mango-milkshake game has never been stronger, though admittedly my pakoras still need work. Because we are all stuck at home and we can't eat food to distract ourselves during the day, my husband, sons, and I are taking a more active role in the rituals of Ramadan. My 15-year-old has started waking the rest of the family for the early-morning suhoor meal, and both of my sons are taking turns leading prayers out loud, their confidence growing with every recitation.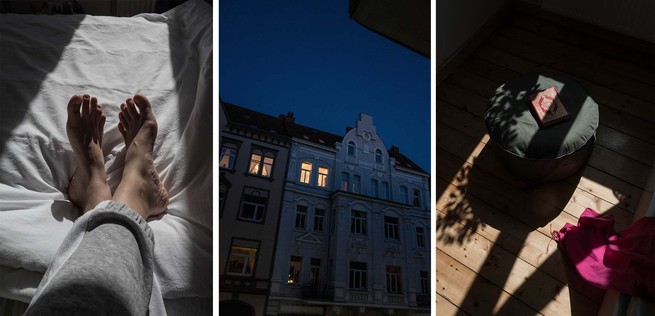 Although I don't want to go through another Ramadan like this one, the lockdown has helped me concentrate on the purpose of this month, which can get buried beneath the deep-fried food and constant socializing. At its heart, Ramadan is meant to interrupt daily life. We wake before the sun and refrain from food and drink until evening. Many people stay up late in prayer or use the spirit of Ramadan to try to give up bad habits and start better ones. As much as I enjoy the social aspect of the month, the quiet has made personal reflection easier. Many Muslims understand fasting as an act of radical empathy, our experience of hunger and thirst and fatigue a way to honor our blessings while acknowledging the plight of others less fortunate. And I'm acutely aware of the struggles of others now, during a pandemic.
Last Friday, my husband streamed a video of jummah prayer on our television. We watched the same imam who had led my husband's hajj group 10 years ago perform the day's ritual. He counseled us to stay patient and grateful, and to continue to shelter in place with our families.
We said "Ameen" quietly, not shoulder to shoulder with thousands of others, but the four of us sitting on the couch. And I realized one last thing about this holy month: Aside from the understanding that comes with fasting and working on our spiritual selves, beyond the time spent with family and friends and giving to charity, Ramadan is about becoming comfortable with loss—sitting with that loss for hours every day, willingly, surrendering to the discomfort of it.
My older son said it best: "You have what you need, but you miss what you had."
Ultimately, I know that my family will remember this as the Ramadan when we were all alone, all together.