2020 Time Capsule #18: Time Is Speeding Up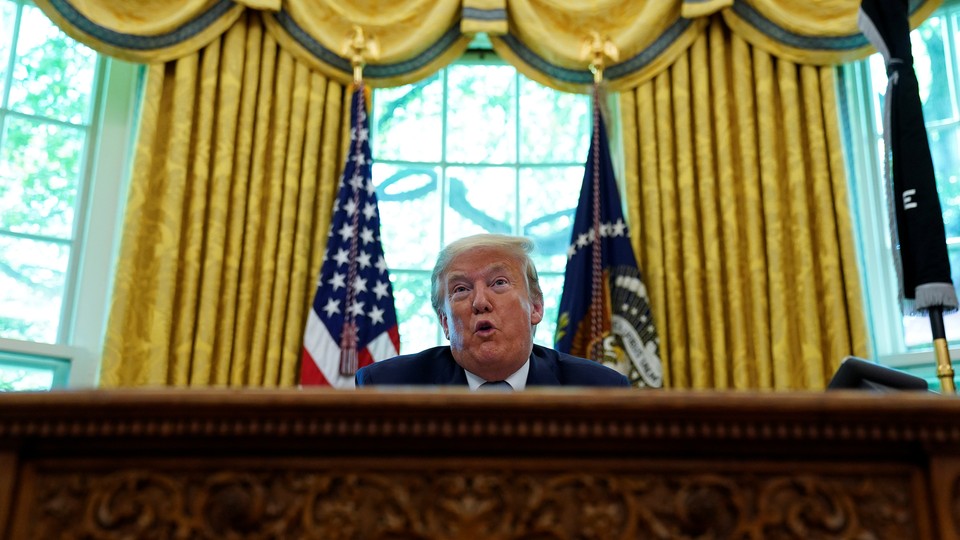 Editor's Note:
This article previously appeared in a different format as part of The Atlantic's Notes section, retired in 2021.
Nearly every day of the past two weeks has brought a development that, by itself, would have been a major substantive and political event in other times. As a benchmark and reminder, a reckless move by a Democratic president after he had left office, and a glib off-hand comment by a Republican president while he was still serving, remain vivid, years after they happened, as axes of political, legal, and press consequences.
For the Democrats, the instance was the decision by Bill Clinton, then 16 years out of office and husband of the Democratic candidate, to walk across the tarmac at the Phoenix airport in June, 2016, and talk with Loretta Lynch, who was Barack Obama's attorney general. From that encounter grew Republican complaints that Clinton was "interfering" with the Justice Department's investigation of the Hillary Clinton email "scandal," then Lynch's recusal from the case, then its effective transfer to James Comey, the FBI director, and then—you know the rest.
For the Republicans, the moment came three days into the Hurricane Katrina disaster in New Orleans, in 2005. On a visit to the drowning city, George W. Bush told Michael Brown, then head of FEMA, "Brownie, you're doing a heckuva job."
Four years after the Lynch episode, anyone involved in politics remembers its role in making the phrase "But, her emails..." central to a presidential election. Fifteen years after Katrina, "Heckuva job" remains a part of the standard mocking vocabulary of public life.
But almost every 24-hour span in public life, circa 2020, brings comparable developments. They risk being lost to memory, because of the Iguazu Falls-scale torrent of shocking-but-not-surprising assaults on civic, logical, and governing norms.
Just as an unelaborated list, here are a few of the things that occurred over the days when the U.S. death toll from the pandemic was rising from nearly 70,000 to nearly 90,000. At least half-a-dozen of these would, in normal times, be front-page developments on their own.
Starting two weeks ago, we have:
Not every one of these items would qualify as a standalone, discussion-focusing, campaign-shifting, reputation-changing event, in normal times. But most of them would.
---
On May 14, The Financial Times published a long, reported piece by its correspondent Edward Luce, about the character of the man leading the federal effort. Its closing words, quoting the lawyer (and Trump critic) George Conway, were:
Without exception, everyone I interviewed, including the most ardent Trump loyalists, made a similar point to Conway. Trump is deaf to advice, said one. He is his own worst enemy, said another. He only listens to family, said a third. He is mentally imbalanced, said a fourth. America, in other words, should brace itself for a turbulent six months ahead—with no assurance of a safe landing.
On May 17, Lachlan Cartwright, Asawin Suebaeng, and Lachlan Markay of the Daily Beast published another long, reported piece saying that Peter Thiel—Facebook board member, and co-founder of PayPal, who had given a nominating speech for Trump at the 2016 Republican convention in Cleveland—was souring on Trump. It included this quote, parallel to what Luce had reporterd:
"Everybody goes into the Trump relationship woodchipper," said Trump's former White House communications director Anthony Scaramucci, who worked on the Trump presidential transition team with Thiel and who had his own falling-out with the president. "You either come out on the other side with your dignity and your personal story intact or you're reformed as Trump compost and you're fertilizer under his shoe. You have to make a decision and it happens to everyone."
These were the realities of two weeks in May, five-and-a-half months before the election.
And for the future of the republic, the most important reality may be the continued silence of the congressional Republicans. A few of them spoke up after the Friday-night firing of the State Department inspector general. Mitt Romney, notably, wrote that it was " a threat to accountable democracy." Susan Collins, as if immune to self-parody, tweeted out her concern. But as a group, they are silent. They know, and they choose not to speak.