2020 Time Capsule #17: 'Empathy and Simple Kindness'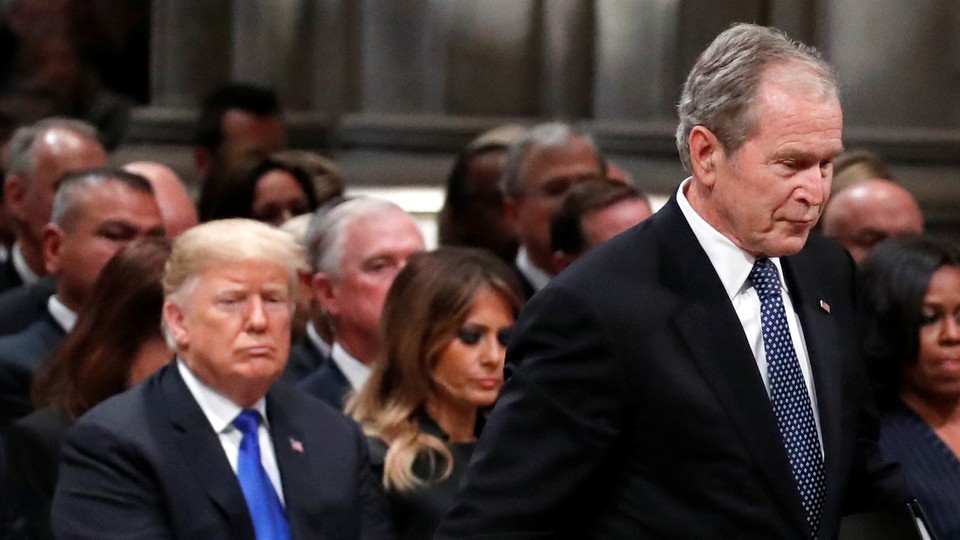 Editor's Note:
This article previously appeared in a different format as part of The Atlantic's Notes section, retired in 2021.
As the past week began, the Unites States was crossing 50,000 reported deaths from the coronavirus pandemic. As the new week arrives, the U.S. death total is 70,000.
Of the countless extraordinary events in these seven days, a few that are worth noting:
1) "Empathy and Simple Kindness." This past Saturday, former President George W. Bush released a brief video whose subtweeted message was unmistakable. It recognized the suffering of those who had lost family members, or economic prospects, or hope itself; it emphasized the all of us rather than the us and them response to national crisis; and it appealed to the generous rather than the resentful in human nature.
In short, it was the kind of message that leaders of any nation have been expected to transmit, as part of their duty, in time of national hardship. And it highlighted by contrast the signals of "empathy and simple kindness" that Donald Trump himself had never managed to convey or even feign.
I have been as harsh as anyone on George W. Bush's responsibility, in his time in office, for America's foreign-policy and economic travails. (For more, see this, this, this, and this.) But it would be wrong not to recognize the way he was trying, 11 years after leaving office, to express the thoughts a nation expects from its leaders.
The video raised a further possibility and question for this former president: What will he say as the next election draws near? The three other living former presidents—Jimmy Carter, Bill Clinton, and Barack Obama—are all Democrats. So for them, there will be no conflict between policy goals and party loyalty. All will, of course, try to help Joe Biden beat Donald Trump.
In the 2016 election, the extended Bush family made no secret of its distaste for Donald Trump, who had after all ridiculed "Low Energy Jeb" Bush in the primaries. This new video suggests that George W. Bush's estimation of Trump has not gone up. (For the record, two years ago, during the Brett Kavanaugh confirmation fight, Bush did his best to persuade Republican senators to stick with Kavanaugh—who had been a White House staffer for Bush.)
But would a former Republican president dare go public with a plea to save the country, and what he thinks of as his party's principles, by voting for the opposition? The logic of this video suggests that Bush should. Could he actually do so? I'm not holding my breath, but Bush loyalists should be raising the question with him.
2) "A great success story." This past Wednesday, Donald Trump's son-in-law, Jared Kushner, went on the First Family's favorite TV program, Fox and Friends. He told the hosts that the federal government "rose to the challenge" and "this is a great success story." You can listen to him yourself, starting 9:00 minutes into this clip.
The day before Kushner spoke, the confirmed U.S. death toll from the pandemic exceeded the 58,000-plus U.S. fatalities inscribed on the Vietnam Veterans Memorial, the famous black granite wall in Washington. Since then, they have increased by about 2,000 per day.
It is conceivable that selected parts of the federal response will eventually be seen as successes, though overall they appear to be catastrophic now.
It is inconceivable that a favored in-law's cheery declaration of a "great success story," as tens of millions of people are losing their jobs and tens of thousands have lost their lives, will stand up well.
3) "I will never lie to you." I noted last month that the new White House press secretary, Kayleigh McEnany, differed from her immediate predecessor in planning to hold press briefings at all. But she differed from past administrations' press secretaries in that her history as a public figure was entirely in the role of cable-news partisan advocate.
At her first press briefing, this past week, she told the assembled reporters:
"I will never lie to you. You have my pledge on that."
You see her saying so 8 minutes into this C-SPAN video. Then she proceeded to … lie, on matters ranging from the Mueller investigation, to the prosecution of Michael Flynn, to the history of sexual-assault allegations against Donald Trump, to a range of others. Dan Froomkin set out the details in Salon and Annie Karni did so in the New York Times.
My earlier argument was: The best press secretaries have recognized the fundamental torment of the job. The good ones are torn day-by-day between their assignment to put the best face on the administration's policies, and their desire to stick as close as possible to the truth.
Like Trump himself, Kayleigh McEnany seemed in her debut to be unconflicted. Her duty is only to the administration.
4) "The plague should never have happened." Back in March I noted Donald Trump's penchant for "projection": that is, attacking others for the failings that seem most evident in himself.
Bear that in mind, in considering Trump's comments at a White House event this past week—and comparing them with the verdict likely to be rendered upon his administration. Trump said (as shown in this C-SPAN video):
This plague should have never happened.

It could have been stopped, but people chose not to stop it, and it's a very sad thing for the world
Indeed.