Searching for Connection While Apart
Experiencing art, sports, music—life—together is something we all need.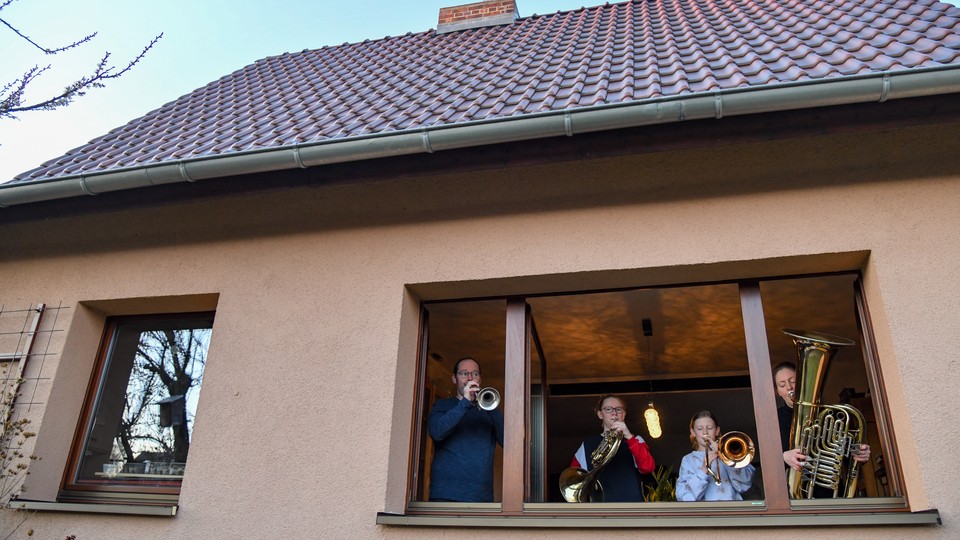 A few years ago, I was moved to tears as I sang "Let It Be" along with 22,000 people at a Paul McCartney concert. We—a community of perfect strangers—wrapped our arms around one another as we swayed back and forth. I felt similarly when I saw Cicely Tyson star in The Trip to Bountiful on Broadway. She was 89 at the time, and her performance was a glory to behold. As soon as the play ended, the entire audience—crammed together, shoulder to shoulder—burst to its feet in rapturous applause.
That feeling of community has bloomed up so many times for me: proudly walking with thousands at the Women's March; when a player on my high-school basketball team made a last-second three-pointer that took us to the state championships; and even when the packed audience all laughed in unison at Emma, the last time I went to the movies. Those experiences seem like they're from another life now, and we're only a few weeks into this pandemic. In my state, Kentucky, most businesses have closed, just as they have across the country. The Centers for Disease Control and Prevention has recommended that we not gather in groups of 10 or more. We've now reached a point where we must fear one another to protect everyone.
But what are we without community? After all, experiencing art, sports, music—life—together is something we all need, and something that often unites us, regardless of socioeconomic status, race, or any of the other things that frequently divide us.
I recently finished writing a novel about a fictional pandemic, and throughout the process I spent a lot of time examining fear without realizing that sadness is what I'd actually feel the most when one really happened. I've grieved for those who are likely to lose their business or home. I've been sad because I hate for my children to be afraid, and also because I miss them. Two weeks ago, I could drive an hour and see them, wrap them up in a hug. But I can't do that now without fear of exchanging the coronavirus. I can't see my parents, now in their mid-70s, without worrying that I might give something to them too.
I've always loved moments of community, in groups big and small: the comfort of congregating every Sunday for services at the Church of the Good Shepherd; the neighborhood picnic where we all carried out covered dishes to share; Saturday nights with friends drinking gin and tonics, sitting close enough to hear one another over the loud music and the swarm of people pressing close to the bar. I recall book-club meetings and public readings and crowding 40 people into our house for a cocktail party—"The more the merrier!" I kept saying as people showed up.
Still, I'm finding ways to create community. Our Episcopal church has gone fully online, and when we used to shake hands or embrace to pass the peace, we now type "Peace to you" or "The peace of the Lord" into comment boxes as we watch together on Facebook Live. Virtual book clubs are becoming more numerous on Twitter, and Luddite-leaning writers like myself are meeting with them more and more.
One of my favorite moments of community happens every day at 5 o'clock, when Kentuckians gather around their laptops and televisions to watch our recently elected governor, Andy Beshear, address the commonwealth. We assemble the way people used to scoot up close to the radio for Franklin D. Roosevelt's fireside chats. Beshear has become beloved because of his reassuring yet straightforward response to the crisis. Like a firm but loving Mister Rogers, he makes us feel informed with his updates, gently chides groups who are not following social-distancing rules, and offers a much-needed sense of routine. Now text threads, memes, and entire online communities have formed around his daily addresses. He's asked us to share positive images from our day with hashtags such as #TogetherKY. The governor is so popular that he has bridged the partisan divide, with Republicans and Democrats united in their appreciation for the liberal governor's decisive actions.
Music has been another salve for me—and for so many of us. I've been helped through my days of quarantine by Rufus Wainwright singing in his bathrobe and Mary Chapin Carpenter singing in her kitchen, both on Instagram. Yo-Yo Ma is uploading performances with the hashtag #SongsOfComfort. During my daily walks with my always happy beagle, I pause at a house to listen to a neighbor inside playing the piano.
My friends and I recently formed a weekly Zoom cocktail hour. We find ourselves so caught up in laughter and ribbing one another that it's almost like we're in the same room. Almost, but not quite. We're finding ways to survive, but it's not the same. In a raucous conversation with those friends, we would normally be slapping one another on the back, sharing a cheese plate, preparing drinks without a second thought. We'd exchange warm hugs when we departed. I miss that already. When I go grocery shopping for my parents next week—to keep them from going out in public—I won't be able to get the kiss on my cheek that my aging mother usually gives me. I might be 48, but the older you get, the more precious that becomes, especially now, as so many have lost their parents to this virus.
We have a new way of life now. And I suppose this is community too; this not being together is how we help one another. In my neighborhood, one family put a basket of toilet paper at the end of their sidewalk, offering it to anyone who might need it in this time of hoarding. In Lexington, where I live, many have gone out of their way to order takeout from local restaurants whose dining rooms have been closed by the governor to enforce social distancing. A local group, the Blue Grass Community Foundation, aided by the local celebrity (and former NBA guard) Rex Chapman's popular Twitter account, recently raised $150,000 in about 36 hours as part of an ongoing effort to help those in need due to the pandemic.
Throughout the world, people are finding ways to keep community alive until this is over. Nurses and doctors in Iran danced in full scrubs to lift the spirits of patients. A violinist in Louisville played outside a nursing home for residents to listen at their windows. In Florence, Italy, the opera singer Maurizio Marchini serenaded his neighborhood with "Nessun Dorma." New Yorkers recently leaned from their apartments to beat cooking pots, yell, and applaud health professionals. And I've also seen it in the actions of our neighbor, who told me that she is singing lullabies to her grandson via FaceTime. All over the world, people are stepping forward with their guitars, their accordions, their trumpets, their voices. Instead of embracing, for now we'll sing.