2020 Time Capsule #11: 'Captain Crozier'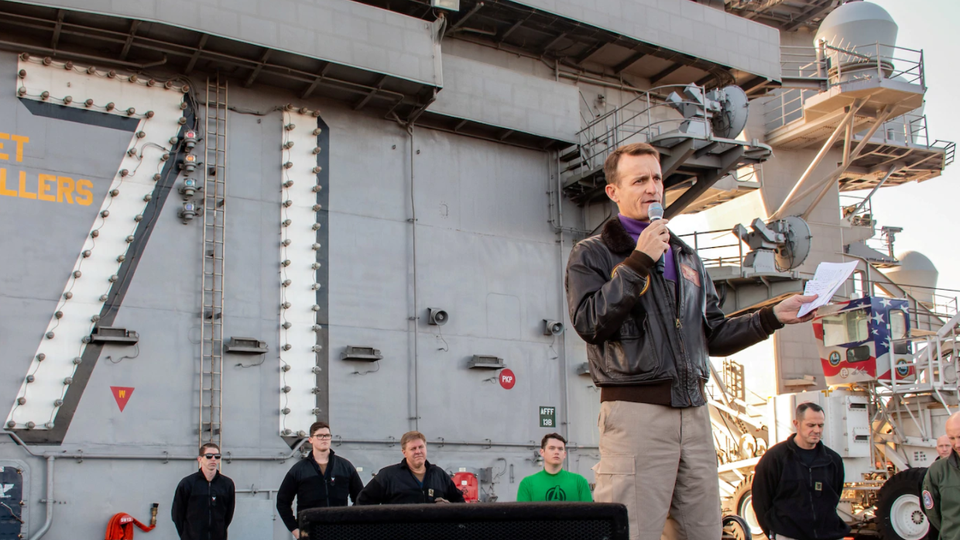 Editor's Note:
This article previously appeared in a different format as part of The Atlantic's Notes section, retired in 2021.
The episode I'm about to mention has been receiving saturation social-media attention for the past few hours, as I write. But because the accelerating torrent of news tends to blast away each day's events and make them hard to register—even a moment like this, which I expect will be included in histories of our times—I think it is worth noting this episode while it is fresh.
Until a few days ago, Brett Crozier would have been considered among the U.S. Navy's most distinguished commanders.
He graduated from the Naval Academy in 1992 and then entered training as a naval aviator. He was qualified first as a helicopter pilot, and then in the Navy's F/A-18 fighter planes. He was deployed aboard the aircraft carrier Nimitz during the Iraq war, and he held an ascending series of staff and command jobs—as you can read in his Pentagon biography, here. He received a master's degree from the Naval War College; he became executive officer (second in command) of the nuclear-powered carrier Ronald Reagan; and he became commander of the amphibious ship Blue Ridge. Then late last year, as a Navy captain, he took command of the Nimitz-class nuclear carrier USS Theodore Roosevelt and the 4,000-plus people in its crew.
Last week, coronavirus sickness spread rapidly among the Roosevelt's crew members. Five days ago, on Sunday, Matthias Gafni and Joe Garofoli of the San Francisco Chronicle published an email by Crozier, addressed to his naval superiors, asking that the ship be diverted from its normal duties so that sick crew members could be treated and the spread of disease could be slowed. Gafni and Garofoli did not say how they had received the email, but it had been copied to a large number of recipients and not marked as sensitive; Crozier must have known it was likely to become public when he sent it.
The four-page letter, which you can read in full at the Chronicle's site, used the example of recent cruise-ship infection disasters to argue that closed shipboard environments were the worst possible location for people with the disease. It laid out the case for immediate action to protect the Roosevelt's crew, and ended this way:
7. Conclusion. Decisive action is required. Removing the majority of personnel from a deployed US. nuclear aircraft carrier and isolating them for two weeks may seem like an extraordinary measure. A portion of the crew (approximately 10%) would have to stay aboard to run the reactor plant, sanitize the ship, ensure security, and provide for contingency response to emergencies.

This is a necessary risk. It will enable the carrier and air wing to get back underway as quickly as possible while ensuring the health and safety of our Sailors. Keeping over 4,000 young men and women on board the TR is an unnecessary risk and breaks faith with those Sailors entrusted to our care...

This will require a political solution but it is the right thing to do. We are not at war. Sailors do not need to die. If we do not act now, we are failing to properly take care of our most trusted asset our Sailors. Request all available resources to find NAVADMIN and CDC compliant quarantine rooms for my entire crew as soon as possible.
"Breaks faith with those Sailors entrusted to our care." "We are failing to properly take care of our most trusted asset our Sailors." "Unnecessary risk." In any walk of life, such language would have great power. Within the military—where terms like faith and trust and care have life-and-death meaning, and are the fundamental reason people follow leaders into combat—these words draw the starkest possible line. This course is right. The other course is wrong. Thus a leader spoke on behalf of the people "entrusted to our care."
---
The letter got widespread attention in the press, and became a PR problem for the Pentagon and the administration. A commander was in effect saying that the command structure was mis-serving the troops; the command structure was not amused.
Yesterday, April 2, four days after the letter's appearance, the acting secretary of the Navy formally relieved Crozier of command of the Theodore Roosevelt. That is, Thomas Modly, the acting secretary who was himself a Naval Academy graduate and former naval aviator, fired Crozier from one of the most consequential command roles in the Navy. Crozier's offense, according to Modly, was exercising "extremely poor judgment" in letting his plea become public. Also, Crozier's letter had "unnecessarily raised the alarm of the families of our sailors and Marines." Modly was quoted in Stars and Stripes saying that the letter "creates a panic and creates the perception that the Navy is not on the job, the government's not on the job, and it's just not true." A commander had gone outside channels and created a "perception" problem.
  

Last night, soon after Crozier had been "relieved," he took his last walk off the ship as commander, down a gangway to the dock in Guam. As he left, the men and women serving with him signaled where their respect and loyalties lay. Videos that, based on current information, appear to be authentic, showed the crew heralding him on his departure, with supportive cheers of "

Captain Crozier! Captain Crozier!" This account from Stars and Stripes gives a sample. Based on information available as I write, it appears that he took a stand, and is paying the price.
Brett Crozier will no longer be one of the Navy's most powerful commanders. He remains in the service, but his command has been taken away.
He will likely be remembered among its leaders.