Melania Trump's Birthday Gift
Nothing says "happy birthday" like the zip codes, email addresses, and mobile numbers of 1 million Americans.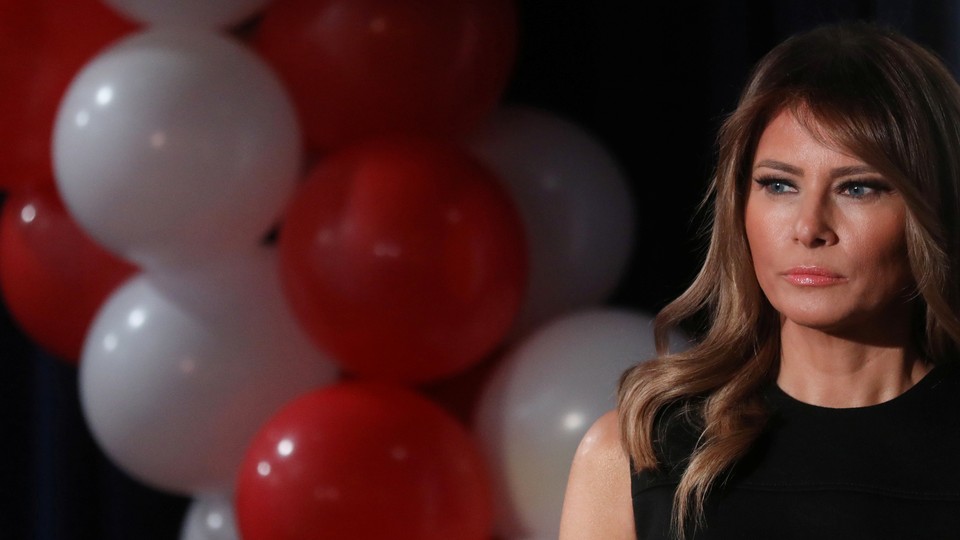 Earlier this month, I received an intriguing email that appeared to be from Donald Trump. "Can you keep a secret?" the subject line asked. The small print at the bottom of the email clarified that it was actually from a joint fundraising committee composed of Donald J. Trump for President, Inc. and the Republican National Committee. "I have exciting news to share," the email began, as if in Trump's voice, "but you have to keep it a secret."
The secret was a "HUGE" surprise birthday gift for the first lady. In the email's telling, my help was needed to pull this off. "Melania does so much for our Nation and I want to make sure she knows just how much she means to us," it stated. "I want to surprise her with a birthday card signed by 1 MILLION Americans from all around the Country."
Melania's birthday is today. And now that there's no risk of ruining any surprise, I want to send her a message through this article, having refrained from responding to the email.
You see, although I am more than happy to help give Melania the gift of birthday wishes from a million Americans, I began to suspect that Trump and his RNC allies had ulterior motives when they sent that email––that they were exploiting the first lady's birthday as a pretext to add to their databases.
Here's a screenshot of the form included on the web page where email recipients were urged to "sign" the "card":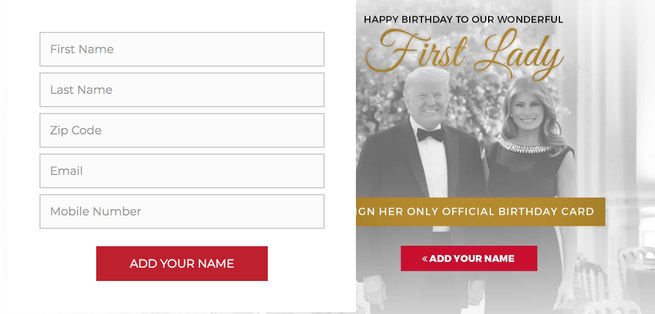 In my experience, people earnestly collecting signatures for a birthday card don't typically solicit the zip codes, email addresses, and mobile numbers of signatories, whereas political operatives find great value in information of that sort. Did the people working on behalf of Trump calculate that an honest request for personal information would be less effective than a ruse about a man wanting to do something nice for his wife's birthday?
My suspicions only grew when, at the bottom of the page, I found this message:
By providing your phone number, you are consenting to receive calls and SMS/MMS messages, including autodialed and automated calls and texts, to that number from each of the participating committees in the Trump Make America Great Again Committee, Donald J. Trump for President Inc. and the Republican National Committee. Msg & data rates may apply.
Then, as I went to close the window in my web browser, this pop-up appeared: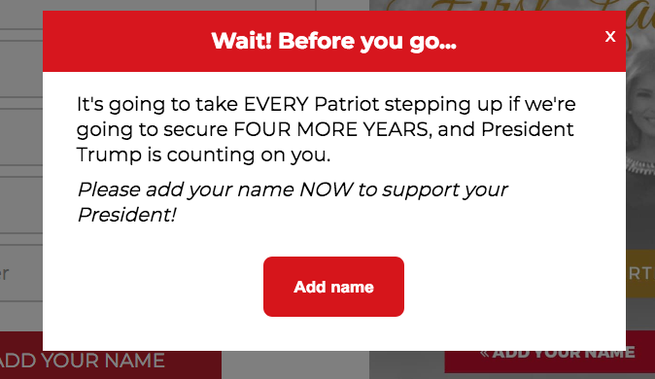 I concluded that if I wanted to be sure my best wishes would reach the first lady, and my impulse would not be exploited, I'd better send them independently. Happy birthday, Melania. You deserve better than the people around you.