Can't We at Least Give Prisoners Soap?
As coronavirus fears spread among incarcerated people and those advocating on their behalf, I've heard again and again about soap.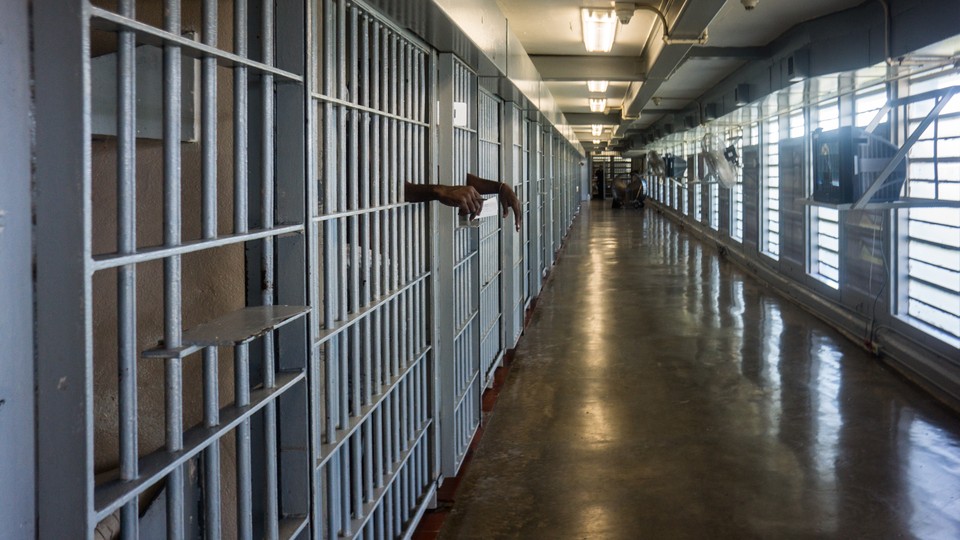 Thaddeus Betz is one of many attorneys who fear that the coronavirus is going to kill one of their clients as it spreads in densely populated jails and correctional institutions. Last week, Betz filed a motion on behalf of Benjamin John Finnestad, a registered sex offender cancer survivor in his mid-40s who is awaiting trial after being accused of trying to lure underage girls online. Would a federal judge release Finnestad into house arrest with an ankle bracelet during this pandemic?
I read the motion over the weekend in an ongoing effort to understand what arguments are being made on behalf of incarcerated Americans during this extraordinary public-health emergency, and to comprehend the sorts of factors that judges and prosecutors must weigh as they render decisions.
"Inmates cycle in and out of Bureau of Prison pretrial facilities and local jails from all over the world and the country, and people who work in the facilities leave and return daily, without screening," the motion states. "There are no institutional precautions or rules about gathering in groups of people. Meals are, at times, served communally where inmates are seated next to one-another." That's more or less what I expected, knowing that the incarcerated are at special risk of contracting an infectious disease, in part because they cannot engage in the social distancing urged by public-health authorities.
But one detail surprised me.
"As far as Counsel is aware," the motion declares, describing the conditions at the medium-security prison where Finnestad is being held, "hand sanitizer at FCI Sheridan is simply not available as it is contraband. Soap is not provided to inmates, but rather must be purchased. Strangely, a bar of soap is no longer going to appear on commissary alone, but instead must be purchased with a more expensive hygiene packet."
Wait a minute, I thought, prisoners have to buy their own soap?
During pandemics and normal times alike, one piece of public-health advice remains unchanged: Wash your hands often, with warm, soapy water, especially after using the bathroom or before eating. Even the Federal Bureau of Prisons declares in its 2018 guidelines on influenza epidemics, "Educate staff and inmates that the following measures help protect against the spread of influenza: Regular hand washing—especially after sneezing, coughing, or touching the face."
But at the federal, state, and local level, the provision of soap varies widely among lockup facilities, and many prisoners lack access to soap unless they buy it themselves in a commissary. The result is almost certainly more illness, treated at taxpayer expense, than would spread under a regime of free soap and institutional encouragement of frequent hand-washing behind bars.
Prior to this month, I'd never heard about that wrinkle of life in prison, despite having interviewed dozens of prisoners over the years and following criminal-justice-reform efforts relatively consistently. But as coronavirus fears spread among incarcerated people and those advocating on their behalf, I've heard again and again about soap.
Homer Venters, the former head of the New York City Correctional Health Services, told The Christian Science Monitor that most jails and prisons he's been to in the United States don't have enough sinks or soap.
ABC News reported that the Federal Bureau of Prisons is running low on hand sanitizer, soap, and masks, but can't get more "due to backorder," a shortage that affects both staff and inmates.
Before COVID-19 cases spiked in New York City jails, the Legal Aid Society reported that some inmates there lacked access to soap. In Ohio, "indigent inmates are issued two bars of soap a month, while other prisoners can purchase soap from the commissary," the site CorrectionsOne notes, adding that in Georgia, the Department of Corrections says extra soap is being placed in every unit, "but inmates and their relatives across the state say they haven't received extra soap and haven't seen increased sanitation efforts." (A nonprofit organization is purchasing soap for prisoners in Georgia.)
In Illinois, Jobi Cates, the executive director of Restore Justice, told the Chicago public-radio station WBEZ that "we're getting reports of inmates using their own soap that they've purchased through their commissary to clean common areas themselves. Once that runs out, where is it coming from?"
ProPublica obtained an audio recording in which "an immigrant held in U.S. Immigration and Customs Enforcement detention in New Jersey complains that he and other detainees are on a hunger strike to try to obtain soap and toilet paper in the midst of the coronavirus pandemic."
According to The Nation, Dayquan Salaman, a prisoner in the Manhattan Detention Complex, "doesn't have hand sanitizer. He doesn't have regular access to soap. He was only allowed to shower once last week, and he's been wearing the same stinking clothes the entire time."
Complaints are being aired on social media too. On Twitter, the attorney James Zeigler wrote that Federal Bureau of Prisons staffers told him that "soap for handwashing can be purchased from the commissary but is not readily available in the units." Another Twitter user noted efforts by nonprofit organizations to get soap to prisoners in Massachusetts. According to the Prison Policy Initiative's study of prison commissaries, Massachusetts prisoners purchased more than 245,000 bars of soap in 2016. "That means individuals paid an average of $22 each for soap that year," the report explained, "even though DOC policy supposedly entitles them to one free bar of soap per week."
In a frustrated outburst, the criminal-justice-reform advocate David Menschel recently tweeted, "Imagine how fucking bad American corrections is at what it does that all these reports are coming in of prisons and jails WITHOUT FUCKING SOAP. Seriously, when we get through this, so many people need to be fired." Whether or not the responsible parties keep their jobs, can we at least agree that, as a matter of basic human decency and for the sake of public health, all prisoners ought to be given an adequate supply of free soap going forward?
The Arizona Department of Corrections announced that until the COVID-19 pandemic ends, it will give free hand soap to prisoners upon request. Why not make that a permanent change in policy?
Incarcerated Americans are no more likely than the rest of us to wash their hands as often as they ought to, but a sensible criminal-justice system would encourage hand-washing not only with free soap, but with public-service announcements from the staff. Treating soap as a luxury that prisoners must choose in lieu of a snack or shaving cream or a book or a phone call with family members creates obvious perverse incentives that affect not only the inmates, but all of the people with whom they interact, and even taxpayers, since we all pay for the doctors who treat the spread of prison illnesses.
The present emergency calls for an immediate influx of free soap into correctional institutions anywhere it has not already happened. In the longer term, Congress and every state and municipal government should pass legislation that makes access to soap a right, not a privilege, for prisoners.
Do you have information about current conditions in a jail or prison or other stories about how the coronavirus pandemic is affecting the criminal justice system? Email conor@theatlantic.com to share your story.