Why Trump Was Deaf to All the Warnings He Received
The president's incuriosity and paranoia hobbled his response.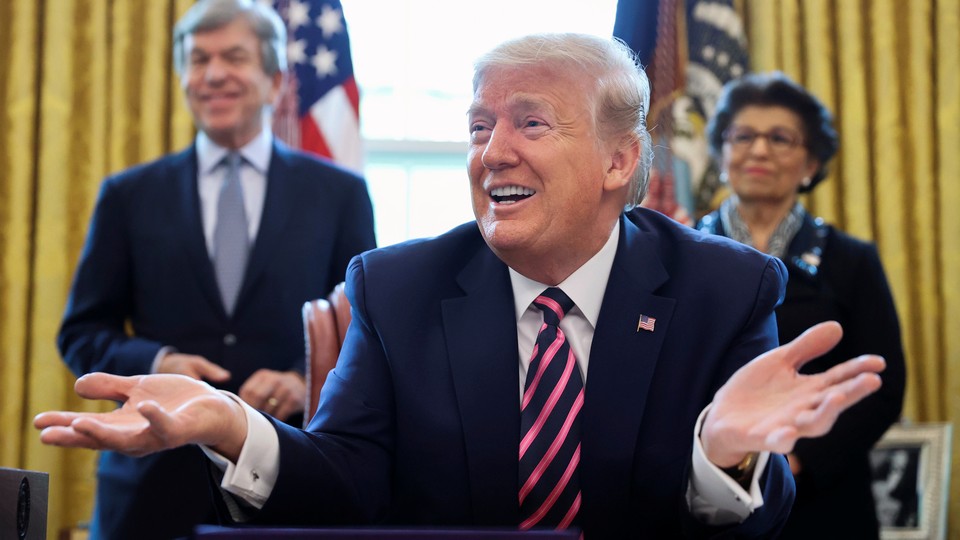 "There has been so much unnecessary death in this country," President Donald Trump said Monday at his daily coronavirus briefing. "It could have been stopped and it could have been stopped short, but somebody a long time ago, it seems, decided not to do it that way. And the whole world is suffering because of it."
The remark is classic Trump—warning darkly but vaguely about unidentified enemies—but insofar as anyone made such a decision, it was the president himself. The virus is not, of course, Trump's fault, but the federal government's handling of the outbreak is his responsibility. And one of the more astonishing revelations of the past month has been not just that the president was warned, but that he was warned over and over again and still declined to act.
The Washington Post reports that the President's Daily Brief, or PDB, an intelligence report on national-security threats, mentioned the coronavirus "more than a dozen" times in January and February, a period during which the Trump administration was doing little to prepare for a pandemic, and when the president himself was often downplaying the threat the virus posed to the United States. The oversight would come as a surprise if not for the long line of warnings that the president is known to have ignored.
Here's a partial timeline:
Starting "at the beginning of January," and continuing through February, the PDB repeatedly mentioned the outbreak, according to the Post. By mid- or late January, the coronavirus was a frequent and central topic.
On January 18, per The New York Times, Secretary of Health and Human Services Alex Azar first briefed Trump about the virus, via phone.
On January 22, speaking to CNBC in Davos, Switzerland, Trump dismissed the virus: "We have it totally under control. It's one person coming in from China, and we have it under control." (He also expressed confidence that China was forthcoming about the outbreak.)
On January 27, the Post has reported, top White House aides met about the virus, with one warning that an outbreak could cost Trump his reelection.
On January 29, the trade adviser Peter Navarro wrote in a memo that the virus could cause mass loss of life and economic destruction.

On January 31, Trump banned entry into the U.S. for most foreigners who had been in China, though by then there were already cases in the United States, and the ban excepted Americans who had been in China.

After a February 5 briefing, senators asked the White House to act more aggressively. "Just left the Administration briefing on Coronavirus," tweeted Senator Chris Murphy, a Connecticut Democrat. "Bottom line: they aren't taking this seriously enough. Notably, no request for ANY emergency funding, which is a big mistake. Local health systems need supplies, training, screening staff etc. And they need it now."

On February 25, Nancy Messonnier of the National Center for Immunization and Respiratory Diseases warned that "disruption to everyday life may be severe" as a result of the virus. Trump was reportedly furious that Messonnier had needlessly scared the public. He did not recommend social distancing until March 16.
In addition, the Post reports that American officials embedded at the World Health Organization' which Trump has since blamed for covering up the outbreak, were feeding information about the coronavirus to Washington, starting late last year.
These specific warnings about the novel coronavirus don't even include the generalized concerns about a pandemic that circulated for years before. Neither do they speak to the steps that the Trump administration took that may have reduced American preparedness, including eliminating a National Security Council office devoted to pandemics and cutting Centers for Disease Control and Prevention staff in China who might have provided more early warnings.
How many warnings did the president need?
There's likely no number of alerts that would have jarred the president into action, for two reasons. First, Trump is constitutionally incurious, and second, he is paranoid, such that he took warnings that might have helped him politically to be attacks designed to hurt him politically.
Start with the PDBs. Based on Trump's track record, it's a good bet that he never read the briefs at all, as he is known not to bother consuming most of the written materials provided to him. Major points in the PDB are delivered orally too, and the Post reports that the coronavirus was in the oral summary at times. But Trump is also notorious for not paying attention to briefings that are delivered to him, or for seizing only on some small parts of them. (The president reportedly interrupted Azar's January 18 briefing to complain about Azar's handling of vaping products.)
Even when warnings are able to reach Trump, he seldom treats them as efforts to provide him with useful information. It is clear now that the pandemic is a grave political threat to Trump's reelection, and that a swifter, more efficient response would have placed him in much better stead in November. At times, however, he has acted as though even discussing the crisis is evidence of disloyalty, as demonstrated in his furious response to Messonnier's warnings.
This is the real context for the president's infamous "hoax" remark at a rally in February. Trump has complained that his adversaries are misconstruing him to have claimed that the virus itself was a hoax. In fact, his remark was a paranoiac insistence that any warnings about the outbreak could only be intended to harm him politically: "They tried the impeachment hoax. That was on a perfect conversation. They tried anything. They tried it over and over. They'd been doing it since you got in. It's all turning. They lost. It's all turning. Think of it. Think of it. And this is their new hoax."
But even if Democrats' motives were not completely pure—in addition to real worries, they likely did see the virus as politically damaging to Trump—he would have benefited from taking the warnings and acting.
What would that action have looked like? The answer is not that Trump should have micromanaged the crisis response—though that idea meshes with his own vision of the presidency, which tends to emphasize actions the president can take unilaterally. Perhaps the greatest power a president has is the power of the bureaucracy. By picking up on currents in his briefings and asking a few questions about them, a president can swing the great heft of the federal bureaucracy toward them.
But Trump has long since decided that federal employees are part of a "deep state" determined to sink him, rather than the most powerful tool at his disposal. He is resistant to new information, demanding that events respond to him, rather than the other way around.
The federal government is mighty enough that often a president can drive events, but viruses don't work like that. In a pandemic, the president has to respond to events. Trump was too incurious and too paranoid to hear the warnings and do so.