Why Trump Just Can't Quit His Daily Press Conferences
The president loves his briefings, even though they appear to be doing his country and his standing more harm than good.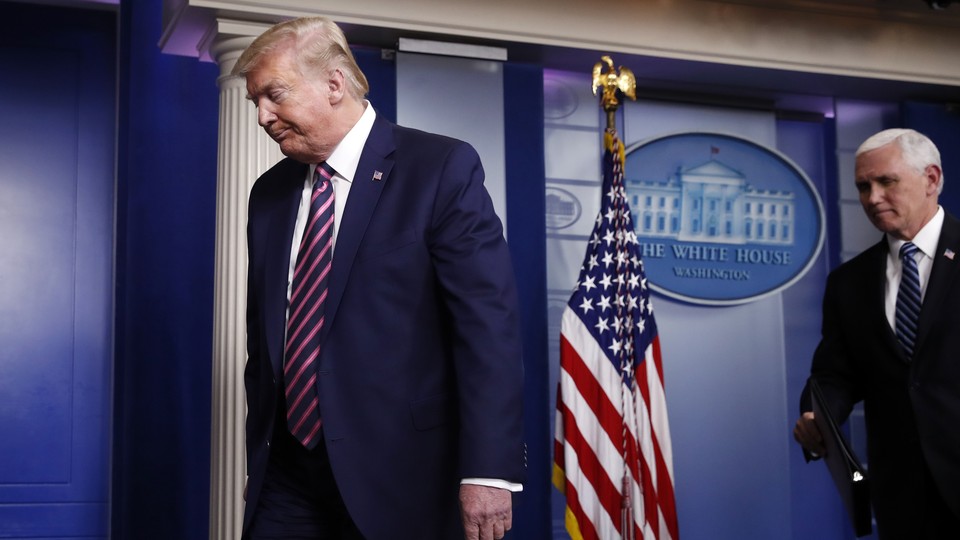 President Trump's daily coronavirus briefings, the administration's single most consistent and long-running response to the pandemic, have been a failure of moral and public-health leadership from the start. But after a particularly rough series of briefings last week, it seemed that the White House had finally come to understand that the briefings were also failing to help Trump politically.
In this administration, that's a far graver sin. "What is the purpose of having White House News Conferences when the Lamestream Media asks nothing but hostile questions, & then refuses to report the truth or facts accurately," Trump fumed on Twitter. "They get record ratings, & the American people get nothing but Fake News. Not worth the time & effort!"
The White House canceled today's briefing. Various news reports suggested that there wouldn't be a regular press conference in the future, either, and that Trump would instead appear in other venues. And then early this afternoon, White House spokesperson Kayleigh McEnany announced that there would be a briefing today after all.
The press conference's resurrection from the dead—more Romero than Lazarus—vividly illustrates the administration's narrow approach to the pandemic. Since the virus finally grabbed his attention roughly two months ago, Trump has approached the pandemic not as a public-health crisis, nor even, in practical terms, as an economic crisis. Instead, he has treated it as a communications problem that requires a good sales pitch, which he has mostly delivered via the White House briefing room.
The briefings had already earned an unflattering comparison to Vietnam War–era "5 O'Clock Follies," and that was before Trump's disastrous live thought exercise in disinfection methods during Thursday's briefing, followed by a nearly as disastrous cleanup effort the next day; as it turned out, no amount of Clorox could bleach the stain. Yet even with the recognition of the daily debacle's political toll, Trump can't bring himself to quit.
This is a testament to both the president's own predilections and the administration's overarching approach to governing. As surly and piqued as Trump can appear during a press conference, it's also clear that he loves the format. In fact, it's one of the few presidential duties he actually seems to enjoy. He delighted in press conferences during the 2016 campaign, though he ended them after—this may sound familiar—he made a disastrous gaffe during one. He brought them back for a time early in his presidency, too. Trump savors jousting with reporters, which both spotlights his gift for insult and serves his project of undermining the press. He loves the pomp, in which he gets to perform being president before the nation and, perhaps more important, the little red lights of the cameras. And because Trump is a lifelong salesman, press conferences are a chance for him to act in the familiar role of pitchman.
It's little surprise, then, that the administration's entire approach to the pandemic has revolved around communications. Trump has largely sidelined public-health professionals, save the ubiquitous Anthony Fauci and Deborah Birx. (CNN reports that Trump may scale back meetings of his pandemic task force, too, suggesting that the body was mostly there as a gesture.) Where the federal government has offered public-health advice, Trump has tended to get in its way or muddle it. Trump's anxiety about the economy—which connects to his personal business and political prospects, both imperiled—has driven him to agitate for the reopening of the economy. But he has been almost entirely irrelevant to economic-stimulus efforts, with Fed Chair Jay Powell, Treasury Secretary Steven Mnuchin, and leaders in Congress driving the train.
Even the few occasions on which Trump has intervened in policy—lambasting companies for (allegedly) not working with the government closely enough, or backing the bus over Governor Brian Kemp of Georgia for moving to reopen his state—have tended to come during briefings. Notwithstanding the occasional lashing-out at other authorities, whether in asserting absolute authority over states or threatening to adjourn Congress, Trump has demonstrated that he's more than happy for states and Congress to make the tough policy choices. He's just there to try to spin the situation.
Nonetheless, the administration is sensitive to the perception that it's media-obsessed. On Thursday The New York Times reported, "The president's primary focus, advisers said, is assessing how his performance on the virus is measured in the news media, and the extent to which history will blame him." The story has occasioned a days-long tirade from Trump, including a bizarre spree of tweets calling for journalists to have their "Noble" prizes revoked—if you know that it's "Nobel" and journalists don't win them, you're ahead of the president—and a New York Post story, written with deep administration cooperation, that claimed Trump was so busy working on pandemic response, he sometimes had to skip lunch. Except, you know, he had all that time to write those tweets. As efforts to debunk claims of media obsession go, the effort was amusingly self-defeating.
The irony here is that the administration's concern for communication isn't entirely misplaced. Although there is no excuse for the federal government's failures of policy and coordination, Charles Duhigg notes that the Centers for Disease Control and Prevention's Field Epidemiology Manual devotes substantial attention to the importance of communicating effectively with the public during an outbreak.
So the problem is not that Trump has been focused on communication. The problem is that the communication has in practice been a catastrophe: both in the national leadership it has offered during a pandemic, and also in its more cynical role of boosting Trump's political prospects. Politico reports that the White House is seeking new outlets for the energy currently devoted to the press conferences: "The daily briefings are no longer seen inside the White House as the most effective format for Trump, so [aide Hope Hicks] and others must develop other venues and weigh when he can again start to travel to events that so energize him."
This is obviously destined to fail. Anyone still expecting a new, statesmanlike Trump to emerge is deluded, so televising Trump in different settings—Cabinet meetings, roundtables with business leaders, and so on—has two potential outcomes: Either he finds them unsatisfying and sulks through them, or he manages to hijack them with the same manic energy he brought to the briefings, and with the same results.
The scale of the challenge facing the administration during this pandemic would be daunting for any president, but a better-structured White House, having acknowledged the failure of the briefing gambit, would be searching for new ideas and approaches. Trump has only ever had one idea, though, and right now that sales pitch isn't finding buyers.