The Coronavirus Is Testing America's Commitment to People's Constitutional Rights
The government's reaction to COVID-19 in jails and ICE detention facilities must follow settled legal precedent on acceptable conditions of confinement. The pandemic does not change that obligation.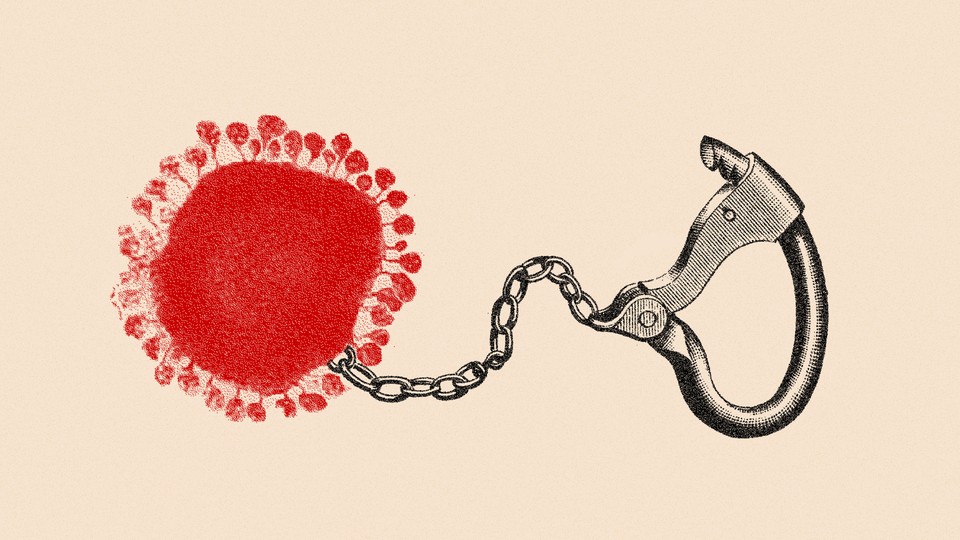 Nowhere is the challenge posed by COVID-19 more urgent than in America's jails, prisons, and immigration detention facilities, where hundreds of people are crowded into shared, unsanitary living spaces. Medical care is limited, and basic protective measures—social distancing, wearing masks, frequent hand-washing—are often impossible. The regular flow of new detainees, plus the coming and going of corrections staff, creates a steady risk of exposure. The government has implored Americans to follow Centers for Disease Control and Prevention guidelines, even as it violates every single one of them in many of its own institutions.
These conditions have set the stage for disaster. Rikers Island and Cook County Jail, which were swiftly and brutally overwhelmed by the virus early on, are thus a sign of things to come. Nobody knows this better than detainees. Their statements, and those of their advocates, show lives marked by terror, uncertainty, and fear that they've been left to die.
As a matter of sound public policy and simple decency, this is a crisis, and one that demands swift action. Nobody should be forced to risk deadly exposure to COVID-19 while awaiting trial or facing potential deportation, when experts have identified effective mitigation strategies: limiting new arrests and detentions to those who clearly threaten public safety; requiring improved testing, hygiene, and isolation protocols in detention facilities; and releasing as many people as possible who do not pose a clear risk of flight or dangerousness.
Unfortunately, jurisdictions are all over in the map in how quickly and effectively they have embraced these strategies. The federal government ranks among the worst offenders; Immigration and Customs Enforcement (ICE) and the Justice Department have proved stingy, opaque, and often arbitrary in their response to the escalating crisis in their own detention facilities.
This is not only callous and cruel; it is also unconstitutional.
When people are charged with crimes or detained by immigration officials, they retain certain fundamental rights. Government officials cannot lock them in cells and disclaim responsibility for their fate. This reflects Americans' shared commitment to the rule of law, belief in human dignity, and proudest national traditions. District Judge John E. Jones III expressed the point well in a recent decision: "Our Constitution and laws apply equally to the most vulnerable among us … This is true even for those who have lost a measure of their freedom. If we are to remain the civilized society we hold ourselves out to be, it would be heartless and inhumane not to recognize [their] plight."
The government's reaction to COVID-19 in jails and ICE detention facilities must follow settled legal precedent on acceptable conditions of confinement. The pandemic does not change that clear obligation. American officials must adhere to the Constitution, now more than ever, for the consequences of failure are dire.
First consider the due-process clause of the Fifth Amendment. The Supreme Court has held that this provision protects immigrants in ICE custody. The Fifth Amendment also safeguards pretrial detainees, who have been charged with a crime but not yet tried—and who, by law and custom, must be presumed innocent. Under Fifth Amendment jurisprudence, when the government takes a person into custody, it cannot inflict punitive conditions, affirmatively place that person in danger and then act with deliberate indifference, or otherwise fail to provide for their basic human needs (including medical care and reasonable safety).
Given the conditions at many ICE detention facilities, as well as state and federal jails, Fifth Amendment violations are likely widespread. Simply put, the government cannot constitutionally seize and detain people, subject them to a substantial risk of exposure to COVID-19, and then insist that inaction or half measures are acceptable.
Several lawsuits filed over the past weeks—including class-action lawsuits—have sought to force ICE to comply with that principle. This includes a case in which I represent several migrants who recently have been detained at a Los Angeles ICE facility notorious for inadequate health care and shoddy COVID-19 protocols. (I brought that case with Public Counsel and my colleagues at Kaplan Hecker & Fink LLP.)
To paraphrase the late Justice Antonin Scalia, ICE's defense "taxes the credulity of the credulous." Its main argument is that immigrants are safer in detention facilities than they were at home. This assertion defies common sense, expert opinion, and all available evidence. As the New York federal defender David Patton has remarked, "It feels a bit like arguing with the Flat Earth Society." Even in ICE facilities that don't yet have confirmed COVID-19 cases—which likely reflects a near-total absence of testing—the arrival of a single asymptomatic carrier could wreak havoc undetectable until it's too late. No rational person would feel safer in an ICE detention facility than self-isolating at home with family.
Although Fifth Amendment cases against ICE are still in their early stages, many federal judges have ordered emergency relief. Some have required that bond hearings be fast-tracked; others have required ICE to quickly create, implement, and report on prevention and release strategies; and still others have directed the immediate release of detainees. Another judge recently certified a nationwide class challenging ICE's systematic failure to uphold the Fifth Amendment in its medical care, mental health care, and disability accommodations.
These opinions affirm that the Fifth Amendment remains a vital safeguard for detainee rights, especially amid the COVID-19 pandemic. As District Judge Terry J. Hatter Jr. reasoned—while ordering the release of my clients in Los Angeles—"In the time of a crisis, our response to those at particularly high risk must be with compassion and not apathy. The Government cannot act with a callous disregard for the safety of our fellow human beings."
Despite the success of Fifth Amendment arguments in many ICE cases, they have thus far gotten less traction in challenges brought by pretrial detainees against their jailers. A federal judge in Chicago has ordered improved protocols at the Cook County Jail, a federal judge in Washington, D.C., has ordered extensive reforms at D.C. jails, and a federal judge in Brooklyn has accelerated a suit aimed at the Metropolitan Detention Center, but other federal judges have proven reticent about granting emergency relief to those awaiting trial. In their opinions, these judges have expressed anxiety about releasing accused criminals without a highly individualized assessment of their flight risk and dangerousness. Such a personal, fact-intensive assessment usually occurs not in constitutional lawsuits but in criminal cases as part of standard bail determinations.
This judicial anxiety is understandable, but it should not foreclose all relief. Where jailers violate the Constitution, courts can and should enter injunctions requiring improved safety protocols, regular public reporting, inspections by third-party experts, and, if necessary, progress toward releasing enough detainees to meet baseline constitutional standards. However difficult these judgments might be, total abdication is far more perilous. Constitutional values mean little if the country doesn't uphold them when times are tough.
That said, if the Fifth Amendment proves ineffectual for pretrial detainees, they will have to rely heavily on the Sixth Amendment as they seek protection from the virus—in particular, the Sixth Amendment's right to "the Assistance of Counsel" in criminal cases.
It's difficult to overstate the importance of access to counsel for pretrial detainees. As the Second Circuit Court of Appeals recently stated, the "legitimacy of our criminal justice system" depends on defendants' right to consult with legal counsel about bail hearings, plea negotiations, ongoing investigations, and trial strategy.
Since COVID-19 emerged, that has only grown more true. Speedy and public trials are a thing of the past. Judges and juries are sheltering in place, even as criminal prosecutions slowly inch forward. This puts many pretrial detainees in a frighteningly precarious position. They are stuck in jails with much higher risks of exposure to COVID-19—and much less access to quality health care—but without any end in sight.
In these circumstances, access to counsel is paramount, especially for the many detainees whose age or medical conditions put them in high-risk categories. It is through defense counsel that these men and women can seek bail, temporary release, transfer, compassionate release, or other relief—and thus obtain the individualized assessment that courts have urged in Fifth Amendment cases.
But in some jurisdictions, the same virus that endangers pretrial detainees has also sabotaged their access to counsel. This has become a full-blown crisis in New York City. There, the federal jails have ceased all attorney visits, fumbled in setting up limited videoconferences, and sharply limited phone access. As of last week, nearly 50 percent of attorney requests to speak with clients went nowhere. Things have gotten so bad that some attorneys have been forced to file bail applications without even speaking to their clients first—which puts them at a gross disadvantage in explaining why immediate release is warranted.
This is untenable. The government cannot proceed with criminal cases, detain people in high-risk jails, reflexively resist calls for their release, and then restrict access to lawyers who seek to protect them from dangerous conditions. The Sixth Amendment stands against such abuse.
Of course, that principle is no novelty. More than a year ago, the federal defenders of New York (represented by me and my law-firm colleagues) sued the Bureau of Prisons for failing to protect Sixth Amendment rights at the federal jail in Brooklyn. In their suit, the federal defenders invoked a wealth of history and precedent confirming that jailers must ensure consistent access to counsel.
In late March, the Second Circuit issued a powerful decision allowing this case to proceed—and confirming the role of courts in ensuring "that constitutional boundaries are not transgressed by considerations of expediency." District Judge Margo Brodie has since appointed former Attorney General Loretta Lynch to help mediate the dispute. In these proceedings and elsewhere, the federal defenders have repeatedly raised concerns about inadequate access to counsel during the COVID-19 pandemic. Still, progress remains extremely limited, well short of what the Constitution requires. Whether the federal government will meet its legal obligations to those it has detained in New York City is quite uncertain.
That is true throughout the nation. These are scary times for everyone, but they are especially scary for the millions of people locked in detention. As they cry out for protection from the virus, the Constitution forbids indifference and inaction. It instead requires that the government take concrete, effective measures to save lives.
The principles that the United States and its officials articulate now—and the precedents that are set through their conduct—will endure far beyond this particular crisis. They will forever shape the country's law and ideals. They will become part of the Constitution itself. All Americans must therefore heed the better angels of their nature, lest the nation betray its deepest values.