What the Racial Data Show
The pandemic seems to be hitting people of color the hardest.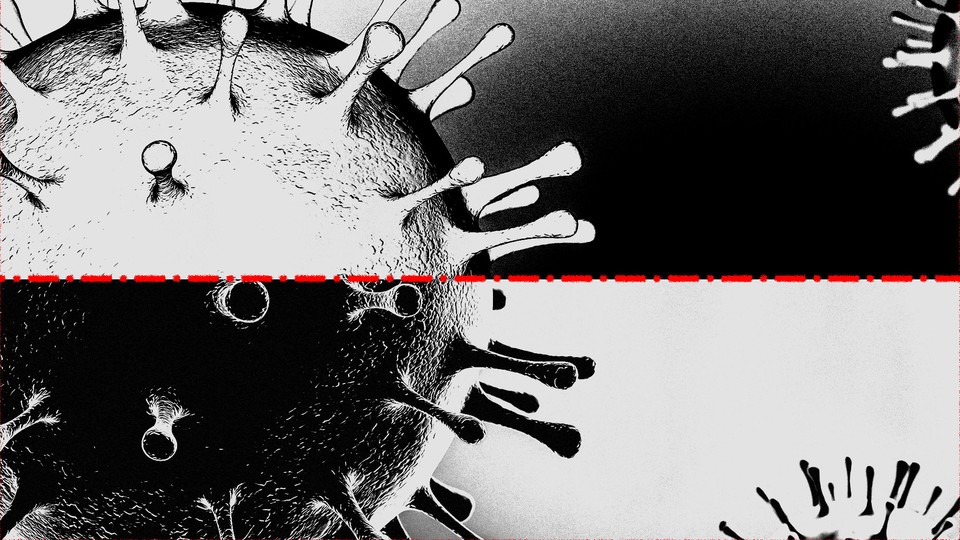 I dread every time my partner leaves our home. I dread every time Sadiqa marches to the front lines of the war against COVID-19—the emergency department. I dread every time she comes home and removes her personal protective equipment.
Sadiqa is worried like a soldier in a total war, seeing so many medical providers going down, seeing so many patients going down. I am worried about her health—and my own, as someone surviving metastatic cancer. I am worried about all medical providers, all Americans who have compromised immune systems, all Americans who are infected, all Americans who are healthy and want to remain that way.
As a student of health disparities, I am especially worried about the well-being of people of color. And people of color appear to be especially worried about their own well-being. Black people, at 46 percent, and Latinos, at 39 percent, are about twice as likely as white people, at 21 percent, to view the coronavirus as a major threat to their health.
Last week, I called for states, counties, and private labs to begin reporting the racial demographics of the people who are being tested for, infected with, hospitalized with, or killed by COVID-19. In the absence of that information, I can't tell for sure whether black and Latino Americans should be more worried than white Americans. Senator Elizabeth Warren and Representative Ayanna Pressley recently urged the U.S. Department of Health and Human Services to lead the effort to collect and publish such data. Local leaders and editorial boards are pushing for the same.
The pressure is on. The pressure will not relent.
Even so, it could be some time before all or even most of the relevant agencies begin releasing racial data. But public-health officials and medical providers like my wife are fighting COVID-19 now. People are sick now. People are on ventilators now. People are dying now. We need more racial data now. We need to assess the data we have right now.
When I examine the trickle of data from states and counties on coronavirus patients, when I scrutinize the racial demographics of hot spots, when I study the survey data, it sure seems to me as if the viral pandemic is hitting people of color the hardest.
Time and again, a state or county releases racial data. Time and again, those numbers reveal a sizable racial disparity. Time and again, black Americans are overrepresented among the infected and dead. America's newest infection seems to be mating with America's original infection, reproducing not life, but death.
In Michigan, black Americans comprise 14.1 percent of the state population, but an ungodly 40 percent of coronavirus deaths. In Washtenaw County, home to Ann Arbor, 48 percent of residents hospitalized with the coronavirus are black, though black people make up only 11 percent of the county. In Illinois, the infection rate among black Americans is twice their percentage of the state population. In North Carolina's Mecklenburg County, which includes Charlotte, black people comprise 32.9 percent of the residents, but 43.9 of the confirmed coronavirus cases, as of March 30. In Milwaukee, black Americans make up 26 percent of the county, but nearly half of the infections and a maddening 81 percent of deaths as of Friday.
This racial pandemic within the viral pandemic is threatening Sadiqa's entire immediate family. She's more worried about her parents' and brother's health than her own. They seem to be well. But for how long? Just thinking about where her younger brother lives, where her parents live, makes us sick. They, too, are on the front lines of the deadly war.
Sadiqa's younger brother lives in New York City, the site of the highest number of cases and deaths in the country. City officials have yet to supply racial data on testing, cases, hospitalizations, or deaths. But there are some indications that communities of color may be particularly affected.
On April 1, The New York Times released data on the number of coronavirus cases per 1,000 people for every zip code in NYC. Using Census Reporter, I studied the racial makeup of the zip codes with the highest and lowest coronavirus rates per 1,000 people in NYC. Queens zip code 11370 has the city's highest rate of confirmed infections, with 12 cases per 1,000 people; the neighborhoods it includes are 37 percent Latino, 25 percent white, 22 percent Asian, and 14 percent black. In the adjacent zip code of 11369, which has the city's second-highest rate of confirmed infections with 10 cases per 1,000 people, the population is 64 percent Latino, 15 percent black, 12 percent Asian, and 8 percent white.
New York City is 32.1 percent white, 29.1 percent Latino, 24.3 percent black, and 13.9 percent Asian, according to census data. But averaging out the racial composition of the five New York City zip codes with the highest coronavirus rates shows a significant overrepresentation of Latinos (45.8 percent) and Asians (23.4 percent), and a significant underrepresentation of whites (21.2 percent) and blacks (8 percent) when compared with their citywide populations.
Does this mean Latinos and Asians are being infected with, and dying from, COVID-19 at higher rates than other New Yorkers? We don't know for certain, but it sure seems that way.
A recent Reuters/Ipsos nationwide poll found that 16 percent of Latino Americans surveyed said they were infected, had been in contact with someone who was infected, or knew someone who was infected, compared with just 9 percent of white Americans. It is not a stretch to suppose that, in our highly separated and segregated society, those results reflect different rates of infection in white and Latino communities.
Some of the infected people whom Latino Americans know may be undocumented immigrants. In the United States, an estimated 11 million undocumented immigrants were already social distancing from the old virus of xenophobia that Trumpism has been spreading anew. They live in the shadows, mainly in California, Texas, Florida, New York, New Jersey, and Illinois—the very states, save Texas, that have some of the worst known outbreaks. But tracking and arrests by Immigration and Customs Enforcement (ICE) officers have not let up during the pandemic.
The shadows may protect them from the old virus, but the shadows cannot protect them from the new coronavirus. And the convergence of xenophobia and COVID-19 has led to a horrible choice for undocumented immigrants: Do I or don't I come out of the shadows? For my good. For my family's good. For the greater good of the people who forced me into the shadows.
Quitting low-wage jobs could mean getting deported. Getting tested could mean getting deported. Getting treated could mean getting deported. And if they are arrested, they could be thrown into ICE's network of jails and detention centers, where the coronavirus is already spreading.
Undocumented immigrants suffering from these impossible choices are not just Latinos. They are Middle Eastern. They are white. They are black. They are Asian. In New York City, Asians are the poorest immigrant group. The number of Asian Americans living in poverty grew 44 percent from 2000 to 2016, according to the Asian American Federation. Perhaps their growing poverty helps explain the high infection rates in zip codes with large Asian populations in NYC.
Native Americans are being infected in high numbers in urban areas such as Salt Lake City, Seattle, and San Jose. In many rural Native areas, like rural white areas with no confirmed cases, testing could be scarce—but not the disease. The virus has hit Kayenta, Arizona, a small town in the northwest corner of the Navajo Nation, compelling the nation's president, Jonathan Nez, to issue a stay-at-home order.
In the end, though, no group of Americans may be more vulnerable to COVID-19 than the incarcerated and the homeless. About 40 percent of people experiencing homelessness are black, triple their share of the U.S population. Brown and black people comprise 56 percent of the prison population, doubling their combined share of the U.S. adult population.
Homeless people may be the most vulnerable in cities like Seattle and Los Angeles. Prisons, jails, and detention centers have already turned into outbreak zones for prisoners, corrections officers, and prison health-care workers. At least 167 inmates and 137 staff members have already tested positive for the coronavirus at New York's Rikers Island prison complex. And it is getting worse by the day.
While Sadiqa's brother is facing an outbreak in New York City, her Baby Boomer parents are facing an outbreak in Albany, Georgia. That means her immediate family members live in the areas with the worst and second-worst coronavirus outbreaks in the United States as of March 26.
Albany, nearly 200 miles south of Atlanta, is the big small town in southwest Georgia's Dougherty County. Nearly three out of four of Albany's 90,000 residents are black. Among Albany's first 24 deaths from COVID-19, 90 percent were black. As of Saturday, Dougherty County had reported 30 coronavirus deaths, an unspeakable death rate of 32.9 per 100,000 people.
To put Dougherty County's death rate in perspective, it was 67 percent higher than New York City's, and about 2.5 times higher than Detroit's, on Saturday, according to New York Times county data. Albany had two more deaths than Milwaukee County, even though Milwaukee County's population is 10 times greater.
The only two U.S. areas in worse shape than New York City and southwest Georgia are in southeast Louisiana. Orleans Parish, known for the city of New Orleans, is 60.2 percent black. Its staggering infection rate of 892.1 per 100,000 people on Saturday was higher than the infection rates of New York City, Los Angeles, and Miami combined. At 38 deaths per 100,000 people, Orleans Parish's death rate is higher than Albany's. Thirty miles west of New Orleans is St. John the Baptist Parish, where the black population is 57.8 percent. If we exclude counties with only a single death, St. John the Baptist Parish has the second-highest COVID-19 death rate in the nation: an unutterable 39.1 deaths per 100,000 people.
The county with the nation's highest death rate as of Saturday is Montana's Toole County. The overwhelmingly white county of nearly 5,000 people already had three deaths connected to an assisted-living facility. If black people are likely the most vulnerable to the coronavirus in majority black counties, homeless tent cities, and prisons, then white people are likely the most vulnerable in assisted-living facilities and nursing homes. Nearly four out of five people in nursing homes are white, and older people are more at risk of dying from COVID-19.
It seems as if every day now Sadiqa learns about another high-school friend, another parent or uncle or aunt of a close friend who is infected, who is in the hospital, who has died from COVID-19. As of Saturday, Albany had 560 confirmed infections, including Sadiqa's best friend.
Albany is what Sadiqa knows and no longer knows. "My whole community is in shambles," she told me the other day.
Sometimes racial data tell us something we don't know. Other times we need racial data to confirm something we already seem to know.