Let Volunteers Take the COVID Challenge
Young, healthy, informed people should be allowed to participate in vaccine trials.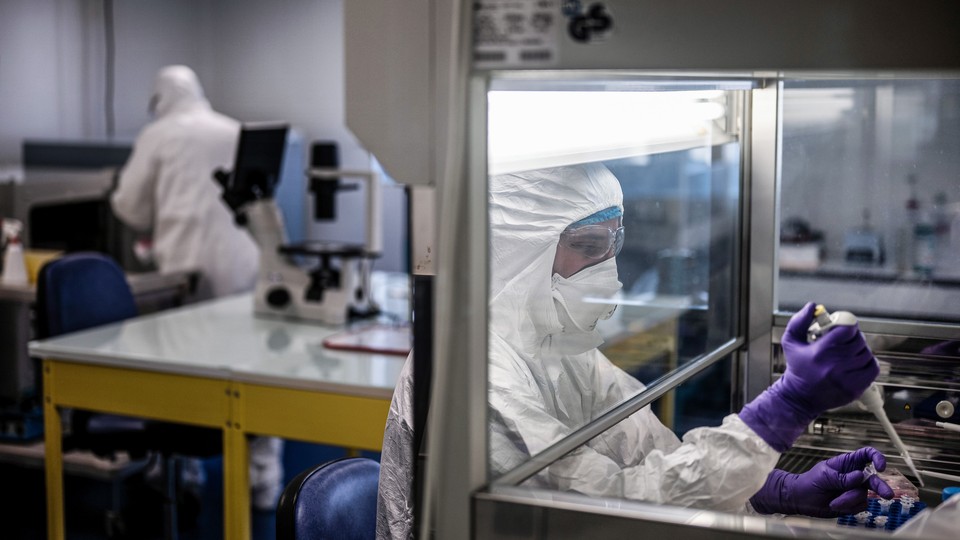 Until scientists discover a treatment or vaccine for COVID-19, the disease will inflict mass suffering. And experts say that safely developing, producing, and delivering a vaccine will likely take at least 18 months. That's in part because, in the final phase of testing, researchers inject thousands or tens of thousands of subjects with the vaccine while others get a placebo, then they wait to see if the vaccinated group avoids infection. What if they instead gave a vaccine candidate to a smaller group of volunteers, then deliberately exposed them to the virus to more quickly learn if the vaccine works?
A recent article in The Journal of Infectious Diseases suggests a "human challenge trial" of that sort. "Challenging volunteers with this live virus risks inducing severe disease and possibly even death," the authors acknowledge. However, hastening deployment of a vaccine could significantly reduce death and disease, they argue––and the risk to volunteers could be acceptable if the volunteers are young and healthy, and get excellent care.
To learn more, I interviewed the head of a health-care nonprofit that is collecting the names of possible volunteers for a human challenge trial. Then I spoke with some of those prospective participants.
Before those conversations, I tentatively thought that allowing human challenge trials could be ethically justified in the present pandemic. Now I think that allowing that approach is an ethical imperative.
Josh Morrison lives in Brooklyn, New York, where he leads Waitlist Zero, a nonprofit that tries to make donating a kidney easier. He was feeling depressed and scared as COVID-19 spread to the United States, slowing the normal work of his organization and hitting his city especially hard. Then a friend sent him the proposal that would appear in The Journal of Infectious Diseases.
"It seemed like something I would want to do, were I eligible," he told me. In 2011, when he was a corporate lawyer, he donated a kidney, accepting a small risk of death to save a life. An early vaccine for COVID-19 could save tens of thousands of lives.
Morrison launched the COVID Challenge, "a hub for people to volunteer and to advocate for safe and rapid vaccine development." Anyone willing to volunteer for a human challenge trial can add their name to a list that can be winnowed as appropriate and handed over to interested vaccine researchers.
Roughly 1,550 people have already signed up. And Morrison hopes that their eagerness will be taken seriously by government officials, ethicists, and scientists.
"It is not a riskless thing," Morrison said, "but neither is kidney donation. And each year, thousands in the U.S. and tens of thousands in the world do that … If you think this will move a vaccine forward by even a day and save thousands of lives, the ratio of volunteer lives lost to lives saved would be thousands to one. Any life lost is tragic, but that's worth doing as a society if you have volunteers who know the risk."
Gavriel Kleinwaks is 23 and pursuing a graduate degree in mechanical engineering at the University of Colorado at Boulder. As an undergraduate at a small liberal-arts college, she had friends in the effective-altruism movement, and she still reads articles written by its public intellectuals. That's how she found out about the COVID Challenge. And while researching human challenge trials, she discovered that Jonas Salk, her scientific hero for his work on the polio vaccine and his refusal to patent it, gave the vaccine to himself and his family before asking the public to take it.
Participating in the development of a vaccine, even in a small way, struck her as cool. And she explained to me that the religious tradition in which she was raised, Judaism, ingrained in her the notion that "for anyone who saves one life, it is as if they had saved a whole world." Many try to save lives by donating time or money, neither of which she has done. "I am lucky in a lot of other ways, including good health," she said. "I'm young. I don't get sick a lot. This seems like a way that I can share some of that luck. I empathize with other people. The pain of losing someone you care about is the same no matter who you are. Anything to reduce that amount of pain is something I should try to do."
Weighing the risks does make her nervous. "But I realized there's a really good chance that I get [COVID-19] sooner or later anyway," she said. "There's the risk of participating in a human trial, but there's also the risk just walking around. It's not that I'm not afraid of the virus. I am. But the trial didn't seem like an enormous added risk." Still, she thought she should tell her dad about it. "He said he wasn't going to tell me not to do it, but that he hopes I am not chosen. When I replied that he's at a bigger risk than me, he said, 'Yeah, but you're my kid.' It was sweet."
Lehua Gray is 31. She lives in Austin, Texas, and works at FindHelp.org, a network of nonprofits that people can use to find social services, food pantries, shelters, job training, and child care. She has watched as the number of people seeking help has exploded. Many had jobs just a few weeks ago. They had never interacted with the social-services system before. "Now I'm talking to nonprofits and hearing that we don't have enough food or resources for the people who need it," she told me.
Seeing the economic consequences of the lockdown has informed her understanding of how much good would result if volunteers could speed up the vaccine testing process. Fewer people would go hungry. Fewer would be evicted. And that's on top of the direct benefit of sparing many from sickness or death.
Gray's grandmother has lung issues. A mere cold could send her to the emergency room. Her father works for the Transportation Security Administration and her mother works for the Department of Veterans Affairs, putting them at heightened risk of infection. "If I could roll the dice for myself, and keep them from having to roll the dice—I have a much better dice to roll," she said. "I'm generally pretty risk averse. As a kid, I would jump on the trampoline but I try to only jump by myself because you're much more likely to be injured when you jump with someone else. This seems like a risk that enables me to help people in a way that I normally wouldn't be able to do. And there's always a chance I'll get [COVID-19] anyway, without helping anyone."
Mabel Rosenheck is 35. She is a historian at Temple University in Philadelphia who works on public-history projects at a museum. She believes that work is important-- the world needs to think critically about the past as much now as ever-- but she is drawn to the idea that, by participating in a challenge trial, she could contribute far more directly, by actually saving lives. "As I've thought about it over the last week or two, we've been hearing more and more about people who are relatively young getting pretty sick," she told me. "But the risks that other people are taking on are so much bigger, in terms of doctors and nurses, grocery-store workers, people who are out there every day. The risk that I could take would be comparable but not even as strong, because I would have good medical care and people watching over me right from the start."
She values scientific and statistical literacy, and often incorporates it into her decisions. That  "makes me well suited to this contribution," she said. "It's something I could and would do that not everyone would."
Asked if she had ever done anything like this before, such as signing up to donate an organ, she said that, if anything, she would compare the challenge trial to running her first marathon, last fall. "Your body can do a lot of things that you might think it can't," she said. "For me, this has something in common with that: pushing boundaries and navigating that tension between what's realistic and what else can be done."
If young, healthy, informed people such as Kleinwaks, Gray, and Rosenheck want to behave altruistically, taking a calculated health risk to advance science and help others, should the state stop them?
The journalist Dylan Matthews was among the first to write about the COVID Challenge, including reasons for apprehension. His article featured an interview with the Northwestern University bioethicist Seema Shah. Among other things, she cautioned that the anticipated benefits of a human challenge trial would depend heavily on whether regulators such as the FDA would accept it as evidence of efficacy or reject it due to ethical or other reasons.
Some scientists feel that government ethical concerns about a human challenge trial after the Zika outbreak "really slammed the door on progress." Matthews concluded that now is a good time for the FDA to clarify whether it would consider coronavirus human-challenge-trial results acceptable evidence.
Elected officials should make sure that the FDA moves not only to clarify its stance but to allow such evidence. Americans have a right to take risks, whether that means hang gliding, skiing, eating bacon for breakfast, or fighting COVID-19. Without exception, the people I interviewed were not merely informed—they expressed an affirmative desire to take a calculated risk for the sake of others. At best, a government that thwarts such desires risks needless death on a large scale. Especially as the government impedes liberty on an emergency basis to arrest the spread of COVID-19, it would be perverse for it to simultaneously restrict the ability of willing heroes to help save lives and hasten the return of normalcy and prosperity. Paternalistically preventing altruists from volunteering to do good may even be evil. The state should prioritize clearing the way for potential human challenge trials.