Biden Should Release His Papers
His senatorial records may contain evidence relevant to Tara Reade's accusation.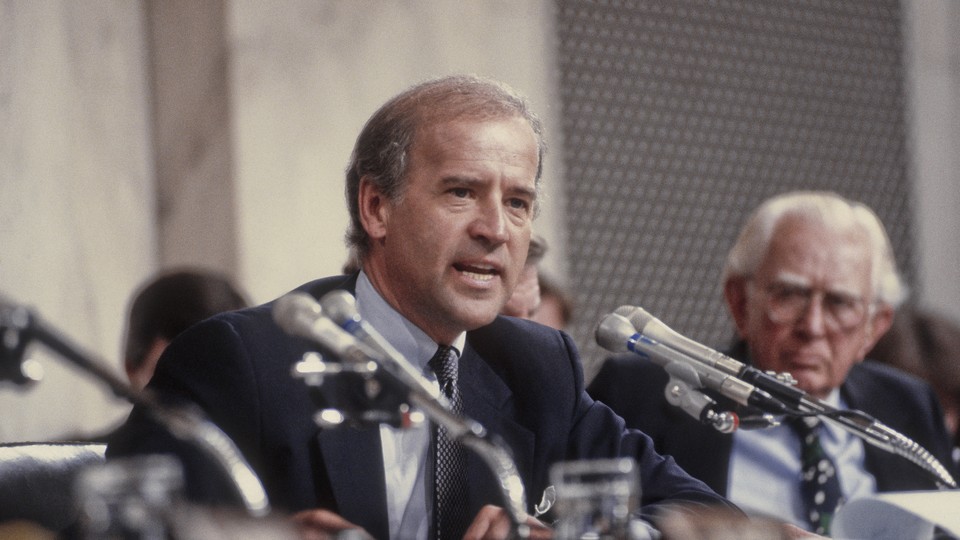 Updated at 5:55 p.m. ET on April 30, 2020.
Tara Reade's allegation against Joe Biden is not going away. Reade, who worked on his Senate staff in the 1990s, accuses Biden of sexually assaulting her in a hallway. Last week, The Intercept discovered a 1993 call to the talk-show host Larry King from a woman who Reade says was her now-deceased mother. The call, which refers to "problems" that the woman's daughter had while "working for a prominent senator," does not prove that Reade is telling the truth. But it does buttress her claim that she told her mother about an assault at the time.
Then, yesterday, Business Insider interviewed a former neighbor who said, on the record, that Reade told her in the mid-'90s that Biden had pushed her against a wall, put his fingers under her skirt, and digitally penetrated her.* Business Insider also talked to a woman who worked with Reade after she left Biden's office, who remembered Reade saying she had been sexually harassed by her boss in Washington, D.C.
None of this means Biden is guilty. But it does mean the presumptive Democratic nominee should unseal his Senate papers so that the public has a better chance of finding out.
In 2012, Biden delivered 1,875 boxes of "photographs, documents, videotapes, and files" and 415 gigabytes of electronic records to his alma mater, the University of Delaware. They covered his entire 36-year Senate career. At the time, the university said it expected to make the papers "available to the public two years after Biden's last day in elected public office." Biden left the vice presidency in January 2017, and January 2019 came and went with no papers released. Then, on April 24, 2019, the day before Biden announced his presidential campaign, the university revised the schedule. The papers would now remain sealed until December 31, 2019, or until two years after Biden "retires from public life," whichever came later. That means Americans likely won't learn what's in his papers before they vote for president this fall.
That delay was unfortunate even before Reade made her allegation public. As The Washington Post and HuffPost noted last year, Biden's papers may help explain some of his most consequential actions in the Senate: his conduct during the Clarence Thomas-Anita Hill hearings, his sponsorship of the 1994 crime bill, his vote for the Iraq War.
But Reade's accusations make access to the papers even more crucial. Biden himself has said that sexual-harassment claims should be carefully investigated. When Christine Blasey Ford alleged, after Brett Kavanaugh was nominated tot the Supreme Court, that he had tried to rape her in high school, Biden said the Senate Judiciary Committee "should undertake a thorough and nonpartisan effort to get to the truth, wherever it leads." When Reade herself came forward, Biden's campaign said her claims should "be diligently reviewed by an independent press."
But the press can't thoroughly and diligently evaluate Reade's claims without access to Biden's papers. Reade attests that she filed a sexual-harassment complaint with the Senate against Biden in 1993, but she doesn't have a copy. The Biden campaign says it doesn't either. And neither The New York Times nor The Washington Post could unearth one. Reade says she "was told" that the document "was probably returned to Biden's office. So it's an archival material." Is that true? Who knows. But unsealing Biden's papers could help reporters find out.
Reade also contends that she told three staffers—Biden's executive assistant, Marianne Baker; Biden's deputy chief of staff, Dennis Toner; and his chief of staff, Ted Kaufman—that Biden harassed her (although she's said she didn't tell them the specifics of the alleged assault.) All three deny that. No one who worked for Biden at the time has corroborated Reade's allegations, although former interns did tell the Times and Post that Reade—who had been supervising them—had been abruptly reassigned.
In other words, these accounts are a Rorschach test: Reade's word, buttressed by some contemporaneous evidence, versus the denial of three staffers. But here, too, Biden's papers could be useful. They may contain Reade's personnel records, or the files of Baker, Toner, and Kaufman.
When I asked Andrea Boyle Tippett, the director of external relations at the University of Delaware, whether Biden's papers contained personnel or staff records, she said she didn't know. But the papers of other former senators do appear to include such material. A description of Senator Edward Kennedy's papers, held at the John F. Kennedy Presidential Library and Museum, explains that "staff files are a significant portion of the collection and reflect work done by the many individuals employed by Senator Kennedy." Walter Mondale's Senate papers, held at the Minnesota Historical Society, include files for various years with titles such as "Personnel: Current and Former" as well as "intra-office memoranda" and other documents from the senator's chief of staff. None of this indicates whether the Biden papers contain clues as to what Tara Reade did or did not confide to her superiors in 1993. But it's not outlandish to believe they could provide some clarity.
I asked the Biden campaign for its position on unsealing the former senator's papers, but did not receive a response for the record. Tippett told me via email, "A significant percentage [of the papers] remains uncataloged; therefore, it would not be possible to open the collection to the public now. In addition, the State of Delaware's COVID-19 Stay-At-Home order means no processing is taking place and our library is closed."
What exactly "a significant percentage" means isn't clear. (I've asked for clarification.) But back in 2011, when Biden announced he would be donating his papers to the university, Delaware Public Media reported that the university's director of libraries believed it would "require at least two years to do all the processing work" and it was thus "possible, depending on how long Vice President Biden remains in office [that] his Senate Papers will be fully ready for use when the seal is lifted." Given that nearly a decade has passed since the donation was announced, and that Biden left his most recent elected office three years ago, the university has had time to catalog at least part of the collection. Even if it hasn't finished, why not let journalists sift through boxes in hopes of finding information that sheds light on whether the Democratic nominee for president committed sexual assault? If they can't do so right now because of COVID-19 concerns, how about next month, or the month after that?
If the Biden campaign asked the University of Delaware to open his papers, it surely would. So far he hasn't, presumably because he fears political embarrassment. That doesn't make Biden unusual; other presidential candidates have shown a similar reluctance to allow public scrutiny of their papers. As The Washington Post's Matt Viser has noted, Mitt Romney's aides erased their computer hard drives when he left the Massachusetts governor's office. Al Gore ensured that his Senate papers weren't publicly available when he sought the presidency in 2000.
But the fact that other politicians have concealed their professional records doesn't make it right—particularly when those records may contain information about a subject as serious as an alleged sexual assault. The best argument against opening the Biden papers is the simplest: It could help Donald Trump, who has been credibly accused of sexual assault by multiple women and has boasted on tape about it. Conservative commentators are already accusing mainstream media outlets of backing off the story for fear of helping to reelect the president. But journalists shouldn't avoid exposing damaging information about one candidate because his opponent is worse. The job of the press is to ferret out evidence and analyze it honestly, without regard to the political outcome.
Besides, even Democratic partisans should want the Biden papers opened. They could strengthen his claim that he did nothing wrong. And if they don't—if they provide any corroboration for Reade's accusation—Democrats need to know that now, before Biden is officially nominated. As the publication of the Intercept and Business Insider stories suggest, more information may well come out between now and November, whether the Biden papers remain sealed or not. Rather than let the Reade accusation fester, Democrats should get the evidence out now—while there's still time for the party to react.
Democrats are not obligated to believe Tara Reade's story. But they are obligated to make every effort to find out if it's true. Unsealing the Biden papers could spare Democrats far more pain this fall. It's also the right thing to do.
---
* This article has been updated to more precisely characterize Reade's account of what happened.