The U.S. Is Now Resorting to Plan C
Americans are not going to wait for sufficient testing. So what happens next?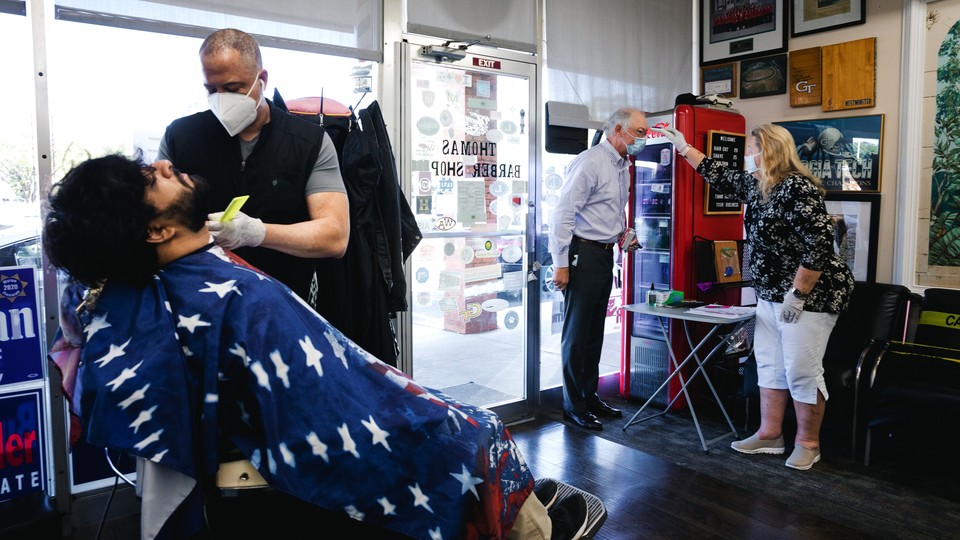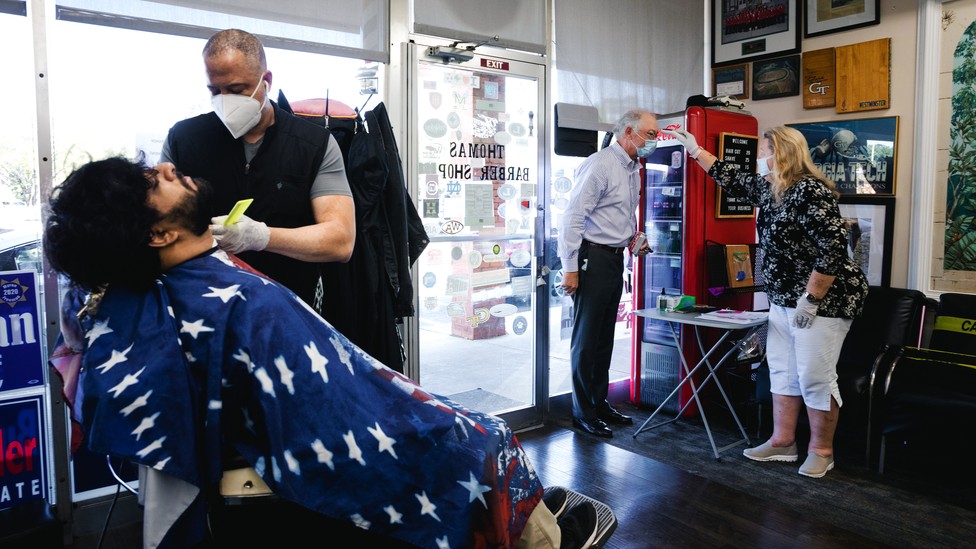 Brian Kemp, the Republican governor of Georgia, has faced harsh criticism for lifting emergency restrictions on retail stores—and inexplicably including tattoo parlors among the establishments that can reopen. But Kemp isn't the only governor who's been second-guessed. Gretchen Whitmer of Michigan has permitted the playing of golf, albeit without carts and with strict social distancing between golfers, while she has extended her state's stay-at-home order through May 15. Her fellow Democrat, Governor Andrew Cuomo of New York, has committed to reopening northern parts of the state well before he does New York City.
These efforts are a microcosm of the dilemma now facing governors and mayors across the United States. The tug-of-war between President Donald Trump, who is plainly eager to lift restrictions, and his scientific advisers, who want Americans not to die, has yielded a list of modest-sounding criteria that states are supposed to satisfy before lifting stay-at-home orders. Titled "Opening Up America Again," the document calls on states to wait for the trend in new-case counts, or, alternatively, in the percentage of COVID-19 tests that come back positive, to decline over a 14-day interval—not fall to zero, just decline—before easing up on their stay-at-home orders. States are also urged to show their capability to protect health-care workers and test even asymptomatic patients.
But many of these standards are unlikely to be met anytime soon, and red and blue states alike are starting to probe which restrictions can give.
Kemp's decision was hasty, and even Trump criticized it. Eighty percent of the public still supports social distancing, according to a recent Kaiser poll, and the same proportion said they could follow stay-at-home orders for at least a month longer. Still, even Democratic governors of hard-hit states recognize that a full lockdown cannot remain in place indefinitely. Inevitably, decisions about whether a given activity can begin again will not be based on science alone.
"Opening up" has become yet another catchphrase in America's culture wars. But the term describes neither a singular policy nor a specific moment in time. The process is not binary. The relevant question now is how to responsibly resume more economic activity when no universal testing system is in sight, no treatment has been identified, and no vaccine has been developed. Opening up will be a high-stakes version of a coloring book. We can use more and more crayons, but the goal is to avoid going over the edges.
If Plan A was to prevent the coronavirus from taking root in the United States in the first place, then Plan B was to buy time through social distancing to keep health systems from becoming overwhelmed—and also to allow health officials to ramp up testing. It was a social contract: We stay inside. You, the government, must get your act together.
The best path toward fighting the pandemic and reopening society still involves a rigorous universal testing program that identifies and isolates those who have been exposed to the coronavirus. A recent analysis by Harvard researchers and the medical-news publication Stat concluded that more than half of states are nowhere near having a testing capability to justify relaxing their stay-at-home orders. Policy makers should not ease up on their pursuit of significantly greater testing.
And yet Deborah Birx, the White House coronavirus-response coordinator, acknowledged Sunday that to get ahead of the disease, the country will need a "breakthrough innovation" in testing. So we are now looking at Plan C—not the gold but the bronze standard, under which Americans, at least in certain places, come cautiously out of their homes while adapting their pre-pandemic routines to dangerous new circumstances.
Given the time that ramping up a comprehensive national testing program will take, the push to end at least some forms of social distancing will succeed well before a universal testing program is in place. Beyond economic and political pressures, public-health officials are also up against human psychology. Welcome to the world of the so-called preparedness paradox: Preventive measures, if successful, may seem needlessly cautious. When the curve begins to flatten, some may conclude that the threat was not so dire to begin with.
But even Plan C needs social distancing as a default: When in doubt, people must stay home. We still need to support isolation for those already at risk and in the most vulnerable populations; build a testing-and-tracing corps that will work with communities to stem major outbreaks; mandate the use of masks in social and retail settings; continue to expand supplies of protective equipment at hospitals; require employer policies that protect workers and customers; prepare for additional waves of outbreaks; and fortify our supply chains, not just for today but for the months ahead. These steps are consistent with sound public-health policy. "Opening up" is not an alternative to these steps; indeed, it cannot happen without them.
The good news is that reopening involves more than a governor's edict or a president's tweet. The American public is making risk-and-reward calculations that caution against reckless openings. This means that the real complexity isn't in whether to open up or not, but in what degree of opening up can occur with the American public's confidence.
Among crisis managers, the "Waffle House index" is a handy way of assessing the damage done by a natural disaster, be it a hurricane or a flood. The all-day breakfast-diner chain rarely shuts its doors, so when that happens, it is a disturbing sign. The chain was forced to close because of stay-at-home orders, but Georgia's new rules allow it to reopen there. It did so Monday morning.
At locations that reporters and photographers visited, only a few patrons showed up. For the moment, the Waffle House index has an unexpected added variable beyond whether a given diner is closed. Amid the threat of the coronavirus, states can give a restaurant the right to open—but would-be patrons will make their own judgment about whether they can safely show up.