I've Been Training for the Olympics, and Pushing the Games Back Was the Right Call
The Games would hardly be a celebration if some athletes had to endanger themselves to train.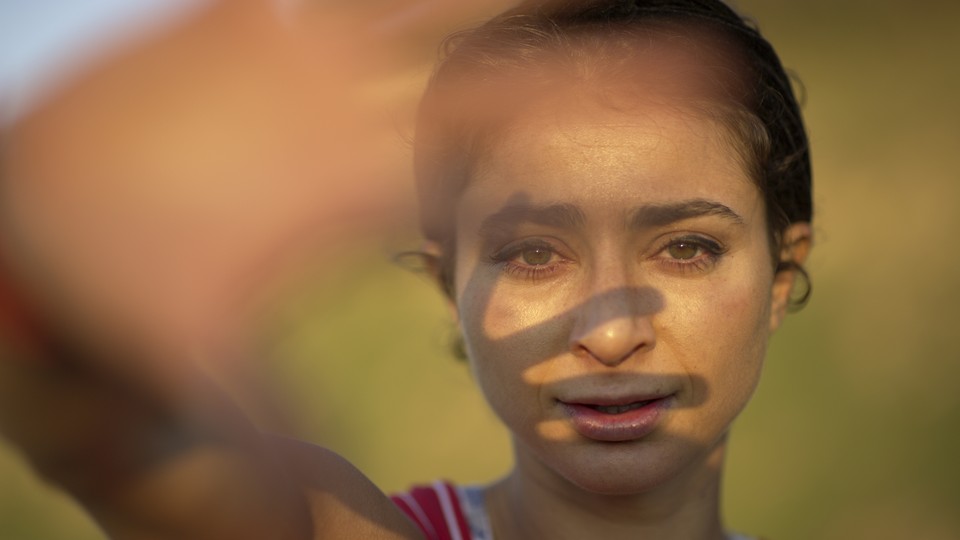 When I was 6 and my dad took me to see the 1996 Atlanta Olympics, I wondered what it would feel like to be an Olympian. Twenty years later, I found out.
I arrived at the 2016 Rio Olympics ready to compete for Greece in the 10,000-meter track race. I was proud but mostly nervous as I waited for my event, which was scheduled for several days after the opening ceremony. Then, when I was finally on the starting line for my race, the Olympic feeling clicked. My competitors and I stood together, surrounded by cameras and tens of thousands of cheering spectators. The athlete next to me helped me adjust a pin on my bib, and I felt like she was the maid of honor fixing my dress on my wedding day. I was grateful to be in the company of these women—this sisterhood. I knew my competitors felt the same. So many things had to go right over our lifetimes to get here, and now we were about to join the oldest sporting tradition in the world. Just making it to the Olympics is an achievement that all athletes and fans recognize. As we waved to the crowd, our gratitude and our pre-race nerves mingled with the audience's excitement to create an electric feeling of celebratory joy.
When the news first dropped that the 2020 Tokyo Olympics would be postponed, I was disappointed. My coaches and I had planned my training schedule down to the week, to prepare for a qualifying race in the spring and for the main event in the summer. My husband and I structured our entire lives around this timeline. But then I considered the swimmers, the gymnasts, and the athletes on team sports, whose training, unlike mine, could not continue during social distancing. And I understood that if spectators crowded together too soon, many thousands could contract the coronavirus. The International Olympic Committee opted to protect its athletes and to do its part in the global battle against the pandemic.
That decision, I realized, embodies the Olympic feeling. The Olympics would hardly be a celebration if some athletes had to endanger themselves to train. The competitions wouldn't feel joyful if we competed in empty stadiums. In Rio in 2016, the crowd was so alive that the race was like a performance. Without spectators, a race is just a time trial.
Professional athletes are familiar with embracing the unknown: We live every day aware that an unexpected injury or even something as simple as bad weather on race day can derail months of carefully laid plans. I have been trying to cope with this pandemic as another unknown, albeit one that is still unfolding. I take comfort in knowing that people all over the world are also trying their best to deal with this crisis one day at a time, and I'm acutely aware that the coronavirus has caused far more devastating disruptions to people's lives than it has mine.
I feel grateful to have a safe and stable situation in Greece, where I've been since February, with a wonderful coach and teammates, my quarantine buddies. I initially came here to do a one-month intensive training camp to "peak" my fitness before an April competition. As a big race draws near, long-distance runners ramp up the intensity of our training by adding speed work and race simulations to the mix, until we're exerting ourselves at a level that would be unsustainable for long periods of time. After a "peak," we take a break and then slowly build up again over months. Picture the training like a pencil: Most of the time it is strong but dull, and occasionally it is sharpened to a powerful but delicate point.
As the pandemic evolved and my April race got delayed and then canceled, my coach and I adjusted my training timeline for an event later in May. But then, every race through the entire spring got canceled, and the IOC announced the Games' yearlong postponement. Building up to an athletic peak takes willpower and grit, and for the timeline to suddenly extend by an entire year has taken a mental toll. Thousands of athletes are coping with the same bewildering adjustment.
Unlike athletes in other sports, I am able to continue training—although differently. Now, rather than building my fitness to a peak, my coach has restructured my training to focus on agility drills and shorter "base building" workouts and lots of strength and core exercises that I can do in my apartment. (I've shared some of these drills on Instagram, because they can be done inside by virtually anyone.) I have a government-issued permission slip to leave my house, which I bring with me on my runs in case I'm stopped by the police. I tuck the paperwork into my running hat and so far, it has withstood its daily sweat baths.
I am trying to reframe this extra time as an opportunity to grow rather than shrink. And I hope that when the Games do happen, I'll be more prepared than ever. There is no guarantee that I'll compete—the soonest I'll know is when I run my qualifying race this fall, assuming races have reopened by then—but I am staying cautiously optimistic.
My teammates in Greece taught me a phrase, Συναγωνισμός (pronounced seen-a-go-nees-mos), which means, basically, "good competition"—when you are trying your best and you hope that your competitors will also do their best. The meaning is distinct from simply "wanting to win." It implies a deeper sense of honor, of truly wishing your competitors well so that your race is a pure measure of athletic ability. It's about respecting the sport itself and being happy for everyone's successes in addition to your own. The phrase encapsulates how I felt after my race in Rio. I placed 17th, but I was over the moon that I had set a new personal best and broken the Greek national record. I was equally ecstatic that a competitor broke the world record and that many other athletes set new national records and personal bests. Good competition is about celebrating sport itself.
A team is only as strong as its weakest player. This may feel like a slogan, but that's because it's true, and the sentiment resonates now more than ever: The Olympics aren't about any one particular competition; they're about our collective Olympic dream. And if athletes got sick or endangered others because they felt pressured to break quarantine in order to train, that would set everyone back. This tension between what's best for the individual and what's best for the group is at the center of our struggle with social distancing. Putting your own needs behind those of the broader community can be difficult, but ultimately, the action can save lives. Anything we do now to help our world overcome this pandemic is a gift we're giving to our future selves. It's not a sacrifice; it's a responsibility. We are all teammates in this fight to overcome COVID-19.
When the Olympics do happen in July 2021, I believe they will carry a deeper meaning than any other Olympic Games in my lifetime. Whether I make it to the Games or not in these new circumstances, I know I won't be the only one crying with joy during the opening ceremony. Because now the Olympics will be more than just a celebration of the world's best athletes. The celebration will also be of humanity triumphing as a team over a collective threat. When the torch is lit and the Games begin, we will all share in that Olympic feeling together.