2020 Time Capsule #14: 'The Authority Is Total'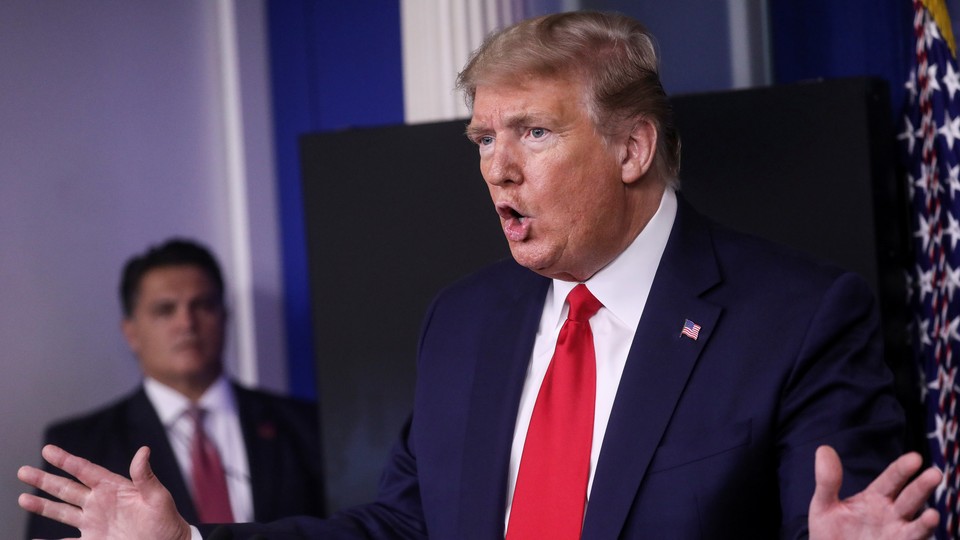 Editor's Note:
This article previously appeared in a different format as part of The Atlantic's Notes section, retired in 2021.
In a rally-briefing lasting more than two hours this past Monday afternoon, Donald Trump issued a royalist view of executive power not once but several times. (Which is of course his tendency, with any point he wants to make.) You can see one of the clearest instances in this C-SPAN video starting around time 46:40. Trump is asked what he would do if he decided to "open up" the economy, but state governors didn't agree. What would be his authority in that case?
"When you say my authority — it's the president's authority. It's not me.

"When somebody is the president of the United States, the authority is total. And that's the way it's gotta be. It's total."
Several things were remarkable about this statement.
One is its mere existence—regardless of the elaborate checks-and-balances built into the Constitution, regardless of the 10th Amendment's limits on central-government powers vis-a-vis the states', regardless of … anything.
Another was the reaction of the "strict Constructionists," "institutionalists," libertarians, and classic conservatives who make up the GOP majority in the Senate. Rather, the absence of reaction. Of the 53 senators in that group, the number who made a public objection to a claim of absolute presidential power was …. zero, as best I could tell. Would you like an illustration of how timid this group is? Even Fox News figures dared challenge Trump's statement on-air. (More on the silence of the Republican lambs, here, and from Charlie Sykes, a longtime Republican who is now a leading critic of Trump, here.) Governors from both parties objected, as did Democratic legislators. If only the Constitution could talk.
And one more was Trump's backing off from this claim 24 hours later, when he said he would "authorize" each of the states to adjust plans as they see fit. This of course was a face-saving fiction. None of the governors had required Trump's "authorization" when they issued their stay-at-home orders, starting with early moves by Mike DeWine in Ohio, a Republican, and Gavin Newsom in California, a Democrat. None would need Trump's okay to lift, alter, or extend their states' plans.
I note this claim for the long-term record: An American president asserted his absolute executive authority, from a White House podium, with virtually no resistance from America's "conservative" party.
Bullet-style, more items for the record:
There is so much unprecedented behavior, nonstop. The people now enabling Trump will someday claim that no one really knew what was happening at the time. But they know. Part of the point of this chronicle, like its 2016 predecessor, is to set out a record of what is known, while it's going on.
They know. They're just looking the other way.