2020 Time Capsule #12: Do As They Say, Not As I Do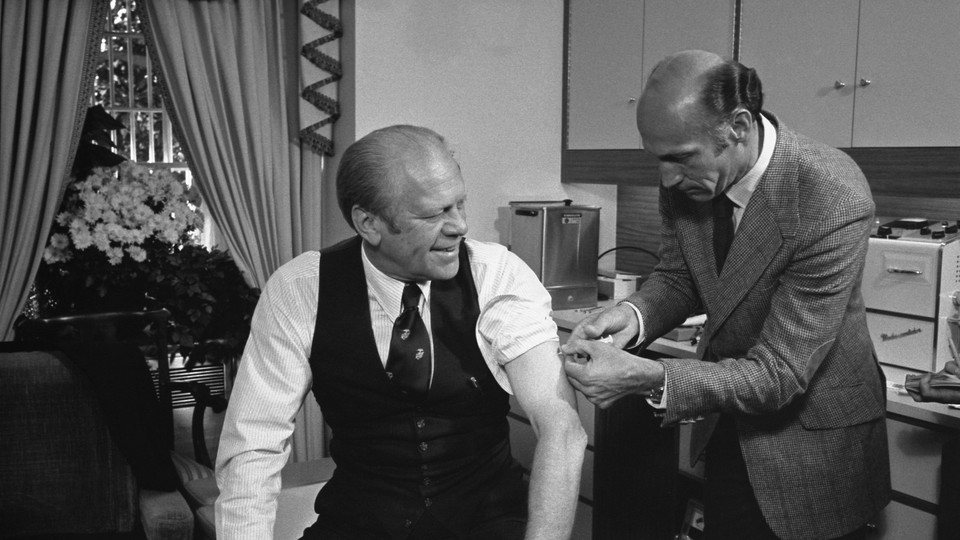 Editor's Note:
This article previously appeared in a different format as part of The Atlantic's Notes section, retired in 2021.
In his rally-briefing yesterday at the White House, Donald Trump announced that the Centers for Disease Control and Prevention was recommending that Americans wear masks or similar face coverings when in range of other people.
You can see C-SPAN's coverage of the whole briefing here, including Trump's repeated emphases that this was a voluntary recommendation—"You don't have to do it"—and that he, personally, would not comply. Important fact note: Trump, unlike virtually all other Americans, is exposed only to people who have already been tested for the virus, as reported here by NPR.
Around time 3:50 in this clip, he says "I don't think I'm going to be doing it." Then more definitively:
This is voluntary. You don't have to do it.

I am choosing not to do it.
---
This is not the first time presidents have been called upon to deliver public health messages, nor even the first time during a presidential election year.
In the fall of 1976, Gerald Ford—who had never been elected either president or vice president, but who became president two years earlier, when Richard Nixon resigned—was in a close race for reelection. He ultimately lost, very narrowly, to the former one-term governor of Georgia, Jimmy Carter. (For the record: I was a speechwriter on Carter's campaign staff then.) The race became close enough that practically every "controversial" stand that Ford took could arguably have made a difference in the outcome.
Among the issues that fall was swine flu. Starting early in that election year, public-health officials had been worrying that the newly mutated virus could reach pandemic proportions and become a modern counterpart to the deadly flu of 1918. They launched an all-out effort to produce a vaccine, and to get as many Americans as possible inoculated.
The story is long and tangled, both in scientific and in political terms. You can read fascinating accounts of what health officials got right, and wrong, in the 1970s swine flu era here and here, with links to other reports. One central issue was that the vaccine available by the fall of the year was a "live virus" version, rather than "killed virus," which entailed a greater (though statistically still small) chance of side effects.
For the moment the relevant point is: The country's political leadership was asking the public to take a controversial step, namely getting swine flu shots. And the ultimate political leader, Gerald Ford himself as president, prominently set an example by doing this himself. Thus the photo you see above.
---
The obligation to model the behavior they would like others to adopt is one all presidents have been aware of, even if they have imperfectly complied.
They talk about faith, and most of them have gone to religious services. They say that citizens should pay taxes, and they produce evidence that they have done so themselves. They urge people to be charitable, and they know that their own donations will be scrutinized. They talk about families, and they are photographed with their spouse and children—no matter what they're doing when photographers aren't there.
Some part of their brains recognizes the value of connecting with "what we [as a government] say" with "what I [as a person] do." And they make sure the public sees evidence of them setting this example — as Barack Obama did during the H1N1 flu wave of 2009.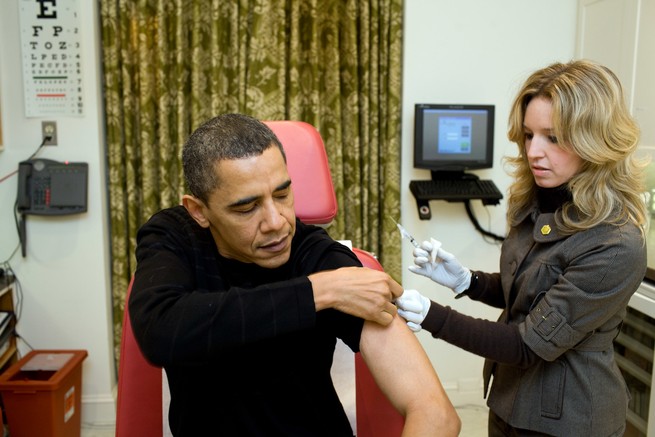 Trump's reaction to the mask-wearing recommendation—fine for the rest of you, but that's not for me—is of course far from the only illustration of his feeling that he need not set a personal example. See also: military or civic service; marital fidelity; scrupulousness about the appearance of financial conflict or family favoritism; recognition of "no person is above the law"; etc.
It is also not the most unreasonable stand he has taken. As NPR noted, everyone he meets is tested for the disease—so he is not likely to catch it from any of them, and they will be monitored after contact with him. And as Trump himself pointed out yesterday, the Oval Office is not a surgical operating room, and masks would seem odder there than in some other venues.
But Gerald Ford also had reasons not to follow the advice he was giving the country. He could have said: I'm extremely busy; I'm in the middle of an intense reelection campaign; I have great medical care around me if I should get sick. I am thinking about the reception Gerald Ford would have met, if he had said: I want all Americans to be inoculated. I am just choosing not to do it myself.