Why There's No National Lockdown
Enforcing a large-scale quarantine would be legally murky, even if it's what the country needs to slow the spread of the coronavirus.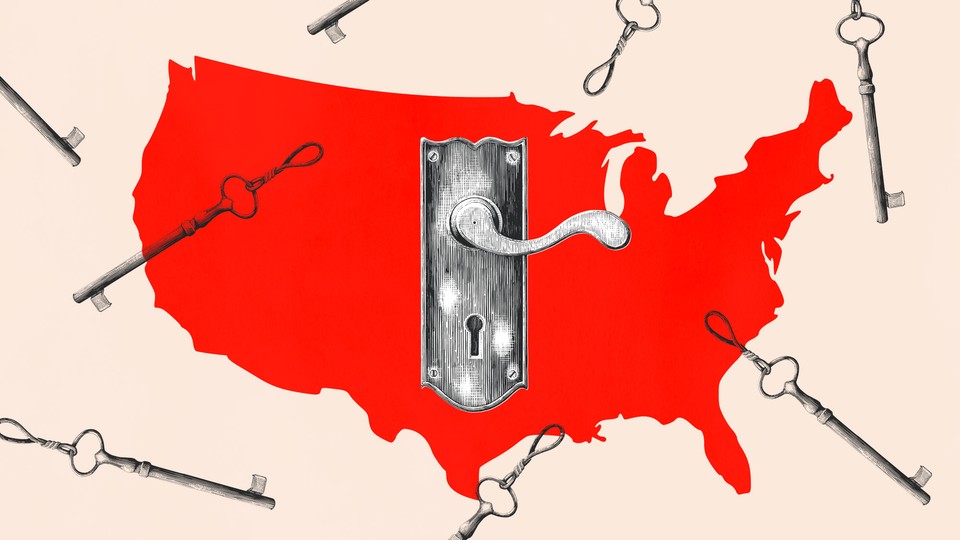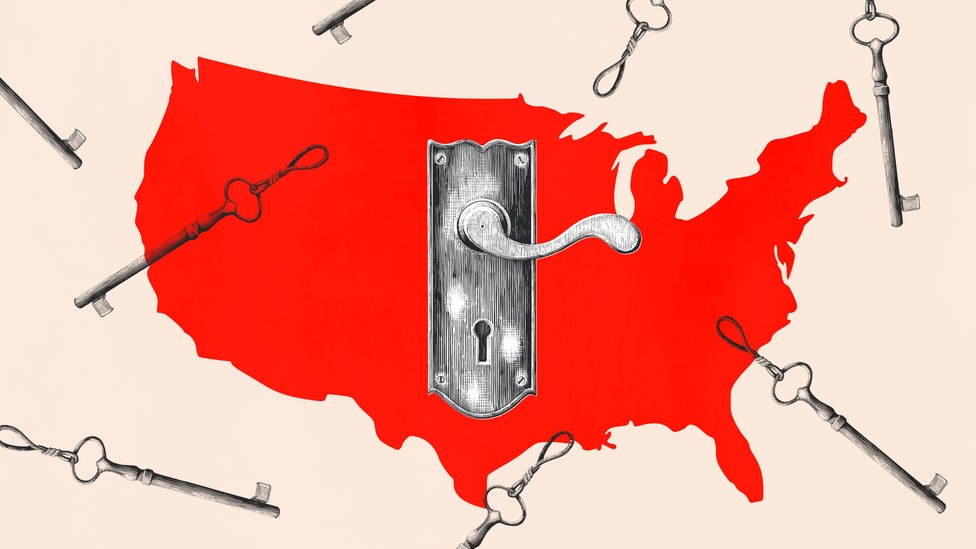 In the United States, COVID-19 cases top 120,000—now the most of any country in the world—and deaths surpass 2,000. Many states are acting to contain viral spread through mass closures of businesses and orders to stay inside the home. However, in the absence of a national-level order, such measures are not uniform across the whole country, and Americans can still travel from one area to another—potentially carrying COVID-19 from "hot zones" such as New York and Seattle to low-risk areas.
Contrast that with China, once the epicenter of COVID-19 (the novel coronavirus disease), which on March 19 reported no new locally transmitted cases of the disease for the first time since the onset of the pandemic. Just a month ago, thousands of new cases were appearing in mainland China each day, and China's Hubei province was considered the highest COVID-19 transmission zone on the planet. China's success is the result of aggressive, far-reaching measures: About 60 million people were locked down in the cordon sanitaire, during which movement was restricted in and out of Wuhan and the larger Hubei province. Many people infected with or exposed to COVID-19 in these same areas were forcibly removed from the population and put into isolation centers for weeks. Public transportation was shut down. Armed guards, citizen informers, and high-tech surveillance helped ensure compliance with mass quarantines. The trade-off, of course, was between containing a fast-moving novel virus and wholesale violation of personal freedoms, including movement and privacy.
Other countries, including Western democracies such as Italy, Spain, and France, are following China's lead, locking down entire regions or the nation as a whole. India's prime minister, Narendra Modi, decreed a 21-day lockdown for 1.3 billion people, the largest cordon sanitaire in world history.
Meanwhile in the U.S., where COVID-19 cases are skyrocketing, the approach has been more piecemeal. Many states and localities have ordered businesses, schools, and workplaces to close and limited the number of people that can gather in public. At least 24 states have directed all residents to shelter in place, or stay home. But other states have allowed businesses such as bars and restaurants to remain open to the public, or let their school districts decide whether to close schools. Why has America failed to take more aggressive national action?
President Donald Trump has expressed inconsistent intentions for a national, or even regional, lockdown. On March 24, eager to avoid further economic and social harms arising from business closures and other key physical-distancing measures, the president stated that the U.S. should be open for business by April 12. Finally swayed by warnings from public-health experts that lifting restrictions too soon could cause far more deaths, he has now extended that timeline to the end of April. Then on March 28, Trump said he might order a two-week quarantine of New York, New Jersey, and parts of Connecticut. Such an order would have restricted the movement of millions of Americans, even in areas with low COVID-19 risk, and could have backfired if it incited mass migrations. However, faced with questions on legal enforceability, Trump backed away from the mass quarantine, and instead the Centers for Disease Control and Prevention (CDC) issued a domestic-travel advisory for the area, asking residents of the three states to refrain from nonessential domestic travel for 14 days.
Even if the president desired to take stronger action, America's national-level response would be hampered in part by its federalist system. Constitutional authority for ordering major public-health interventions, such as mass quarantines and physical distancing, lies primarily with U.S. states and localities via their "police powers"—a drastic difference from the national authorities of countries such as China and Italy. Still, the federal government does have narrow authorities to reduce the spread of COVID-19, which are most expansive at the U.S. border. Trump has, for example, banned the entry of foreign nationals who have traveled in many of the world's regions, including China and most of Europe, within 14 days before their arrival to the U.S. More recently, the president closed America's borders with both Mexico and Canada. Congress has exclusive constitutional power to regulate interstate commerce and could restrict travel among the states, but the president cannot, unless Congress provides statutory authority. The CDC, as an executive agency under the Department of Health and Human Services, holds limited regulatory authority to issue quarantines, but lacks the authority to ban interstate travel outright. Even during the Zika outbreak, the CDC only recommended that pregnant women avoid travel to southern Florida; it did not issue any order.
Within states, the president has little to no power to act, because of states' sovereign rights to exercise their police powers. The president cannot direct a governor to implement or withdraw an order to stay at home or to close businesses such as bars, restaurants, and theaters. Even in a national emergency, governors retain primary authority to control the spread of an infectious disease within their states. However, as governors' powers extend only to their states' borders, they can limit intrastate movement (through travel restrictions, mass quarantines, or isolation orders), but cannot restrict interstate travel.
When governments, federal or state, do have the authority to order mass quarantines, constitutional and ethical principles—as well as American values—require that these orders be balanced against long-standing safeguards of personal liberty and privacy. Such orders would impose extreme limitations on individual liberties including the right to travel and associate. Their enforcement could entail invasions on personal privacy, such as government use of electronic surveillance to monitor individuals' movements. Even so, courts would likely uphold containment orders against individuals that are based on sound science (including testing positive for the virus) and are proportionate. Individuals hold liberties, such as freedom of movement, only up to the point where they pose a risk to others.
However, large-scale quarantines based on group determinations would be constitutionally troublesome because they are inherently overbroad. Orders must also be executed via procedural due process (providing individuals with sufficient notice and a hearing), and through the least restrictive means necessary (e.g., home quarantines preferred over other settings). In nonemergencies, the Supreme Court has further required "clear and convincing evidence" for civil confinement of individuals. While emergency declarations, and the urgent need to control COVID-19 before others needlessly die, may skew the balance toward public-health authority, they do not altogether dispense with these long-standing safeguards.
The requirement of public-health authorities to use the least restrictive measure to achieve their objective also means that rather than using draconian measures to enforce a nationwide mandatory lockdown, states and localities can institute a "virtual lockdown,"—through a myriad of state and locally generated closures, assembly limits, and travel restrictions. Most people, moreover, will voluntarily remain at home. A stay-at-home recommendation, along with restrictions on nonessential business activities and large gatherings, could accomplish much of the desired result: reduced contact between infected and uninfected persons to stop COVID-19 transmission. However, to control the spread of COVID-19 for the long run, continued compliance with social distancing will be essential in the weeks, and possibly even months, ahead.
If Americans are to comply with directives for self-quarantine, self-isolation, social distancing, and limited travel over the indefinite future, governments must fulfill their reciprocal duties to make compliance safe and feasible. First, a trusted and transparent source of information is needed to regularly convey accurate information on the known risks, unknown risks, and what is being done to learn more. Second, physical distancing must be accompanied by access to key resources, such as testing, treatment, food, and medicines, especially tending to the needs of the vulnerable (the elderly, people who have a disability, or people with low income). Third, Americans staying home in self-quarantine, or to care for kids out of school, must be assured that they will not suffer from job or income losses.
All of this is to say that a coercive lockdown by the federal government may not be legal, but it is also not what is needed to keep the American people safe from COVID-19. To make lawful restrictions and voluntary social distancing work, however, the country must see real leadership, and have confidence that its needs, both bodily and economic, will be met. Absent that, many thousands more will needlessly die—the unfortunate path we seem to be heading down.