What the Tornadoes in Nashville Revealed
The day after the storm was a day of paradoxes.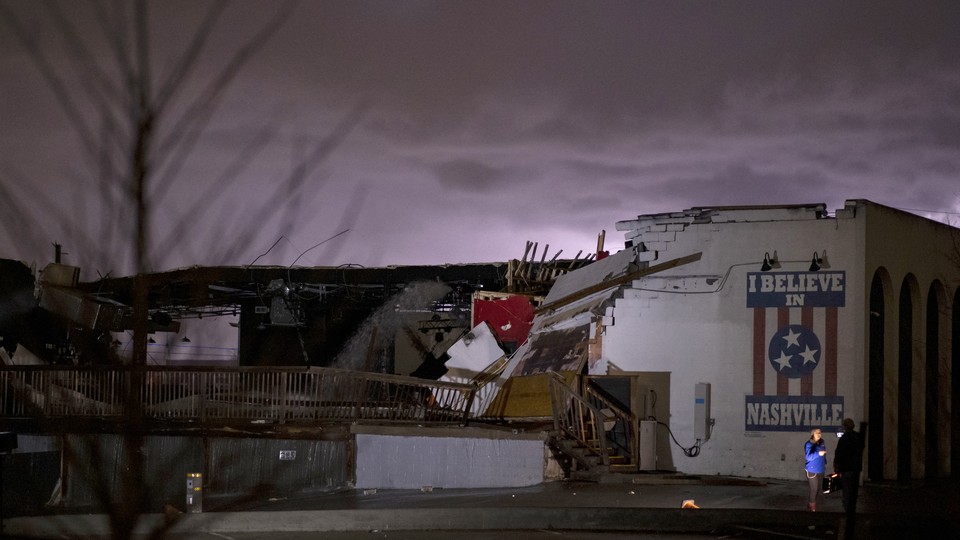 A few years ago, I wrote a song called "Five Minutes." This week, after tornadoes ripped through Nashville, a friend texted me a line from my song: "In five minutes, your whole life can change."
In the early hours on Tuesday, my husband received a phone call from his son, warning us that a tornado was headed our way. A middle-of-the-night phone call is enough to send my adrenaline soaring, and within seconds both of our iPhones sounded the alert and the sirens on our street started wailing. Almost immediately, the power went out. We had approximately five minutes to get to our safe space, a windowless bathroom in our 150-year-old house in Germantown, an urban neighborhood in Nashville. The sound was a ferocious roar—louder than any storm I can remember in 15 years of living in this house—as though it were inside, instead of out there beyond our home's thick brick walls. Neighbors told me later they felt their ears pop as the pressure fell. All I remember is the sound. It was over in just a few minutes.
We get bad storms in Nashville. They're part of living here. I was pretty sure this one was just a particularly wicked thunderstorm. Wide awake, I looked at my Twitter feed to see if I could find any news. The posts started appearing, then the photos. The Basement East, a beloved music venue in East Nashville that I've performed at often, appeared to be nearly leveled. My own neighborhood looked like a bomb had gone off; an entire apartment complex one block away was decimated. Five Points, an area full of bars, vintage stores and hipster coffee shops, with a particularly high musician-to-civilian ratio, was unrecognizable. Just gone.
I took a walk the next morning through my neighborhood, picking my way around the police tape, the piles of glass and wood and insulation. The small, random things you find in the wreckage are the ones that break your heart. They're like the details I try to put into my songs, little totems of the people they belonged to, signifiers: a broken dinner plate, a band T-shirt, a hairbrush. They're just things, true, but they're not nothing. Everything people say about the fragility of life, about control being an illusion—these everyday objects are reminders of the truth at the heart of the clichés. They are the things you put into a song to make the people in the song real. And when they're lying in a pile of rubble on your street, the people who've lost them become indelibly real, too. A tornado isn't just a source of morbid fascination anymore.
When the Cumberland River crested its banks 10 years ago and left the Grand Ole Opry under 10 feet of water, it was an affront to our city's very sense of self. Nashville is known as "Music City," and Nashvillians are extraordinarily proud of our musical contribution to the world. As corny as it sounds, we're family, and like any family, we fight among ourselves but defend the family against all comers. News of the flood—the worst in Nashville's history—was eclipsed by an averted terrorist attack in New York City and an oil spill in the Gulf of Mexico. It felt as if no one outside of Davidson County had heard about the flood. Armed with a strong sense of volunteerism—Tennesseans take the "Volunteer State" nickname seriously, too—and salted with a good amount of resentment at what seemed to be the rest of the world's indifference, everyone got to work.
Across the river from us, a storage facility housing millions of dollars' worth of irreplaceable musical instruments and gear belonging to local musicians had been inundated. Most of its contents were a total loss. I drove over a few days later to find friends of mine weeping openly in the parking lot. A guitar to a musician is like a third arm; you don't just replace it with another. The Nashville flood was the worst natural disaster I'd ever seen firsthand, and in the aftermath, I was moved, sometimes to tears, at all the acts of love and empathy that it brought out in my community. I'd never been so proud of my city. Even before the floodwaters receded, the music community began to do what it does best. I and other local musicians put on a show, or rather 100 shows, all benefits for flood victims. We teamed up to share or provide instruments, gear, and touring vehicles—the tools of our trade—to others who had lost the ability to make a living.
Ten years later, these tornadoes have brought those memories all back. This time, perhaps because of Nashville's booming popularity (we residents are ready to turn over our "it city" status to whoever wants it, by the way), the world reached out with love and concern. But no one was waiting around for outside assistance. A friend of mine, volunteering to help with the cleanup downtown, overheard someone say, "Thank you for inviting me to help you." He told me it was the most Nashville thing he'd ever heard, and I have to agree. Of course, people are quietly doing good, selfless, empathetic deeds everywhere you go. But there is something about this city; something that lives in the music that ties us together; something that runs in the river that usually bends lazily around the Grand Ole Opry but once every 1,000 years rises up to remind us that we are a part of this land, not apart from it; something that emerges from the rubble on Madison Street in Germantown and Five Points in East Nashville—a kind of stubborn love of place that finds us at our strongest and best when we're at our weakest and lowest.
Place holds memory, and this city carries the trauma of that flood and, now, this storm. But Nashville also holds the memory of the love and compassion that came in the aftermath. A tornado is nothing I ever want to go through again, and I was extraordinarily lucky. For those in Nashville and Cookeville who lost loved ones, the storm was devastating. For the many more who were in the 50-mile path of the tornadoes, those who lost everything, the storm was unimaginably tragic. In minutes, everything changed.
The day after the tornado was a day of paradoxes. Just like on the morning after the flood, we woke up to beautiful spring weather and utter devastation in our backyards. But we also woke up to the sight of pickup trucks and dad vans loaded up with chainsaws and shovels and coolers full of ice and thermoses full of coffee, people handing out breakfast biscuits, people hugging strangers. People throwing their back into helping others. People asking other people, "Are you OK?" We're OK. Nashville's going to be OK.