Where Is the Government?
Many businesses are already insolvent, have already shut down, have already lost their employees.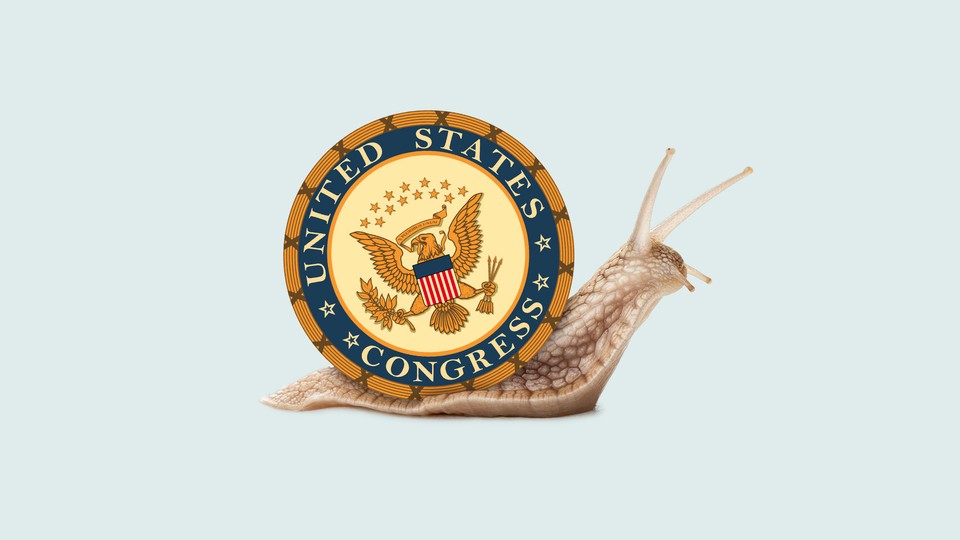 Small businesses, waiting on help from a divided Congress, are facing the apocalypse. And they are wondering whether anything the government does will be enough to help them through.
Dafna Kory is the founder of INNA jam, a beloved Bay Area small business that makes jams, shrubs, and pickles from produce grown within 150 miles of its Emeryville kitchen. The business is all about sustainability, Kory told me, both environmental and economic. She buys produce from local organic farmers and preserves it, to help people enjoy peak-ripe seasonal foods year-round. And she hasn't expanded beyond her little kitchen and five-person staff because she hasn't wanted to take on that kind of risk.
"People don't even consider the idea that there's a size, a good size, that's symbiotic to the workers and the community and the resources we have," she told me. "Because I haven't grown, I've been able to build that cushion that I have now. The push for growth absorbs any capital that is available. It's risky."
Despite her preparations, Kory is one of hundreds of thousands of small-business owners across the country facing the unsustainable. INNA is still operational: As a food business, it's exempted from the Bay Area's strict shelter-in-place order. But sales have plummeted roughly 33 percent in just two weeks and are likely to fall further. One of Kory's employees is at home on paid leave because "her health is more compromised, so I don't want to add any risk for her," Kory told me. The company is preparing to shut down, for some unknowable amount of time.
"I have built a buffer into the business," Kory told me. "We can handle keeping people employed for a bit. But if we're not able to get back into production once we have really critical work to do—once the summer harvest comes in mid-May or early May—that would be a challenge that will not be very easy to overcome." She said the company would face an existential crisis within a few weeks.
INNA jam is actually better off than most small businesses: A recent study by the JPMorgan Chase Institute found that only half of them have enough resources on hand to cover a month of normal outflows, including costs like rent, utilities, and payroll. A quarter have the resources to cover just two weeks. Every day that passes, the country's small businesses edge closer to insolvency, putting tens of millions of jobs at risk. Absent drastic and immediate government action, an untold number of otherwise viable businesses will fail: restaurants, bars, yoga studios, consultancies, salons, toy makers, artificial-intelligence start-ups, clothiers, design firms, bookshops, and yes, the producers of chutneys and pickles and jams.
That would worsen the recession that is already gripping the country, perpetuating and strengthening it, as laid-off workers cut back on spending and belly-up companies stop ordering goods from and supplying goods to other firms. It would also be a tragedy. Many of the country's best-loved businesses, the ones that give neighborhoods character, would come to an unnecessary end. Many of the country's most important companies, the ones that disrupt incumbents and generate growth, would die too.
The government, having never faced a pandemic recession like this one, at least not in the modern era, has few if any ready tools to address the crisis. The Small Business Administration has pushed its disaster-loan program, offering up to $2 million at a 3.75 percent interest rate, but many companies do not qualify. Hundreds of thousands of them might collapse before any SBA help arrives. Nor does the SBA have the staffing or the resources to aid all the businesses that might need loans.
Now members of Congress and the Trump administration are working to figure out a way to bail out the little guy, as they rush to bail out a lot of big guys too. Senate Republicans and the Treasury have worked out an "interruption-loan program" worth up to $350 billion. The program would provide loans of up to $10 million to companies that retain employees on their books. The loans would be forgiven if the businesses decline to fire workers or hire back the ones they have already let go. "Small businesses fail all the time, and in recessions they fail more often," says Glenn Hubbard, a former economic official in the George W. Bush administration, who helped Republican members of Congress draft the plan under debate. "That's not a particular policy concern, other than when you have demand problems during a recession. But here it's not a demand shock. It's because we're telling them to shut down. There's no moral hazard. So we have to try to keep the economy as normal as we can for when things start back up."
But other policy experts worry that Congress is fighting the last war. Many businesses are already insolvent, have already shut down, have already lost their employees. "You're taking a lot of companies undergoing the worst point of their existence, this tremendous stress, literally the government telling them to shut down, and you're tying their hands when it comes to their workers," says Adam Ozimek, the chief economist at the freelancing platform Upwork. "That's not going to be good."
It would be better, Ozimek told me, to expand the unemployment-insurance system to take care of workers and to have the government guarantee long-term, zero-interest-rate loans to small businesses with a three-month grace period before payments start. Companies would work with their existing lenders or whatever financial institution made sense to them, Ozimek said, rather than go through a government agency.
For her part, Kory said that she would prefer wage subsidies: the government would pay her employees directly, as some European governments are doing and as happened in a limited form in the previous American recession. (You have probably never heard of the Temporary Assistance for Needy Families Emergency Fund, but it was arguably the single most effective countercyclical program deployed during the Great Recession. It gave federal dollars to states for subsidized-employment programs, and generated work for 260,000 low-income people.)
In that scenario, INNA could avoid layoffs, Kory said, a financial boon and an emotional one too. "That way, our employees don't have to leave our system and go into an unknown unemployment-insurance system. Some people don't feel confident applying for those things. Forms freak people out. It's that simple," she said. "I don't want my employees to go away. I want them to work with us forever. Being able to maintain that relationship and not have a disruption for that—that would be the best thing."
Perhaps most radically, the economists Emmanuel Saez and Gabriel Zucman—known for their pioneering work on tax havens, wealth and income inequality, and wealth taxation—have suggested that the government act as a buyer of last resort, replacing the business that companies have lost. "Businesses on lockdown would report their monthly necessary costs of maintenance and receive payment from the government," they write. "The amounts don't need to be exact; verification and correction can take place once the lockdown is over. Any excess government payment could be transformed into an interest-free loan that could be recouped over several years."
All of these ideas offer at least some hope for the country's small firms, especially paired with the cash stimulus likely heading out to millions of American families in a matter of weeks. The risk is that none of these rescue options will arrive soon enough.