Give People Money Immediately
The mayhem wrought by the coronavirus is unique and complex. But there is at least one simple and necessary economic response: stimulus.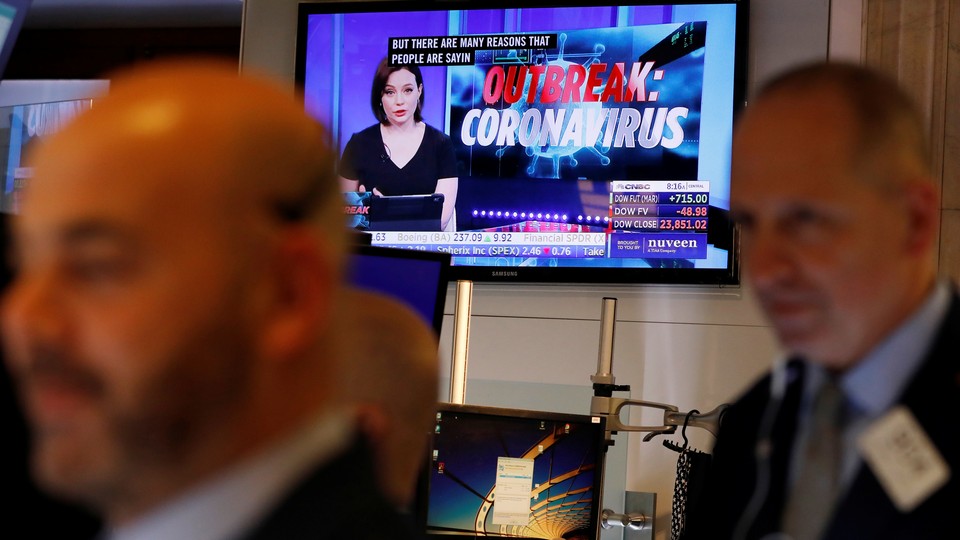 Financial markets are in meltdown mode as the coronavirus courses rapidly and all too undetectably throughout the world. But there is a simple thing the U.S. government can do right now, which would both slow the viral spread and limit the economic harm.
Give people and companies money.
Perhaps that intervention strikes you as a non sequitur. Dollar bills aren't medicine, COVID-19 doesn't discriminate by income, and—to be emphatically clear—the most important interventions to contain the virus itself are in the realm of public health, including expanding the availability of free and accurate testing kits, increasing our capacity to treat the ill, and isolating infected individuals.
But the U.S. also needs financial help, immediately. Perhaps that is why President Donald Trump is reportedly considering measures to bolster the economy, even as he claims that the disease is no more threatening than the seasonal flu.
To see why the U.S. needs a stimulus package, look at Austin. The city's wise decision to cancel the SXSW festival is devastating, wiping out nearly $1 billion in economic activity. The city's "conference economy" is large and diverse, including security staff, tech crews, caterers, ride-hailing drivers, and hotel and restaurant staff. Thousands of people will lose an economic windfall they plan for all year. If they fall behind on rent or can't pay utility bills next month, they'll pull back spending on grocery stores and clothing outlets. The SXSW cancellation will reverberate throughout the region.
Austin's SXSW experience does not augur well for the U.S. economy. If the virus continues to spread, it will act as a sort of tax on group formation and physical-space community. Every component of the tourism economy will falter, including airlines, hotels, restaurants, museums, and amusement parks. As more Americans self-quarantine, ride-share and taxi drivers will lose income and gas stations will struggle. With their income pinched, workers in each of those fields will spend less in the economy.
Basic macroeconomic theory says there are two ways to address a crisis like this.
The first is monetary policy, which would typically mean central banks cutting short-term interest rates to stimulate economic activity. But interest rates are already at historic lows, which reflects a need for other forms of stimulus.
The second is fiscal policy. That means the U.S. government giving people and firms money—either without strings attached or for earmarked purposes, such as building infrastructure. With long-term interest rates under 1 percent, borrowers are essentially paying the U.S. to hold on to their money. The federal government could use this opportunity to do a number of things, such as finance green infrastructure. But first, it should pass a massive fiscal stimulus to confront the economic effects of the viral outbreak.
What might an Antiviral Stimulus look like? Here are four ideas:
Cold, hard cash. Giving Americans money should make them more willing to withdraw from work, more comfortable about an extended break from public life, and more stable if their line of work is threatened by the epidemic. In 2008, George W. Bush signed an economic stimulus that mailed checks to families within six weeks of the bill's passage. The White House could do a beefed-up version of that stimulus by writing every adult a check for $1,500 with an extra $1,000 per child.

Instead, the Trump administration has proposed a payroll-tax cut. Although that's a fast way to get workers money, the largest benefits of such a plan would flow to upper-middle-class workers, who can often do their jobs remotely. The front line of the epidemic is the leisure and hospitality sector, where low-wage workers constantly interact with people face-to-face. What these workers really need is universal paid sick leave.
Paid sick leave. Before the coronavirus outbreak, the lack of paid sick leave in this country was merely morally indefensible. During a viral outbreak, it's also just plain dumb. As Amanda Mull has written for The Atlantic, millions of American workers cannot take time off in the event of an illness, which means they are encouraged to remain at work, where they become unwitting vectors of mass contamination. Fortunately, a solution may be imminent. White House advisers have reportedly briefed the president on such a policy, and House Democrats plan to introduce guaranteed sick leave for certain workers in a forthcoming bill. Even if this bill passes, however, Washington will still have to deal with likely increases in unemployment.
Expanded unemployment insurance. Unless we get very lucky, the epidemic will cost many thousands of people their jobs at the same time that their families are either going through a medical emergency or feeling terrified that illness is imminent. The federal government jointly funds jobless benefits with the states, but in this crisis, Washington should fully fund a large increase in the dollar amounts of unemployment insurance. This would help stabilize the finances of individuals and families who lose their jobs on account of a viral recession.
Emergency funds for state and local governments. A large part of the 2009 stimulus was earmarked for states and cities to make up for the tax revenue they would lose after employees lost their jobs. A sharp recession in 2020 will require the same intervention. In this crisis, emergency funds could also help states pay for expanded health-care treatment, because 10 percent of state spending goes to hospitals.
In an outbreak, public-health interventions are the most effective stimulus. In many ways, though, giving people money is a public-health intervention. More than 10 percent of Americans skip doctor appointments even when they feel sick, because they don't think they can afford it. In the next few weeks, the Trump administration may have to request that Americans withdraw from public life—to "cancel everything." This request to engage in economically damaging activity may be more palatable for many families if it comes with a financial package that compensates them for the damage.
In a precarious economy where millions of people feel like they have to work to survive, more Americans will insist on going to work even as they show signs of illness, which means more Americans will be infected, and sick patients will overwhelm America's hospitals. Until the disease is in national remission, the country's workers, parents, and, children will require a variety of interventions, but there is only one thing that will help every single one of them. It's money.