America Is Acting Like a Failed State
Many businesses, local governments, and individuals are doing what is necessary to beat back the coronavirus—with little help from the White House.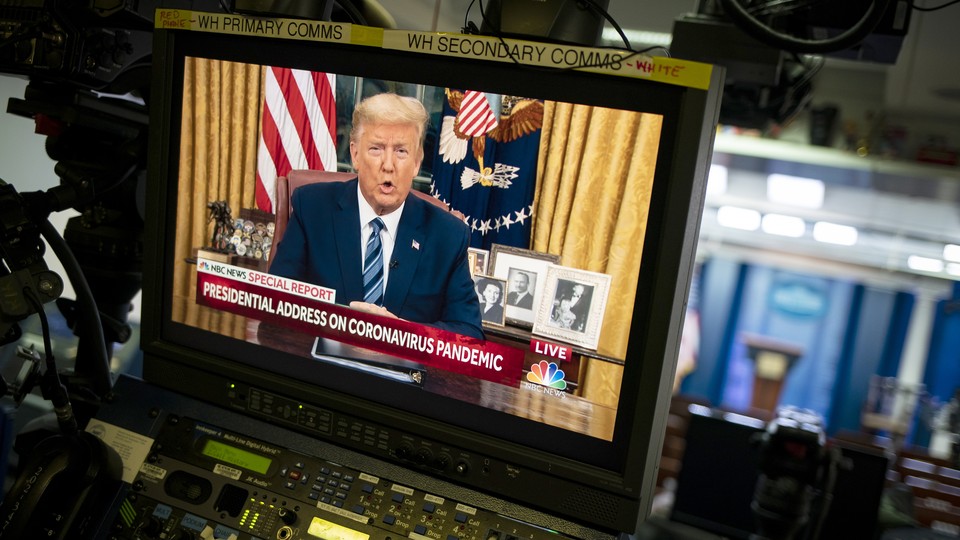 A global pandemic is a mandatory exam in national competence. It is a test for individuals, who have to change their life and withdraw from public events to slow the spread of a disease through crowds and social networks. It is a test for companies, which must change their protocols to protect their employees, sometimes by banishing them from the office. It is a test for institutions, which must decide whether to uphold traditions and festivals for the sake of public morale, or to cancel events, tournaments, conferences, and concerts.
And it is, above all, a test for the state. Only the national government can oversee the response to a national outbreak by coordinating research on the nature of the disease. Only the state can ensure the national regulation and accuracy of testing, and use its fiscal and monetary might to stimulate the economy if the pandemic threatens people's income and employment.
Throughout the world, the most effective responses to the historic threat of the coronavirus have come from state governments. China imposed a lockdown of tens of millions of people in Wuhan and other cities. In Singapore, the government built an app to inform citizens how to contain the virus and what public spaces to avoid. South Korea opened a number of drive-through centers to accelerate diagnostic testing.
But in the United States, the pandemic has devolved into a kind of grotesque caricature of American federalism. The private sector has taken on quasi-state functions at a time when the executive branch of government—drained of scientific expertise, starved of moral vision—has taken on the qualities of a failed state. In a country where many individuals, companies, institutions, and local governments are making hard decisions for the good of the nation, the most important actor of them all—the Trump administration—has been a shambolic bonanza of incompetence.
It might seem hyperbolic to compare the U.S. government to a failed state that cannot project its authority or adequately ensure the safety of its population. But for much of the past month, the White House has shown an inability to do either.
The Trump administration has failed to perform the most basic function of a state during a pandemic—which is to accurately assess the threat. While South Korea is reportedly conducting 10,000 tests a day, lawmakers learned on Thursday that the U.S. has conducted only 11,000 coronavirus tests in total. (For the U.S. to catch up to South Korea on a per capita basis, it would need to conduct 65,000 tests daily.) But the coronavirus caught the Trump White House flat-footed. The administration fired the U.S. pandemic-response team in 2018. It ignored early warnings from epidemiologists; refused to waive regulations that impeded early testing; and botched its initial COVID-19 testing kits.
The White House has also failed in its basic role to protect the public by communicating accurate and useful information about public health and hygiene.
On February 24, Donald Trump tweeted that "the Coronavirus is very much under control in the USA," even as cases were growing exponentially. The next day, he mocked the idea of an economic stimulus, tweeting that "Cryin' Chuck Schumer is complaining, for publicity purposes only, that I should be asking for more money than $2.5 Billion to prepare for Coronavirus." (Today, many economists are advocating a trillion-dollar economic stimulus.) On March 2, at a political rally, Trump said the coronavirus was no worse than the flu and promised that vaccines were coming "relatively soon," even though most health experts don't expect a widely distributed vaccine for at least another year.
This week, in the president's only Oval Office remarks since the pandemic struck, Trump made so many mistakes that at least three separate policy announcements had to be corrected. Because he suggested (erroneously) that U.S. citizens abroad would soon be barred from reentry, he triggered an emergency gathering of Americans at European airports during a pandemic when crowd-gathering is known to spread the virus. Even some of Trump's non-policy recommendations were quickly proven empty. Yesterday, two days after saying that "we must put politics aside [and] stop the partisanship," he published a tweet blaming Barack Obama for kneecapping the Centers for Disease Control and Prevention's ability to respond to the pandemic. (Obama did no such thing.)
Even though the president partially reversed course yesterday by declaring a national emergency, the damage may be done. Republicans are, overall, older and more at risk from the disease, but they are also the least likely to take the virus seriously. A March 5 poll found that Republicans were almost twice as likely as Democrats to say they weren't worried about the coronavirus. More than half of them agreed that the coronavirus was just "a scare tool to get Trump." Weeks of denying and downplaying the virus could prove lethal, not only for the country at large, but specifically for Trump's core voters.
As the White House has failed to meet the gravity of the moment, a national phalanx of business owners, sports commissioners, college presidents, governors, and mayors has effectively shut down American life to arrest the flow of COVID-19, the disease caused by the coronavirus. In doing so, they have reduced the president to a bystander in the care of his own country.
American sports have been canceled. Major League Baseball has suspended spring training. The National Hockey League, the National Basketball Association, and Major League Soccer have all suspended or postponed play. The NCAA has canceled the March Madness tournament.
The entertainment world is retrenching as well. Media companies are canceling their major annual advertising events, known as the "upfronts." Live Nation, the concert promoter, has suspended all tours. Broadway shows have been put on hold until early April.
While the president has promised to continue holding rallies, businesses and state and local governments have encouraged Americans to engage in social distancing to mitigate contagion. Across white-collar industries—including tech, media, and finance—employers are advising people to work from home. Saint Patrick's Day parades have been shut down. Universities are moving online. Governors and mayors are closing schools and announcing new limitations on the size of public gatherings.
Finally, large nonprofit organizations are stepping up to fill the void left by the administration's testing failure. Amazon and the Bill & Melinda Gates Foundation have offered to provide testing kits to people in Seattle with coronavirus symptoms. Yesterday, the Jack Ma Foundation, a charitable organization established by the founder of the Chinese retail company Alibaba, announced a donation of 500,000 testing kits to the United States. Acute state failure has reduced the richest nation in world history to a charitable cause.
America has not yet failed, but its government has—and, along with it, a certain vision of conservative governance. For decades, the Republican Party has committed itself to destroying state capacity, disparaging science, punishing expertise, and masquerading as populist while enriching narrow interests. It has all led to this: an undetected pandemic spreading, likely exponentially, as the president and his representatives mock the disease and oversee a state apparatus too incompetent to test for it. The resilience of some American institutions many miles from Pennsylvania Avenue may temporarily blunt this federal ineptitude, but it cannot for long overcome it. At some point, the competence gap between Washington and America has to close. At some point, a state that survives needs a government bent on something more than its own self-destruction.