2020 Time Capsule #8: 'Light at the End of the Tunnel'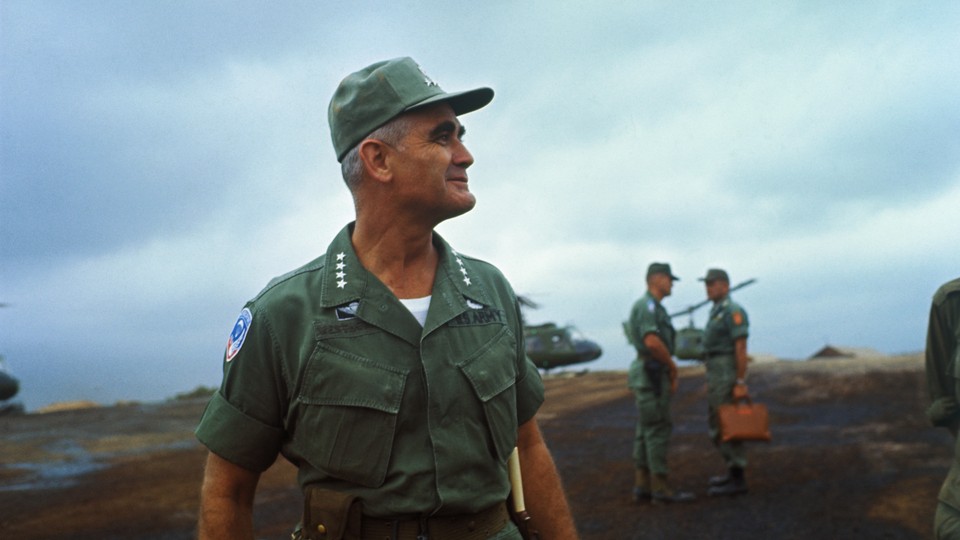 Editor's Note:
This article previously appeared in a different format as part of The Atlantic's Notes section, retired in 2021.
In the second of his two extended live-TV performances yesterday—a White House coronavirus update, following a Fox News "virtual town hall"—Donald Trump said that prospects in the effort to control the virus were improving. As you can see starting at time 2:30 of this C-Span video, he said:
I'm very proud to be your president, I can tell you that.

There's tremendous hope as we look forward and see light at the end of the tunnel.
Most of today's living Americans were born in 1980 or afterward. (The median age in the U.S. is now just over 38.) Most of them would not instantly recognize the phrase "light at the end of the tunnel,"
But Donald Trump was born in 1946, and he would know this phrase. During his teenaged years and his early 20s, when hundreds of thousands of his contemporaries were being drafted for service in Vietnam, and when more than 50,000 of them were killed, those words were among the most infamous parts of the American lexicon. Like "it became necessary to destroy the town, in order to save it"—a possibly apocryphal phrase attributed to a U.S. military officer, about the scorched-earth policy—"light at the end of the tunnel" came to symbolize the sustained folly of the war in general, and the illusion that success was near at hand.
The closest post-Vietnam examples would probably be early proclamations about the Iraq war: Dick Cheney's pre-war assurance that "we will, in fact, be greeted as liberators," and George W. Bush's triumphal appearance under a "Mission Accomplished" banner shortly after the fall of Baghdad. Or, early in the disaster of Hurricane Katrina, "Brownie, you're doing a heck of a job." Among pre-Vietnam examples, a counterpart might be Neville Chamberlain in 1938, shaking hands with Adolf Hitler in Munich, and then returning home to declare that they had ensured "peace for our time."
During and after the Vietnam war, "light at the end of the tunnel" became so familiar and polarizing that one of the most publicized libel suits of the era, in which four-star General William Westmoreland sued CBS News for $120 million, centered on these very words. As the New York Times reported during the trial, in 1984:
Gen. William C. Westmoreland and a lawyer for CBS argued yesterday over one of the most memorable phrases of the Vietnam War, with the lawyer suggesting that the general had misled Washington into believing there was "light at the end of tunnel" in 1967 and the general saying he had not used that expression.

"I never had quite that degree of optimism," General Westmoreland told the jury at his libel trial against CBS in Federal Court in Manhattan.

But the lawyer, David Boies, showed the witness a Nov. 26, 1967, cable he had sent during a visit to Washington to his deputy in Saigon, Gen. Creighton W. Abrams, in which the phrase "some light at the end of the tunnel" was bracketed in quotation marks.
People of my parents' generation would hesitate or catch themselves before "peace for our time." News-conscious people of my children's generation would recognize the freight that comes with saying "mission accomplished" or "heck of a job"
And people of Trump's generation, and mine, would recognize that "light at the end of the tunnel" is not what you would say if you wanted to convey genuine confidence, any more than you would say, "I am not a crook" if you wanted to convey genuine innocence. You cannot have been alive in that time and not have absorbed this phrase.
The typically young members of a White House speechwriting staff—the people who worked on the script from which Trump read yesterday—would not know this phrase from their own experience. But in normal White Houses, they would have looked these things up. (When I worked, in my 20s, on a White House speechwriting staff, our "spare time" reading was from the volumes of past presidential addresses.)
But Trump himself would have to have been familiar with this phrase. So yesterday, as he saw the note cards, did he see the phrase—and not remember it? Did he remember, and not care? I don't know, and it doesn't make a difference in his response to the current pandemic. But it is one more illustration of things we have heard and seen, which we would never have seen before.
---
Two other for-the-record elements from Trump's public performances yesterday.
With several of his scientific experts behind him, explained how much worse the 1918 flu pandemic was:
"That was a flu where if you got it, you had a 50/50 chance, or very close, of dying."
In fact, the mortality rate during that devastating worldwide illness was between 2 and 3 percent—not around 50 percent, as Trump claimed. Most of the experts around Trump knew better; none of them said anything. I can't quickly think of a case of another president making such a wildly inaccurate basic-fact claim, without a quick "For the record, the president meant to say..." cleanup.
Three times yesterday, Trump said that his goal for "opening up the country" again was Easter Day.



During his Fox town hall: "I would love to have it open by Easter. I will tell you that right now. I would love to have that.
It's such an important day for other reasons. I'll make it an important day for this too I would love to have the country opened up an rarin' to go by Easter."
After the town hall, he said: "Easter's a very special day for me. And I see it in that timeline I am thinking about. And I say, Wouldn't it be great to have all of the churches full."
And when answering press questions about "why Easter?" later in the day: "It's a beautiful day, a beautiful timeline."
This year's Easter Day is April 12, or 19 days after Trump's announcement. As of yesterday afternoon, while Trump was talking about the Easter "timeline," the official confirmed-case count for the United States was nearing 47,000, and the death toll was in the low 600s. I'll note in this space where the numbers stand 19 days from now.