2020 Time Capsule #10: Projection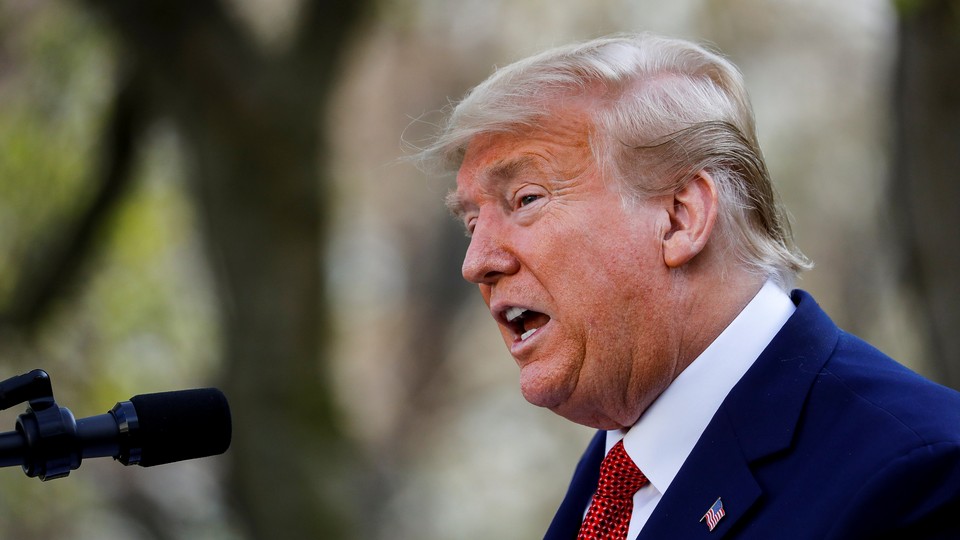 Editor's Note:
This article previously appeared in a different format as part of The Atlantic's Notes section, retired in 2021.
At his rally/press conference this evening, March 29, Donald Trump effectively said that doctors and hospitals in New York are selling masks "out the back door," accounting for current shortages.
You can see it for yourself here, on this C-SPAN video, starting at time 12:00. Trump notes the shortage of masks and says:
Something's going on. And you ought to look at it as reporters.

Where are the masks going? Are they going out the back door?
Through his public career, Trump has been notable for his projection, in the psychologists' sense of that term. What he is aware of in himself is what he claims to detect in others.
For instance: He has a long history of making up "sources"—his posing as "John Miller" in leaks to New York reporters back in his real estate days, and in his "lots of people are saying" stories. Thus he accuses reporters of doing the same. His own children are dealt into his business arrangements. Thus this is his point of attack against Joe Biden and his son Hunter's dealings in Ukraine.
If you asked most Americans why emergency rooms and ICUs might be running short of masks, the last possibility they would think of is that the masks were "going out the back door." We are talking about doctors, nurses, and medical staff working around the clock in increasingly difficult circumstances. We are talking about hospital administrators now thinking about beds, ventilators, space in temporary morgues. All of these health staffers are coping with sick and dying people, while wondering when they, themselves, might get the disease.
It had not even occurred to me that people like these might be skimming off masks and selling them.
But this is what occurred to Donald Trump.
Projection. It's something he might have thought of himself.
---
This afternoon, Trump put out a tweet that rivaled "out the back door" in its bottomless lack of empathy. He said: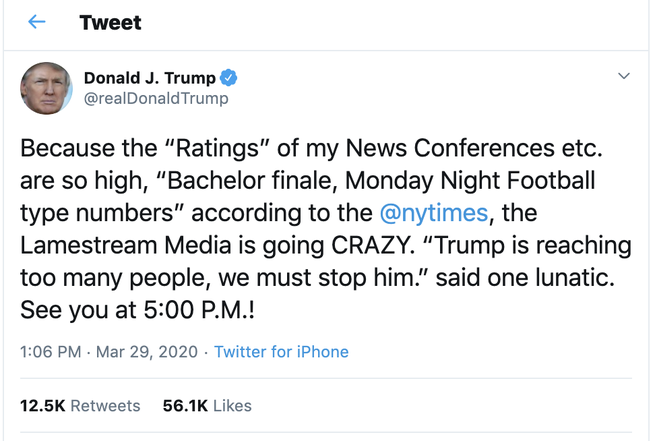 Trump is a problem, but clearly he cannot help himself. No one who could talk about his personal ratings, when the public was dealing with economic collapse and mounting deaths, would do this if he had any sense of empathy, decency, or impulse control.
The 53 Republicans who control the Senate could do something on the country's behalf.
But the number who have spoken up about Trump's descent these past few days?
Zero, as far as I can tell.