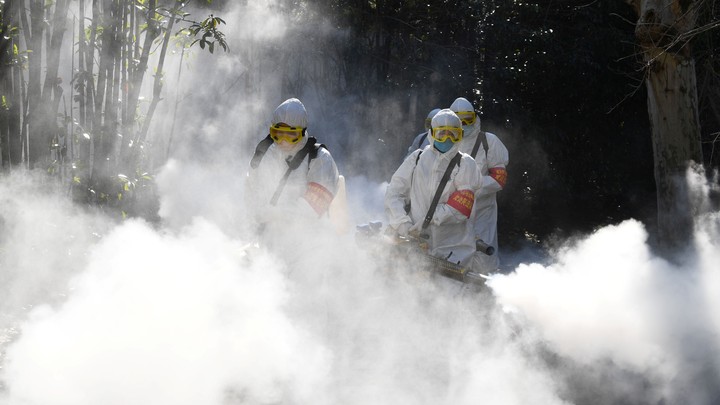 When Tedros Adhanom Ghebreyesus, the director-general of the World Health Organization, declared late last month that the outbreak of the novel coronavirus was an international public-health emergency, he took pains to commend China for its response to the pathogen. "In many ways, China actually is setting a new standard for outbreak response, and it's not an exaggeration," he said. As the new disease, now called COVID-19, grew into a health crisis, Chinese officials had quarantined entire cities in a matter of days, suspended travel, closed schools and businesses, and imposed severe restrictions on who could leave their homes. Local researchers rapidly sequenced and shared the virus's genome, allowing labs around the world to work on their own diagnostic tools. Authorities built two new "specialized hospitals" in 10 days, footage of which China's state-owned media pumped out to the world on social media. They leveraged their formidable surveillance powers to scale up contact tracing, an essential measure in stopping an outbreak. President Donald Trump tweeted in praise of China's "great discipline."
Even after subsequent reports indicated that the Chinese government's secrecy and hostility to dissent had helped the outbreak spread, WHO officials have continued to laud Beijing's response. At a conference in Munich earlier this month, Michael Ryan, the executive director of the organization's Health Emergencies Programme, maintained that people in China feel protected. "They feel like their government has stepped in aggressively and quickly to protect them," he said. "That is the ultimate social contract between any government and its people."
During a public-health crisis, governments in the United States and the rest of the world are forced to consider measures—such as requiring health checks, limiting movement, and instituting quarantines—that infringe on individual liberties. The crisis now unfolding in China raises an uncomfortable question: Are authoritarian governments better equipped than democracies to meet the challenge of an epidemic?
Read: How the coronavirus revealed authoritarianism's fatal flaw
A decade into a global backlash against liberal democracy, that question is urgent. Aspiring autocrats, from Hungary's Viktor Orbán to Uganda's Yoweri Museveni, cherry-pick from a menu of repressive tactics and technologies—from building surveillance systems to banning independent media outlets—to exert control and retain power. The "China model" is alluring to democracy's critics, for whom China's firm handling of the COVID-19 outbreak looks like another proof point for authoritarianism.
Yet good public-health practice doesn't just require control. It also requires transparency, public trust, and collaboration—habits of mind that allow free societies to better respond to pandemics. Democracies' ability to cope with COVID-19 will soon be tested; after a proliferation of cases in South Korea, Japan, and Italy in recent days, officials are weighing how to respond. But citizens of democratic nations can reasonably expect a higher level of candor and accountability from their governments.
American citizens, for example, can count on the objectivity and accuracy of the U.S. Centers for Disease Control and Prevention, whose weekly morbidity and mortality report has been a fixture of critical communication between the government and the public in one form or another since the late 1800s. Reliable reporting enables epidemiologists to predict a disease's trajectory, researchers to develop treatments and vaccines, responders to trace transmission, and the public to protect itself.
In contrast, China actively hid the 2003 SARS outbreak from the international community, and, especially in the initial stages of COVID-19, it appears to have done so again. Local authorities deliberately suppressed early reports of the unknown virus, missing an early window responders had to stop the infectious disease before it spread. Although researchers released the virus's genetic sequence in record time, local officials underreported cases, downplayed the risk of human-to-human transmission, and detained doctors who discussed the disease.
When one of those doctors, Li Wenliang, tried to warn friends on the social-media service WeChat, he was summoned before authorities and required to disavow his concerns. He later died of complications from COVID-19. When asked during a BBC interview about Li's treatment, the Chinese diplomat Liu Ziaoming shrugged it off as the handiwork of overzealous local officials. But that is precisely the point. China's cover-up of the virus was not the result of a system malfunction. In an authoritarian state, cover-ups happen by design. The language of authoritarianism—the language of fear and force—is one that every low-ranked apparatchik from Pripyat to Wuhan understands when acting on his or her own initiative to bury bad news.
Two months into the crisis, international researchers continue to warn of missing information from China. Anthony Fauci, director of the U.S. National Institute of Allergy and Infectious Diseases, diplomatically referred to this gap recently as the difference between "numbers that are given to you in a press conference as opposed to numbers [where] you can actually look at the data."
Full transparency is impossible without public trust, something authoritarian regimes have a steady deficit of. China's Communist Party now says it wants to hear the truth. But public trust—the freedom citizens enjoy to think critically, the safety they feel to speak out, the confidence they require to overcome fearful or difficult circumstances—is not a resource a government can turn on and off like tap water. It is a habit forged over time.
Today, rampant fear and mistrust are perhaps the greatest barriers health-care workers face in the Democratic Republic of the Congo, for example, where an Ebola outbreak is continuing into its 18th month. During the 2014 Ebola response, community trust, not intimidation, was the key component in persuading people to adopt proven solutions—such as surrendering the infected bodies of deceased loved ones—that run counter to human instinct. In China, the lack of trust was precisely what forced discussion of a previously unknown coronavirus deep into the bowels of supposedly private-messenger programs.
Nahid Bhadelia: The best defense against disturbing new diseases
China's reliance on coercion will only intensify as officials become more desperate to restart the country's economic engine and reestablish normal ties with the world. There is no doubt that China can efficiently compel certain behavior changes in the short term. But the longer the crisis lasts, the less effective these tactics will be.
Democracies do not get everything right. In 2014, a returning Ebola nurse named Kaci Hickox was forced into quarantine at the Newark airport without clear medical cause and initially prohibited from seeing a lawyer or receiving visitors. But unlike in authoritarian systems, citizens in democracies have established channels through which they can reassert their rights and seek accountability for abuse. Although American courts typically defer to a state's authority to enact necessary quarantine orders, Hickox's suit against New Jersey state officials led to important changes to the law, including guaranteeing those in quarantine the right to legal counsel and privacy. Instead of undermining public trust, the incident helped replenish it.
The ease with which an infectious disease spreads around the world demands international collaboration to contain it, and democracies cooperate more than non-democracies. (The popular board game Pandemic, in which players must work together in order to win, isn't far from the truth.) Historically, from the United Nations charter to the Paris climate accords, the nations that have had the wherewithal to identify shared problems and build partnerships behind common solutions have been democracies. In 2014, the United States led 62 countries to stop a major Ebola outbreak. Although nations like China and Cuba contributed to the response, it was the United States that also led the effort to prevent the next disaster. (At the time, I was working on the Ebola crisis response at the U.S. Agency for International Development.) At the height of the Ebola crisis, President Barack Obama convened 44 nations in Washington to advance the Global Health Security Agenda, a community that now includes 67 nations.
Unsurprisingly, China's political system is incompatible with this approach. Recently, after weeks of negotiating, China finally agreed to allow in a senior WHO team, which includes two Americans. But Beijing continues to ignore the CDC's offers to send its own expert team. Even in a public-health crisis, the Communist Party comes first. As cases of the virus first popped up around the world and nations started suspending flights, Taiwan—which Beijing views as a breakaway province—was excluded from fast-moving discussions. Barred from international organizations at Beijing's behest, Taiwan struggled to gain access to timely information and technical meetings of the WHO and the International Civil Aviation Organization.
Members of the global community cannot stop new outbreaks, but they can work together to build systems that quickly detect and effectively respond to them, especially by protecting the most vulnerable. Democratic societies tend to have better health and human development indicators, and not just because democratic societies are wealthier. A study published in The Lancet in April 2019 found that a government responsive to voters is more likely to invest in durable health-care systems and asserted that policy makers concerned with health outcomes, particularly chronic conditions, "should also be concerned with democratic experience."
Read: The coronavirus outbreak could bring out the worst in Trump
Yet the very advantages that a democracy has in a public-health emergency are also those under greatest threat today from Trump and like-minded populists and nationalists around the world. In the United States, Trump has eviscerated traditional sources of public trust and trampled on almost every form of international cooperation. He drove away science-policy advisers, dismantled the White House office tasked with preventing pandemics, and ousted its well-respected chief. Even as the number of COVID-19 cases multiplied, Trump proposed slashing more than $3 billion in overall funding for global health.
If and when the coronavirus is finally brought to heel, China will rightly celebrate its success but wrongly view it as validation of its system. The world may never know how many lives could have been saved if nations embraced democratic norms of transparency and collaboration. But as China expands its quarantine restrictions ever further, it offers a glimpse of the future should the world continue to lean away.
We want to hear what you think about this article. Submit a letter to the editor or write to letters@theatlantic.com.
Ariana A. Berengaut
is director of programs, partnerships, and strategic planning at the Penn Biden Center for Diplomacy and Global Engagement and a senior adviser to National Security Action.