Trump's Bizarre Plan to Make Architecture Classical Again
A fringe group of traditionalists persuades the White House to take its side.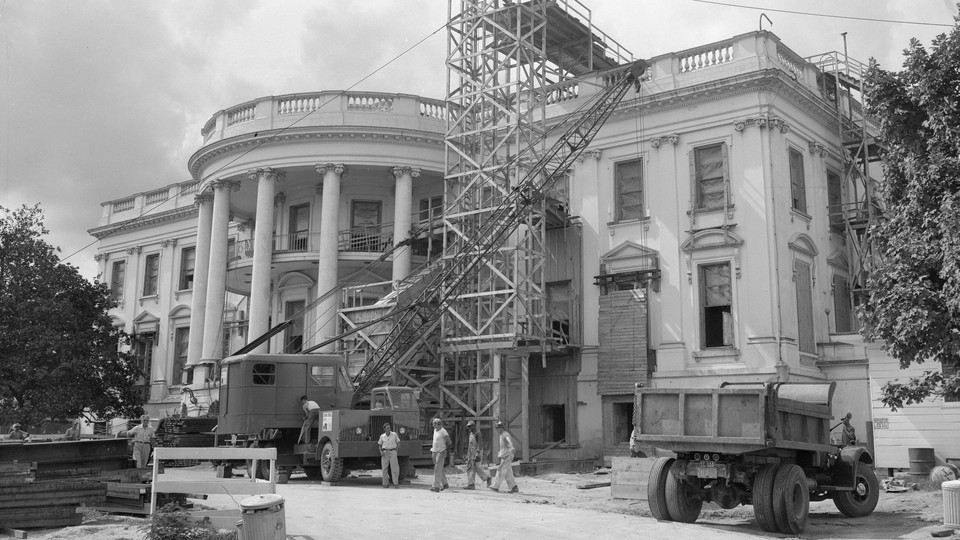 In 1962, Daniel Patrick Moynihan, then an assistant secretary at the Labor Department, prepared a memo on the use of federal office space for President John F. Kennedy. Into this document he tucked a succinct yet deeply considered set of recommendations for the design of U.S. government buildings. These "Guiding Principles for Federal Architecture" were adopted as official policy shortly thereafter and are seen as axiomatic by American architects and planners.
Moynihan wrote that federal buildings must testify to "the dignity, enterprise, vigor, and stability of the American government." But he was silent about which styles would best express those qualities—deliberately so. "An official style must be avoided," he cautioned. "Design must flow from the architectural profession to the government and not vice versa."
That flow may soon be reversed. As first reported by Architectural Record and confirmed by The New York Times, the Trump administration is considering an executive order that will direct that U.S. government buildings with budgets greater than $50 million be designed in classical and other traditional styles. A draft document retains Moynihan's ringing phrase about "dignity, enterprise, vigor, and stability," but stipulates that "the classical architectural style shall be the preferred and default style." All federal courthouses and federal buildings in and around Washington, D.C., would have to follow the work of Greek and Roman architects and their emulators in subsequent centuries. The late-20th-century Brutalist and Deconstructivist styles, meanwhile, would essentially be banned from the federal projects covered by the order. The restriction would apply to renovation and expansion projects as well as new buildings.
Brutalism's monumental concrete forms and the fractured geometries of Deconstructivism have attracted many other detractors, of course. But for the federal government to categorically discourage any architectural style is startling—and an utter misunderstanding of how architecture works.
The American Institute of Architects issued a statement saying it "strongly opposes" the move. Most architects today support using a range of styles for new buildings, as Moynihan did. But the AIA doesn't speak for the cadre of die-hard classicists with whom the document originated. The National Civic Art Society (NCAS), a small Washington nonprofit, prioritizes the classical tradition in design and argues that contemporary architecture "has created a built environment that is degraded and dehumanizing."
Donald Trump famously complained about the FBI's Brutalist headquarters. But Trump, whose own tastes often run toward the garish, might otherwise seem an unlikely advocate for stately Greek- and Roman-influenced buildings. Once a fringe group, the NCAS has moved closer to Washington's center of architectural power (such as it is) under the Trump administration. The White House recently appointed two of the group's board members to the U.S. Commission of Fine Arts, a panel that vets the designs for all governmental and some private buildings in the District of Columbia. The commission is an expert panel, but one of the new appointees, Justin Shubow, is not an architect. Shubow, who used to work for the conservative Federalist Society, made his name campaigning against Frank Gehry's design for the new Eisenhower Memorial. The NCAS has received funding from the philanthropist Richard Driehaus, who also funds an annual $200,000 classical architecture award through the University of Notre Dame.
A lot of classically inspired architecture—including examples built in the modern era—is in fact beautiful. Thomas Jefferson's Rotunda at the University of Virginia and John Russell Pope's 1941 National Gallery of Art are great buildings, both indebted to the Pantheon in Rome. But rewriting Moynihan's guidelines to specify an official government style would be draconian. It would effectively exclude many working architects from federal projects, since even Richard Driehaus himself has admitted that very few specialize in classical design. (Those who do, of course, stand to do very well by the policy change.) And inducing nonclassical architects to add a column here or a quoin there, in order to satisfy regulations, would certainly not lead to superior design. The complex requirements of federal buildings, such as bulletproof glass for security and high standards of environmental performance, do not leave much money for highly refined details. The classical character of some buildings under this rule would be only skin-deep, says Robert Siegel, a New York architect who has designed buildings for the General Services Administration.
"Trads"—supporters of traditional forms—claim that modern architecture is foisted on the public by a willful avant-garde. Yet the Art Deco Empire State Building and Maya Lin's raw Vietnam Veterans Memorial have become two of the country's most beloved designs. In fact, the style war being waged on the right is rooted in a misconception. Most American architects today work in a mode you could loosely call modernist, but not as a matter of ideology. It's simply an efficient approach to creating buildings such as high-rises and hospitals with sophisticated modern needs, using contemporary materials and technologies. The neoclassical White House was constructed out of sandstone, a material that could be sourced in Virginia and that expert stonemasons knew how to build with; today, structural steel and curtain-wall glass are available everywhere, familiar to designers and builders, and provide flexibility at a reasonable cost.
Modern architecture—which embraced the idea that "form follows function" and includes movements such as Brutalism and Deconstructionism—is itself a century old now. And crucially, classicism and modernism are not opposites; they exist on a continuum, and choosing between them is unnecessary.
The great modernist architect Louis Kahn took enormous inspiration from the classical past, elements of which appear again and again in his buildings. More recently, the British Ghanaian architect David Adjaye designed a New York skyscraper featuring rows of arched windows with bronze accents—a tribute to the architectural ornament of an earlier era. Even Shubow's nemesis, Frank Gehry, whose Guggenheim Museum Bilbao in Spain and Walt Disney Concert Hall in Los Angeles are both defined by sweeping metal forms, has drawn repeatedly on ancient Greece and Rome in his work.
Which prompts the question: How would the government define classical and traditional, and how would it determine which buildings meet these subjective standards? Trying to adjudicate whether a design will "value beauty" and "command the admiration of the public," as the draft document imagines, would be a farce.
The bigger question is why an ersatz Parthenon should be seen as more American than a Gothic Revival church, or a Southwestern pueblo, or a street of shotgun houses on the Gulf Coast. This directive would flatten and warp the rich architectural heritage of our country. It would also suggest that what's most valuable in our built environment is what was codified by a white male elite before women could vote and black Americans had full legal rights.
Already, the effort has reduced architecture to a silly game of semiotics. But good architecture is important because it can lift our mood, inspire us to creativity or spiritual reflection, and ease our anxieties. (These effects are borne out by a growing body of research.) Style has almost nothing to do with the qualities of architecture that really matter: scale, proportion, light, texture, the flow of spaces, and environmental sustainability.
A classicism mandate would signal to architects that innovation and progress are subversive, and to the public that a retread of the past is safer than the wide-open future. Frank Lloyd Wright argued the role of architecture is the opposite. "The architect must be a prophet," he said. "He must keep open minded and he must keep his eyes on the future … if he can't see at least ten years ahead, don't call him an architect."
But why should we care what the architect of Fallingwater and the original Guggenheim Museum thought, anyway? He wasn't a classicist.