The Oversight Wars Are Not Going Away
Impeachment may be over, but other skirmishes between Trump and the House will come to a head over the next few months.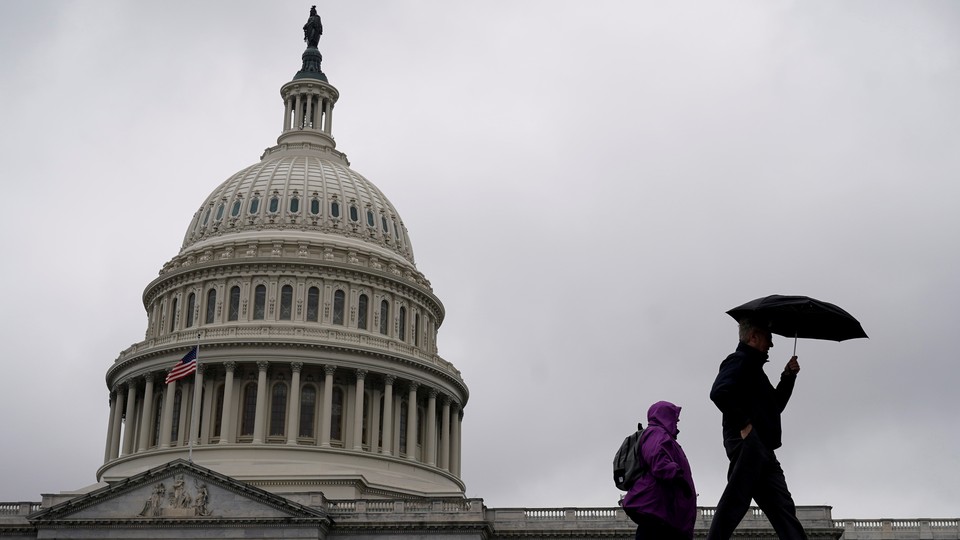 The impeachment trial of President Donald Trump has slouched to its preordained conclusion. But the confrontation between the president and the House of Representatives over the House's oversight powers and the president's authority to resist congressional demands for information and testimony is very much still ongoing.
Over the next few months, several of the skirmishes between Trump and the House are slated to come to a head. New ones may well develop. And all of them will tweak nerves left raw by the impeachment trial just completed, alongside a mounting presidential campaign in which Democratic candidates have very different postures toward Trump's misdeeds.
The most immediate matter concerns one of the loose ends left over from the impeachment trial: what former National Security Adviser John Bolton knows. During the trial, a majority of senators voted against hearing what Bolton had to say about Trump's pressure campaign against Ukraine, despite Bolton signaling that he would welcome the opportunity. But his story is unlikely to stay hidden for long. His memoir, a purported tell-all that reportedly contains damaging details of the president's conduct toward Ukraine, is currently scheduled for publication in mid-March. And House Judiciary Committee Chairman Jerry Nadler said the House "will likely" subpoena Bolton following Trump's acquittal, though House Intelligence Committee Chairman Adam Schiff has refused to commit one way or another, saying only that "the truth will come out." Bolton slipped through the House's grasp last year, but having since stated his willingness to testify before the Senate, he's limited his options for defying a House subpoena.
Bolton has accused the White House of using the standard prepublication-review process to suppress his memoir by raising meritless claims that the book contains classified material. If the House does subpoena Bolton while the administration is still holding on to the manuscript, he might take that opportunity to tell his story and preempt the review process. Any concerns about classification, after all, could be resolved by holding a hearing closed to the public in the famous "basement bunker" the president has complained so much about. Alternatively, the review process might preempt a subpoena: Perhaps the review will finish in a timely manner after all and the book will go to press before the House manages to organize itself to call Bolton to testify. Either way, reporters will keep digging. The New York Times has already published damning articles based on accounts of Bolton's book, detailing how Trump sought to enlist Bolton's help in the pressure campaign against Ukraine.
Testimony from Bolton seems to be the splashiest information the House has yet to get its hands on, but the chamber is still seeking other material as well. The U.S. Court of Appeals for the D.C. Circuit will soon rule on two cases, one involving the House's request for access to the grand-jury material related to the Mueller report and another concerning former White House Counsel Don McGahn's claim that, as a close adviser to the president, he is absolutely immune from being compelled to appear before Congress. What's more, the Supreme Court will hear arguments in March over subpoenas for Trump financial documents held by banks and an accounting firm; two of the subpoenas at issue were filed by House committees, and the third comes from an investigation by the Manhattan district attorney. Depending on how the courts rule, the cases could have a major role in shaping the scope of Congress's power to compel documents and testimony.
There's also the question of what more the House committees might choose to subpoena or demand. Particularly if the House prevails in the McGahn case, Democrats may feel emboldened to subpoena other senior government officials. These officials may well have plausible, even valid, claims of executive privilege before the legislature. But if McGahn loses, they'll no longer be able to just refuse to show up. Such figures include key witnesses from the Ukraine scandal, such as Acting Chief of Staff Mick Mulvaney, and from the earlier Mueller investigation, such as former White House Staff Secretary Rob Porter.
Whether the House pursues these additional subpoenas depends a great deal on how aggressive the Democratic leadership is willing to be. Will the House be looking to put this confrontational period of oversight behind it and refocus on Democratic policy priorities going into an election year? If so, it's likely to finish off its existing litigation over McGahn, grand-jury material, and financial records; tie off the loose end represented by John Bolton; and eschew subpoenas to actors like Mulvaney. Or will the leadership throw its energy behind forceful oversight of this administration?
Schiff and Nadler will be key in this decision making. But the single most important actor is Speaker of the House Nancy Pelosi. She was key to restraining impeachment for a number of months, and her okay was what let it go forward. What is her posture now?
Pelosi is known for her political pragmatism. A year ago, she feared that impeachment would alienate swing voters and energize and consolidate the president's political base; the Ukraine scandal changed her mind. The coming months will look quite different depending on whether the speaker returns to that place of political caution or whether she concludes, after watching the way the impeachment process played out, that ongoing confrontation is a strategic winner for her caucus. The data on whether that's the case are both preliminary and mixed. On the one hand, impeachment had relatively high public support, and hearing from witnesses had support from voters of both parties. On the other hand, polling suggests that the president's approval rating during the process ticked up a bit, particularly in swing states, where impeachment was less popular. Pelosi could read the tea leaves here in any number of ways.
She may also find her situation varying greatly depending on who emerges as the Democratic presidential front-runner. Bernie Sanders, for example, seldom talks about Trump's many scandals, beyond saying that Trump is the most corrupt president in the country's history. He prefers to sound his policy themes, which are largely the same as they were in 2016 and are largely the same as they would be against any Republican. It's not clear that aggressive House engagement on oversight would support, rather than distract from, the messages Sanders would want to emphasize in a campaign.
By contrast, Joe Biden has built his campaign around a relentless focus on Trump's deviant behavior. Were he the presumptive nominee, the House might be inclined to be more aggressive, as its oversight efforts would specifically support themes the candidate would be highlighting on the stump. Pete Buttigeig and Elizabeth Warren are somewhere in between.
Finally, there's the question of Trump's own behavior, and that of his allies and subordinates. It would be easier for House Democrats to let impeachment flow more or less gracefully into the election without a lengthy set of investigative aftershocks if Trump "has learned from this case"—as Republican Senator Susan Collins credulously put it the other day—than if he continues to strike against people he perceives as his enemies. The early signs are decidedly not encouraging. Since his acquittal, Trump has given a truly deranged and unrepentant press conference and he has removed from their positions two of the key witnesses in the House investigation—Gordan Sondland and Lieutenant Colonel Alexander Vindman—along with Vindman's brother, Evgeny. Trump's personal lawyer, Rudolph Giuliani, has continued to push for investigations of Joe and Hunter Biden.
What's more, Attorney General Bill Barr is continuing his own investigative efforts with respect to the origins of the Russia investigation. And with all the zeal of a recent convert to Trumpism, Senator Lindsey Graham, in his capacity as the chairman of the Senate Judiciary Committee, is pursuing an investigation of the Bidens' activity in Ukraine as well. It will be nearly impossible for the House to lay low and deemphasize the oversight wars if Trump pushes these activities aggressively. It will be even more so if—as seems very likely—some new allegation of presidential abuse of power comes to light.
Trump's impulsive abusiveness is the wild card in the ultimate future of this confrontation between the president and Congress. As T. S. Eliot put it about Rum Tug Tugger, one of his famous "practical cats," "he will do/As he do do/And there's no doing anything about it!"
Ultimately, the House will just have to respond.