New Orleans Needs a Better Way to Do Mardi Gras
This year's celebration comes amid an unusual spate of civic calamities.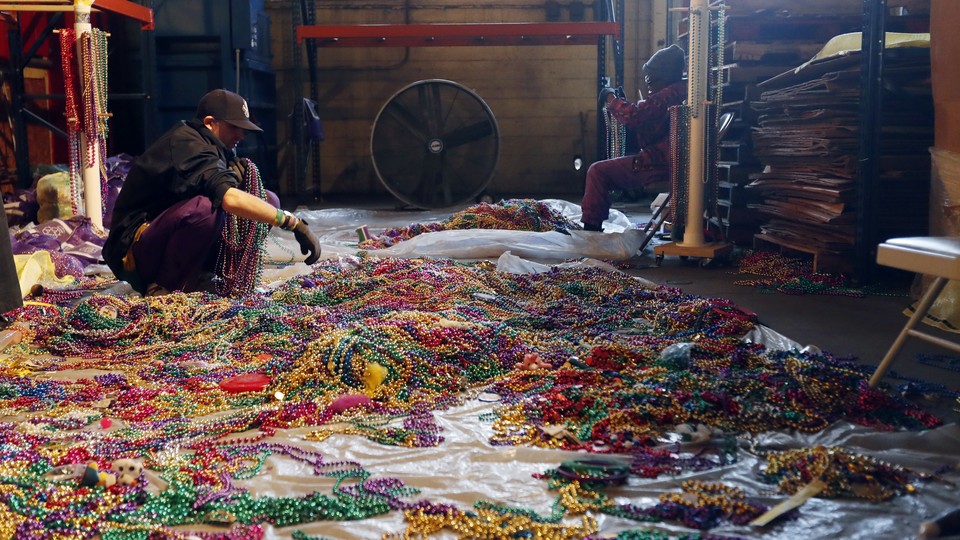 NEW ORLEANS—Standing in line at the hardware store on the edge of the French Quarter one December Monday, I overheard the cashier talking to a regular customer about manhole covers that had exploded just before dawn that morning a couple of blocks away. The metal discs had burst into buildings and crashed into the underside of a car, which in turn caught fire. Power outages and evacuations had ensued. This was just the latest addition to a cluster of troubling events. In the previous few days, a turbine powering the low-lying city's storm-drainage system had also exploded, unrelated water-main ruptures had flooded neighborhoods on opposite sides of town, and a cyberattack had crippled City Hall. Not to mention the usual spate of shootings that punctuate the daily news in New Orleans.
The other customer, a longtime Quarter resident, asked the cashier and me whether we thought that morning's explosion was terrorism. "This city doesn't even need terrorists," the cashier replied. "The city terrorizes itself."
Outside the store's plate-glass windows, traffic inched along North Rampart Street. Five blocks up, the street was closed. It had been impaled in late October by part of a construction crane, which was being used to build a Hard Rock Hotel on the corner of North Rampart and Canal Street—the city's main thoroughfare. The crane had remained precariously upright when the unfinished hotel partially collapsed earlier in October, and local authorities intentionally imploded it in an effort to stabilize the 18-story ruin.
That part of the crane got stuck deep in the pavement was hardly the worst of it. The original accident on October 12 had killed three workers and injured dozens. One worker claimed that construction had been rushed so the hotel could open by Mardi Gras. Instead, at the time of year when the rest of the United States pays the most attention to New Orleans, two bodies remained trapped in the rubble, turning the ruins in the city's heart into a massive, slouching tomb.
Mardi Gras is next Tuesday. It's the culmination of the annual Carnival celebration, which is the cornerstone of this city's cultural identity. As a native New Orleanian, I've enjoyed the costuming and the parades and the marching bands for more than four decades. But our city's vaunted joie de vivre and reputation for throwing the country's biggest party are also complicated by issues shared by many American cities: neglected infrastructure, a deepening housing crisis, widening inequality, profound racial injustice, and a deadly threat from climate change. The situation is just worse here than in most places, New Orleans being notoriously resistant to change.
This recent spate of civic calamities has made the underlying problems harder for citizens to ignore. This Carnival in particular, I find myself wondering whether things here could be different—and by different I mean better. Can we be fabulous while also being responsible toward our environment? Can we acknowledge that we host our epic celebration in a fragile city on the front lines of global warming, at the edge of deteriorating wetlands, and beset by sea-level rise and increasingly fierce storms—and party accordingly?
On the short drive home from the hardware store, I contemplated the cashier's idea of a self-terrorizing city. I'd already recognized that my fellow New Orleanians and I lived in a self-terrorizing state. Louisiana sits at or near the bottom of national rankings related to education, health care, crime, and infrastructure. New Orleans monetizes what it can. The marketing of our culture has led to a crush of tourism and a heavy reliance on low-paying service-industry jobs, reinforcing our legacy of racism and poverty and stressing our already precarious built environment. In 2018, 46 tons of toxic Mardi Gras beads were extracted from the drainage system that's supposed to keep our streets from filling up like the canals of Venice. Meanwhile, half of our city's children attend schools whose quality is rated by the state as either D or F.
Turns out a bomb did explode those manhole covers—a shit bomb. Methane generated from human waste in the sewerage vault leaked into the underground power lines and sparked an explosion, an occurrence symptomatic of a very distressed system. One unexploded manhole cover lifted by a city worker revealed a mess inches beneath the streets of the Quarter: a perfect circle jammed with plastic to-go cups, Mardi Gras beads, novelty shot glasses shaped like miniature hand grenades, and soggy stolen wallets and purses tossed into gutters. This finding wasn't merely a metaphor for overtourism and our laissez-faire attitudes toward the obvious problems confronting our city—it was a literal, concrete manifestation.
A community that genuinely cares about itself does not just let problems fester. When I returned home that morning from the hardware store to read the paper and finish my coffee, self-terrorizing on the brain, instead of the usual wearying coverage of murders and civic distress and whatever was happening with the Saints, the local newspaper's front page featured a beaming Lizzo, the exuberant and uncompromising champion of self-esteem and self-empowerment. She was pictured standing in stadium bleachers, surrounded by the famous marching band at Southern University, a historically black college up the Mississippi River in Baton Rouge. The band, called the Human Jukebox, had been featured in her new video for "Good as Hell," a moving, joyful celebration of community. Through the pain, frustration, and work of individuals supporting one another comes the exultant communal payoff of an excellent band in action. It felt both distinctly local and also universal. Suddenly my thinking was reoriented. How might this city show real love for itself?
It would take a reframing as radical as Lizzo herself. Previous attempts to regulate Mardi Gras have been seen as "killing culture"—never mind that Carnival is an ever-evolving, centuries-old tradition, and throwing hundreds of tons of Chinese-manufactured plastic trinkets into the streets is a relatively new addition. Could city officials, parade organizations, and citizens agree that reducing the number of beads in our environment would be a positive change motivated by love for the city? Can the city clean its drains, protect its gutters? What about reimagining our lax open-container laws, especially in the French Quarter, to somehow mitigate the subterranean mass of plastic cups that authorities found while investigating the early-morning shit bomb? If New Orleanians don't want tourists to openly trash our city, shouldn't we commit to the same?
Which is not to say that the city isn't trying to make a better environment for citizens and tourists alike: The mayor launched a million-dollar "CleanUp NOLA" anti-trash program. An initiative to redesign city streets is making them safer for people to move around in, without fear of being hit by cars. The city continues its inconclusive experiment with an education system consisting entirely of charter schools—an experiment that has at least gotten the middle class to pay attention to public schools. And lately, the city government, Carnival organizations, and grassroots organizers have taken small steps toward acknowledging the harmful effects of New Orleans's signature holiday.
Carnival is here, and parades have been rerouted around the apocalyptic ruin of the collapsed Hard Rock Hotel. A few weeks ago, the tarp covering a deceased worker's trapped, decaying remains blew off during high winds, temporarily exposing the body to the street and creating a grotesque social-media furor. Shortly after, protesters marched from the accident site to City Hall, where they demanded accountability for the hazards, injuries, and deaths the developers had created and about which the city has been largely silent. Political spin, civic boosterism, and social pressure often encourage New Orleanians to look away from social ills, lest we sully our "lifestyle" and our city's national and international reputation. Historically, our troubles have also fed our celebrations, enabling true catharsis for the community. This time, though, I'm struggling to reconcile the citywide extravaganza with that yellow tarp hanging over North Rampart Street.
During the next several days, people lining the streets in New Orleans will witness civic release and joy, beauty and music, communal creativity, and the affirming transformation of public space. People will also see spectacular waste and some violence and lots of money generated. But after the masks come off, and the city announces the success of the year's Carnival, measured in tons of trash, we'll have to look at one another squarely and ask what we're willing to do not only to love our city, but to save ourselves.