It's Bernie vs. Mike Now
The Democratic field remains crowded, but Bloomberg and Sanders are treating it as a two-candidate race.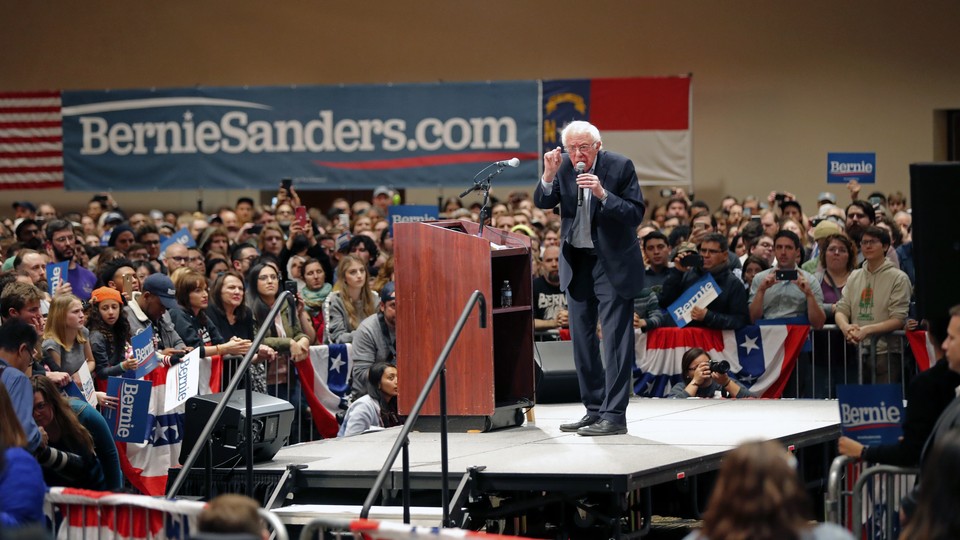 RALEIGH, N.C.—If the Democratic contest isn't a two-man race, don't tell the two men who think they're leading it.
In dueling rallies in North Carolina's Research Triangle late this week, the emerging front-runner Bernie Sanders and the emerging non-Sanders alternative Mike Bloomberg each made the case that he should be the nominee—and that the other man should not. Neither named the other as the two candidates kicked off early voting in North Carolina, which is both a crucial Super Tuesday state and a likely swing state in November, but they left no doubt whom they were talking about.
Bloomberg's main sell to voters is simple. "I am running to defeat Donald Trump," he said, drawing the longest and loudest applause of the rally in Raleigh's gleaming new train station on Thursday. Many Democrats, especially party leaders, remain dubious that Sanders can win a general election. Electability used to be Joe Biden's selling point, but as Biden has struggled on the stump and in early states, his support has been sapped. While Pete Buttigieg and Amy Klobuchar would both like to claim the anti-Sanders mantle, it's Bloomberg—propelled by hundreds of millions of dollars of his own money—who has gained the most buzz in recent weeks, as his poll numbers steadily climb.
But if Bloomberg's huge fortune fuels a strong campaign, it also makes him a perfect foil for Sanders. Most of Sanders's speech in Durham yesterday was devoted to a litany of his proposed policies, including Medicare for All, ending the War on Drugs, forgiving student-loan debt, and raising taxes, but he started out with an unmistakable broadside directed at his new rival.
"People realize there is a corrupt political system that allows billionaires to buy elections," Sanders said. "We may be old-fashioned, but we believe in democracy—one person, one vote, not billionaires buying elections."
Bloomberg, who has promised more evolution than revolution, offered his own implicit rebuke of Sanders's aggressive platform. "Unlike other candidates, I don't just talk about things," he said, citing his achievements as mayor of New York.
In focusing their rhetoric on each other, Sanders and Bloomberg are both making a pragmatic calculation. Based on recent polling, many analysts see the race headed for collision between the socialist senator and the centrist ex-mayor. But the strategy of treating the race as already narrowed to two entails risks. As measured by delegates, Buttigieg still has a lead over Sanders. Even with lower poll numbers in some upcoming states, Buttigieg remains a threat. Sanders also still has to contend with Elizabeth Warren, who has reported $6 million in new fundraising since Iowa. Bloomberg has even more work to do consolidating his support. He still splits the non-Sanders moderate vote with Biden, who is down but not out; Buttigieg; and a surging Klobuchar. Bloomberg hasn't yet proved that he can clear the lane.
The contrast between Bloomberg and Sanders was clear long before either candidate stepped onstage. Bloomberg spoke before a graying crowd that listened to piped-in U2 and Fatboy Slim. In Durham, Bowerbirds, a beloved local indie band, opened for a younger, more casual crowd. If blue hair abounded in Raleigh, the coifs in Durham were more likely to be pink, green, or purple. Bloomberg's crowd was overwhelmingly white. The supporters who flocked to hear Sanders were more diverse, although the crowd still didn't reflect the demographics of Democratic-primary voters in the state, a third of whom were black in 2016.
Sanders's supporters are famously avid. Some 2,200 crowded into a hotel ballroom, with others in an overflow space. Lezlie Sumpter told me that she and her son, a student at the University of North Carolina, had arrived at 5:15 a.m. and waited for four hours in near-freezing temperatures to get into the event. John Gore, a political-science student at North Carolina Central University, was fourth in line, arriving at 6:15. After getting shut out of a full venue for a 2016 Sanders event, he was taking no chances this time.
If Sanders backers are enjoying his new status as front-runner, few of them are taking it for granted. William Lasley, who'd driven an hour from Greensboro to attend, told me that the course of the primary so far showed that Sanders had debunked the main attack against him.
"It used to be people opposing Bernie would use the electability argument against him, but Bernie and his supporters have proven that is false," Lasley told me. "Bernie is the electable candidate."
But when I asked whether Sanders was really going to be able to finish what he started in 2016, I heard a lot more of "I hope so" than "yes." Nikki West of Raleigh had to catch herself. "This time I would hope—" She stopped. "We are going to win. Since 2016, the momentum is different. The movement is bigger. It has grown."
At the Bloomberg rally, by contrast, everyone was by definition a newcomer, because the businessman turned politician only declared his candidacy in late November. But he is already proving able to draw large, if not Sanders-size, crowds in North Carolina. There were 700 people in Raleigh, according to the campaign; another 500 in Greensboro; and another 700 in Winston-Salem—at 7 a.m. in the rain, no less. The Raleigh crowd was dotted with current and former elected officials, including the past three mayors, and former Democratic Governor Bev Perdue introduced Bloomberg.
Bloomberg has placed a heavy emphasis on the Old North State, opening eight offices and visiting several times. He showed his familiarity by talking about how important it was to win North Carolina in the fall, and also commending not just the state's specialty of barbecue pork but the distinctive, and superior, eastern variety—vinegar, no tomato. (He's not a Tar Heel just yet. Earlier in the day, he mistakenly called Greensboro "Gainsborough," perhaps confusing it with the great 18th-century painter whose work he may own.)
I expected to meet a lot of new converts who had switched their allegiance from Joe Biden or another candidate in recent weeks, and there were plenty. But a number of attendees told me they'd been on board since Bloomberg's entrance in the race. They cited his record on gun control and climate change, and they dismissed concerns about his fortune, saying they were happy he was spending it to defeat the president.
"I hope he can beat Trump," Betty Mittag of Raleigh told me. "He's given his money to good causes. I don't have any prejudice against rich people."
But among the political veterans and former elected officials in the crowd, there was more than just affection for Bloomberg—there was also edginess about Sanders. They worried that Sanders would be another George McGovern, not only leading the national ticket to defeat but dooming down-ballot Democrats like Governor Roy Cooper, who is up for reelection.
Although he doesn't stint on insulting the president—"We have a president who thinks climate change is a hoax. In my opinion, Donald Trump is a hoax"—Sanders treats this kind of Trump-focused pitch as callow.
"Our campaign is not just about beating Trump," he said. "Our campaign is about putting together an unprecedented multigenerational, multiracial coalition of millions of people."
After taking criticism in 2016 for failing to effectively reach minority voters, Sanders has adopted a new approach. In Durham, he was introduced by five women of color and one black man, all local activists, candidates, or elected officials, as well as Susan Sarandon. Sanders left it to one of them, his steadfast ally Nina Turner, to hit Bloomberg directly—though again not by name—over recent leaked recordings in which he defended New York City's stop-and-frisk program and said that the end of redlining had caused the 2008 financial crash.
"He is a billionaire and he don't give a fill-in-the-blank about working-class people," Turner said. (Politico reports that Bloomberg's successor, Bill de Blasio, will also endorse Sanders.)
Bloomberg did not respond directly to either of those stories in Raleigh, but at a "Mike for Black America" launch event in Houston Thursday night, he apologized for his earlier comments. The Elizabeth Warren campaign also criticized Bloomberg's remarks.
Still, recent polling shows Bloomberg leading Sanders among black voters. In Raleigh, Edward Henderson, an African-American Air Force retiree from Raleigh, told me he didn't think the knocks on Bloomberg would hurt him with black voters, citing the former mayor's past support for Barack Obama.
"I'm very much on board," Henderson said. "He's as much a viable candidate as any Democrat."
In fact, he's probably more viable than most of them. But Bloomberg has been able to run a mostly positive campaign so far, blanketing the airwaves with TV ads. As he picks up steam, he's going to attract more attacks from his rivals. He has promised to spend millions to defeat Trump whether or not he is the nominee, and if he doesn't consolidate enough backing to unite the Democrats looking for a Sanders alternative, he could end up in the peculiar position of putting that money behind the Vermonter.
"My fellow Democrats are all good people," Bloomberg said. "If one of them wins, God forbid, I will support them."