American Justice Isn't Impartial Anymore
The Trump administration has been slowly eroding the independence of the Justice Department.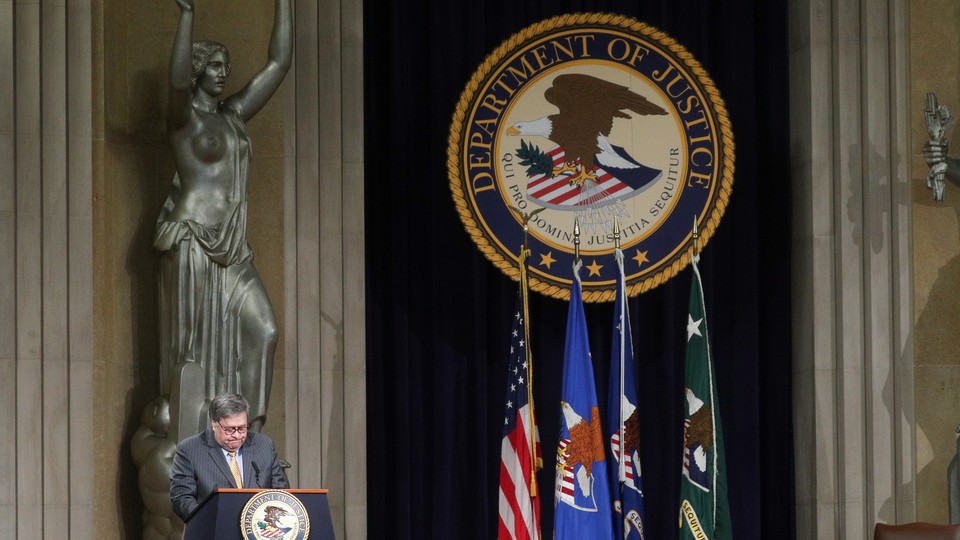 About the author: Kevin Wack is a reporter for American Banker.
The resignation yesterday of a career federal prosecutor—and the withdrawal of three of his colleagues from a case against a friend of the president—followed what is perhaps the most alarming example to date of the Justice Department's politicization.
DOJ officials in Washington signaled their intent to intervene in the criminal case against Roger Stone, a political operative who is a longtime confidant of President Donald Trump, and recommend a lighter sentence than career officials were seeking.
Within hours, Assistant U.S. Attorney Jonathan Kravis resigned in apparent protest. Three other DOJ lawyers—Aaron Zelinsky, Adam Jed, and Michael Marando—filed notices of withdrawal.
It is hardly a surprise that the rule of law has eroded over the past three years. During the 2016 campaign, the president pledged to jail his political opponent Hillary Clinton. Since Trump took office, he has constantly been challenging, and slowly chipping away at, the norm of impartial justice.
That attrition is having negative consequences far beyond cases involving the president and his inner circle. As a reporter who covers the banking industry, I have observed both the politicization of the DOJ's decision-making process during the Trump era and the corrosive effects of the belief that justice is no longer blind.
In August, Jesse Eisinger of ProPublica and I broke the story of how Trump political appointees at the DOJ in Washington had overruled career prosecutors in multibillion-dollar cases against two British banks. Barclays and the Royal Bank of Scotland (RBS) were both accused of misleading buyers of residential-mortgage-backed securities prior to the 2008 financial crisis.
In the waning months of the Obama administration, the DOJ unsuccessfully sought a settlement with Barclays in the high single digits of billions of dollars, according to sources who were granted anonymity to discuss confidential talks. After Trump took office, lawyers for Barclays contacted political appointees in the associate attorney general's office. Career prosecutors in Brooklyn then got a directive from Washington to resolve the case for about $2 billion. Ultimately, the case was settled for exactly $2 billion.
In the RBS case, career prosecutors in Boston initially wanted to bring criminal charges, rather than just civil counts. But they were overruled by then–Deputy Attorney General Rod Rosenstein after he met with the bank's lawyers. The career prosecutors subsequently discussed seeking a settlement in the $9 billion to $10 billion range, but were instructed by DOJ officials in Washington to go no higher than $6.6 billion. The RBS case was eventually settled for $4.9 billion.
These instances of political influence were obviously not as blatant as the meddling in the Stone case. They did not involve charges against friends of the president. There is no evidence that then–Attorney General Jeff Sessions or the White House played any role in securing more favorable outcomes for the banks. No career prosecutors resigned in protest. Still, it is hard to imagine events like those that unfolded yesterday without the intermediate steps that came first.
Nor is the Justice Department the only supposedly independent federal agency that the president is politicizing.
As I reported last month, multiple former high-level Wells Fargo executives are facing the possibility of federal criminal charges in connection with the bank's phony-account scandal. This investigation dates back to the Obama administration, but it's not paranoid to wonder if the DOJ's more recent decision making has been influenced by President Trump's priorities. Trump has suggested that he is out to get Wells Fargo, putting pressure on federal banking regulators to treat the San Francisco bank as he, rather than they, sees fit. In a December 2017 tweet, Trump wrote: "Fines and penalties against Wells Fargo Bank for their bad acts against their customers and other will not be dropped, as has incorrectly been reported, but will be pursued and, if anything, substantially increased."
Because bank regulators are supposed to operate independently of the president, Trump's tweet went off like a bomb. Various Democratic politicians, especially Senator Elizabeth Warren, have also been harshly critical of Wells Fargo. But presidents are simply not expected to weigh in on how an enforcement action against a particular company should be handled.
My recent reporting on Wells Fargo has revealed a lot of cynicism about the administration of justice in the Trump era. Numerous sources who were granted anonymity to speak freely about sensitive law-enforcement matters have asked me why I think the Justice Department is exploring potential criminal charges against former executives at the San Francisco bank. They seem to doubt that this is a situation in which career prosecutors built a fact-based case that was free from political considerations.
I spoke last month with a source close to one of the eight former Wells Fargo executives recently hit with civil charges. Federal regulators recovered $21 million from three individuals who agreed to settlements, and are seeking a total of $37.5 million from the five other defendants. Those are enormous sums in the context of regulatory enforcement actions against individual bankers.
This source, who was granted anonymity to speak without fear of reprisal, told me that some of the civil charges against the former Wells Fargo executives represent an overreach and argued that the regulators are under a lot of political pressure. I'm not in a position to judge the validity of this argument. Bank regulators have defended their independence in the context of enforcement actions against Wells Fargo, saying that they assess the facts using their internal guidelines to determine penalties.
But perception matters here, perhaps as much as reality. And the perception that justice depends on one's political standing will be hard to roll back.