There Is a Culture Industry That Gives Its Top Prizes to Women
The big literary awards this year have been positively dominated by female writers.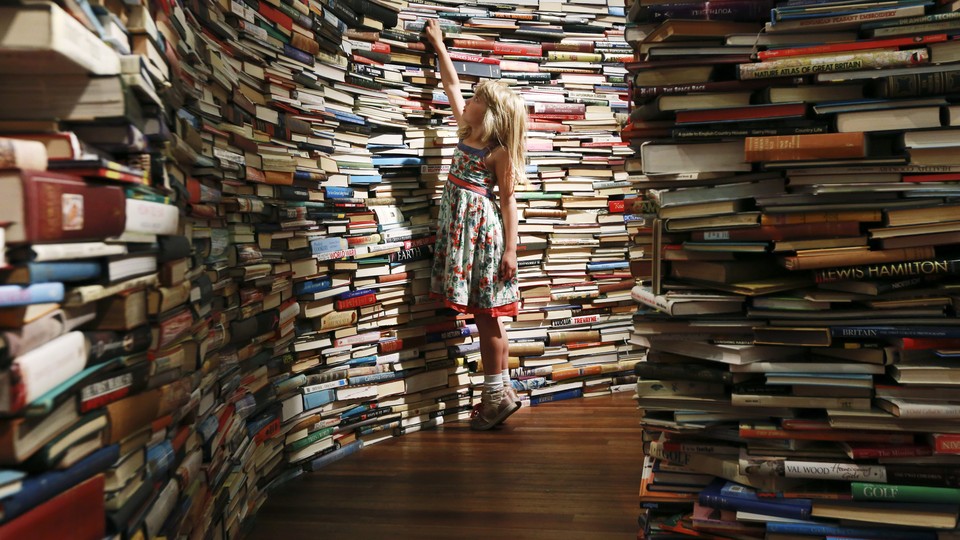 Yesterday, the Academy of Motion Picture Arts and Sciences produced yet another all-male slate for the Best Director category of the Oscars—and provoked yet another round of outrage that America's culture industry is incapable of recognizing the achievements of women. But there is, in fact, a major creative industry in which women are routinely awarded the top honors. It's called publishing.
The big literary awards this year have been positively dominated by female writers and—remarkably—this is considered totally unremarkable. This is the good-news story contradicting persistent gender inequities in, it often seems, every other field.
Two days before the Oscar nominations were made public, the National Book Critics Circle announced the finalists for its 2019 prizes. Four out of five nominees for Autobiography are women, as are two out of five for Biography, three out of five for Criticism, three out of five for Fiction, two out of five for Nonfiction, and two out of five for Poetry. Both winners of the 2019 Booker Prize were women, as were the winners of the National Book Awards for Fiction and Nonfiction. A woman won the 2019 Pulitzer for General Nonfiction, and while the Fiction prize went to a man, a woman was among the two finalists. (The 2019 Pulitzers were awarded for work published in 2018.) Not much attention was paid to this pattern, probably because women's names have been filling the literary award slates for the better part of this century.
It's not just the award-givers who recognize female talent. Readers do, too. Of the 10 best-selling books of the past decade, eight were written by women, including three by one woman in particular: E. L. James. (Incidentally, three of the best-selling titles have the word girl in them.)
The dominance of women in the book trade is most apparent in fiction. In New York magazine, Hillary Kelly argued recently that female novelists replaced white male authors in the 2010s, observing, "Over the past ten years, it was women who were celebrated for experimenting, women whose work redefined genres." This phenomenon extends beyond, or below, the elite ranks as well. Flip through a publisher's catalog or walk through the new-releases section of a bookstore: You'll notice novel after novel written by women, with the men sneaking in like time travelers from the more masculine 20th century. I published a (not-celebrated) novel last year and never had the experience—so common in the sciences, in government, in Hollywood—of being the only woman on a panel. In fact, I participated in two or three in which the men took on the role of token and were expected to speak for a whole gender's point of view.
It wasn't always thus—obviously. Not long ago, it seemed the most famous up-and-coming novelists were all men named Jonathan (Franzen, Safran Foer, Lethem). And fiction, let alone book writing generally, is hardly an all-girls club; the most promising novelist in America is probably a man named Ben (Lerner). This feminizing trend, moreover, would have to continue for roughly 2,000 years to balance out the canon.
Still, the view from New York is markedly different than the view from Hollywood—with New York here being a metonym for the publishing industry, since, oddly, there is no metonym for the publishing industry.
The history of women's rising literary success has yet to be written, but I suspect it's an organic consequence of the long-standing fact that women read more than men, and more novels in particular. You have to grow up reading to want to grow up to write. The room-of-one's-own problem once prevented most bookish girls from becoming authors. We're only now seeing what happens when that constraint is lifted. Apparently when women have time to write, they find a ready audience.
Or maybe the real answer is more depressing: Women are succeeding because men are no longer competing. They're abandoning the field of literature as its commercial prospects plummet. Women read more than men—but Americans in general read very little. They watch TV instead. So writing-inclined men are following eyeballs and money to Hollywood. Michael Chabon used to be considered a great American novelist. Now he's the showrunner for Star Trek: Picard.
Where all this leaves women filmmakers, I can't say. But I suppose they can hope that Hollywood will eventually solve its problem by doing once more what it's done so often before: Adapt a literary success for the screen.