We Can't Afford to Ignore Lev Parnas's Explosive Claims
We can't afford to accept them at face value either.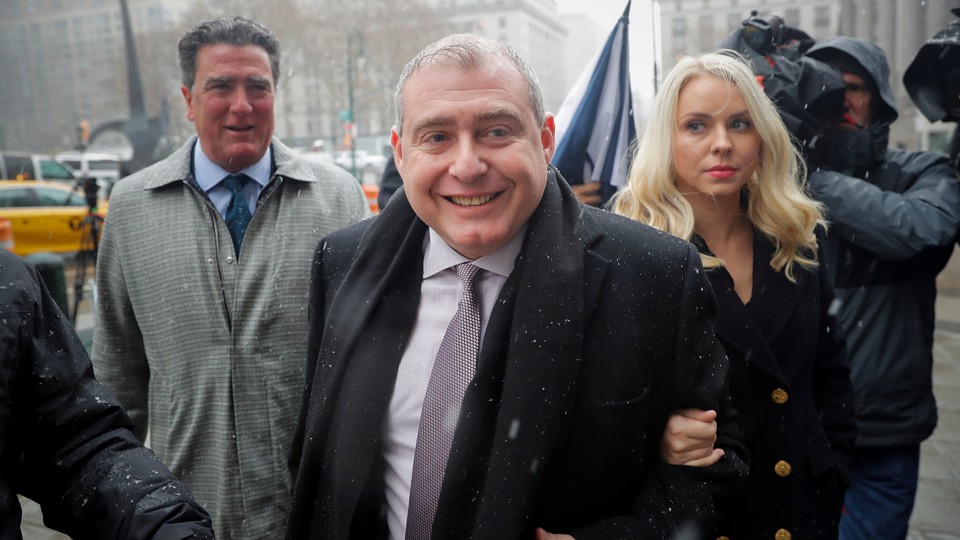 Irony is thriving in the Trump administration. Consider this: The president spent months, and was ultimately impeached for, badgering the Ukrainian government to announce a probe into the natural-gas company Burisma. Yet all it took was the release of some text messages by Lev Parnas, an accused criminal with a checkered past, for Ukraine to quickly announce it is investigating alleged illegal surveillance of former U.S. Ambassador Marie Yovanovitch.
The supposed surveillance, which is described in documents that Parnas turned over to the House Intelligence Committee, is one of several explosive claims to emerge this week. In the messages, Robert Hyde—who had contacts with the Trump family and is a Republican candidate for the U.S. House—described surveillance of Yovanovitch in Ukraine. She was abruptly fired in May 2019 after a pressure campaign directed by Rudy Giuliani, Trump's lawyer. (Parnas, for the record, told Rachel Maddow on Wednesday that he believed Hyde was telling tall tales.)
Parnas turned over notes that again suggest—as House testimony from Ambassador Gordon Sondland previously attested—that Trump and Giuliani were only interested in the announcement of a probe, not the fact of one. This both undermines Trump's claim to have been trying to fight corruption in Ukraine and indicates that the president's goal was hurting Joe Biden and enhancing his own reelection chances.
Parnas also produced a May 2019 letter from Giuliani to Ukrainian President-elect Volodymyr Zelensky requesting a meeting with him. Giuliani began the letter, "I am private counsel to President Donald J. Trump. Just to be precise, I represent him as a private citizen, not as President of the United States." This is the latest evidence to debunk Trump's claim to have been acting in an official capacity when he pressured Ukraine.
In an interview with The New York Times, Parnas also explained how Giuliani came to represent him and his partner, Igor Fruman. In Parnas's telling, he was worried about acting as go-betweens for Trump without an official capacity to ensure their safety and access. Parnas first proposed that Trump make the two men special envoys, but after speaking with Trump, Giuliani offered a new idea: He would represent Fruman and Parnas, as well as the president, thus making them all subject to shared attorney-client privilege.
The Parnas allegations go on and on. Parnas has said that Trump was kept apprised of all of his actions by Giuliani, although Parnas said he did not communicate directly with the president about them. (Though Trump has claimed not to know Parnas, there are many photos floating around of them together.) If true, this would also debunk any claim (already implausible) by Trump that he was unaware of Giuliani's actions.
As the Senate prepares to hold a trial for Trump, with acquittal a foregone conclusion, impeachment remains a strange duck. For anyone who has seriously considered the evidence, it's impossible to conclude that Trump's behavior was appropriate (although it remains possible to conclude that impeachment, or removal, is still excessive.) Yet even though the House has finished impeaching Trump, and despite the appalling facts uncovered, there is much that remains unknown about the president's actions with regard to Ukraine, thanks to both Trump's obstruction and the haste of the Democratic House.
This makes it impossible to ignore Parnas's claims. If true, they make the case against Trump that much more damning. They help to fill in some of the missing information, they underscore the president's abuse of office, and they come from someone with firsthand knowledge.
And yet it's also impossible to take Parnas at face value. Parnas, you may recall, first became a household name in October, when he was arrested with Fruman while attempting to leave the country, and charged with violations of election-related laws. This is a man who started a company called "Fraud Guarantee," reportedly so that he could bury Google results about his own previous shady actions. If he is telling the truth now, he was both involved in a dastardly and preposterous scheme, and lied about it in the past.
Some of Parnas's claims here deserve particular scrutiny, especially those not backed by documentary evidence. Though he claims Trump was aware of what was going on, he does not claim direct knowledge that this was the case. The fact that Parnas's account squares with others, including Sondland's, lends it some credibility. He also told Maddow that "Attorney General Barr was basically on the team," but offers no evidence for the allegation, and no other evidence has emerged so far to support it. (A Department of Justice statement called that claim "100 percent false.")
The dilemma posed by Parnas's claims recalls the one created by Michael Cohen's testimony to the House last February. As Republicans eagerly noted then, Cohen was a convicted liar, preparing to go to prison on tax-fraud, campaign-finance, and other charges. His testimony was self-interested: He both had reasons to exact personal revenge on Trump, and hoped that his cooperation might induce authorities to lighten his sentence. All of this was true, but Cohen (like Parnas) brought documents to back up his claims, and his testimony has largely been substantiated since.
Parnas is like Cohen in another way: Each was once a part of the Trump circle, and the president and his defenders now dismiss him as a liar and scoundrel. And as with Cohen, the defense is troubling even if true. If Cohen and Parnas are such obvious villains, how is it that they came to be close to the president, putatively working as part of his legal teams? The same question applies to any number of other criminals, con men, and charlatans we've come to know over the past four years as Trump associates. The fact that he is surrounded by such people says a great deal about either his judgment or his probity. (Probably both.)
The investigations into Trump have often had to rely on questionable witnesses like Parnas because other, supposedly uncompromised people with direct knowledge have declined to speak. The Trump administration blocked testimony from Acting White House Chief of Staff Mick Mulvaney, Secretary of State Mike Pompeo, and Energy Secretary Rick Perry, to name only a few, and Trump has declined to speak under oath. Former National Security Adviser John Bolton has conducted a bizarre public striptease, vacillating between hints he will and won't testify, while saving his stories for a book; on the eve of the impeachment trial, he was spotted strolling around Qatar's capital city.
In the absence of their testimony, the search for truth has had to depend on uncomfortable encounters with the likes of Lev Parnas. His claims can't be believed at anything near face value. Yet they also cannot be dismissed out of hand, for the stakes are too high. As long as it's Parnas's story versus Trump's, the question is which proven liar to trust.