Where Trump Learned the Art of the Quid Pro Quo
The president has been mixing money and politics since his early days in New York.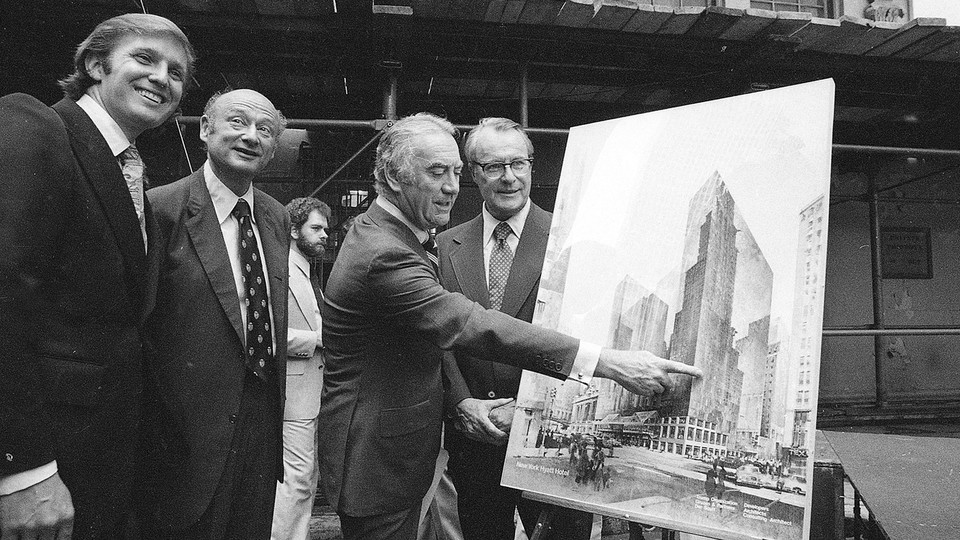 On a debate stage during the 2016 Republican primary, Donald Trump explained why he'd given money to Democratic politicians: "I give to many people," he said. "Before this, before two months ago, I was a businessman. I give to everybody. When they call, I give. And do you know what? When I need something from them two years later, three years later, I call them, they are there for me."
Trump has embraced this style of quid pro quo politics throughout his business career, and from his perch in the White House, he now encourages it in others. Such a transaction—an investigation in exchange for military aid—lies at the heart of the impeachment trial.
Like oligarchs in the former Soviet Union, the Trump family accrued wealth by controlling a highly valuable national resource with the permission of the governing class: New York real estate. And they understood that maintaining and growing that wealth meant ingratiating themselves with successive generations of New York politicians. All New York real-estate developers do this. The Trumps did it to an extreme degree.
Although large corporations have long used donations to sway officials, what distinguished the Trumps was their unusually transactional understanding of contributions as a straight-up fee for service. Multiple high-level New York elected officials told me that they were on the receiving end of both large donations and heated phone calls from Trump, demanding to know why he hadn't yet received a tax abatement, or a zoning change, or another favor.
Trump's father, Fred, learned early that to get lucrative assignments, he had to court the local Democratic Party. He cultivated this relationship for decades, making giant political donations and regularly attending local Democratic fundraising dinners.
Forging ties with the politically wired local federal housing administrator gave Fred a big break: huge allotments of federal mortgage insurance, which enabled him to build housing projects out at the ends of the subway lines in Brooklyn. At the time of Donald's birth, just after World War II, Fred was one of the largest recipients of loans backed by the Federal Housing Administration in the nation.
In 1954, the U.S. Senate Banking Committee investigated the FHA and some of the developers that the agency had helped. When the senators subpoenaed Fred, they questioned him about windfall profits, whether he'd inappropriately paid his own company over-the-top fees, and whether he'd gotten an outsize portion of area FHA loans by inflating the value of his land.
Even though the committee found that Fred and other developers had engaged in "outright misrepresentation," the businessmen suffered no repercussions. This was the first investigation of many that condemned Trump-family business practices, but resulted in no consequences.
Fred was emboldened. He continued his financial chicanery, and passed his techniques along to his son. In 1975, the same month that President Gerald Ford refused the City's urgent plea to help it avoid bankruptcy, and the New York Daily News published its famous "Ford to City: Drop Dead" cover, Donald Trump embarked on the deal that would make him a Manhattan real-estate mogul.
From a broke and broken metropolis, he siphoned off tax breaks—worth millions of dollars a year for 40 years into the future—for the property that is now the Grand Hyatt Hotel. This was the first time New York had offered a tax break for commercial real-estate development. To get the concessions, Trump worked his connections with both city hall and Albany.
Trump arranged an impromptu city-hall meeting to persuade the property owner to sell to him, a 29-year-old developer who was untested but who had cashable political chits. At the meeting, Mayor Abe Beame put his arm around Donald and his father, who was also there, and said, "Anything they want, they get."
Trump then hired Governor Hugh Carey's fundraiser to be his lobbyist, and employed a bevy of lawyers who worked for government decision makers to be his lawyers. He lied to the bank about the status of the state's approvals and to the state about the status of his option on the property. Later, in his book The Art of the Deal, he bragged about having fooled officials. "No one even noticed until two years later," he wrote.
The hotel turned out to be profitable the day it opened. New York has since paid out a tax expenditure of hundreds of millions to the hotel. Trump no longer owns it, but the City is still paying, and will do so through April 2020.
Trump's machinations in the Grand Hyatt deal caught the attention of federal prosecutors. He parried with a meeting with federal agents without a lawyer, but with his young and beautiful wife, Ivana, and toddler son, Don Jr. No charges were filed.
"This is a guy who learned to turn politics into money," the late journalist Wayne Barrett told WNYC radio in a 1992 interview about his early biography of Trump.
In the '90s, when Trump, a generous donor to Mayor Rudy Giuliani, wanted to build the Trump World Tower higher than zoning laws allowed, he hired a lobbying firm that was close to the mayor. The firm steered Trump's project through three layers of approval in the city government, to the consternation of opponents, such as the former CBS anchor Walter Cronkite, who lived nearby.
Trump appears to have passed the lessons he learned from his father along to his children. In the mid-aughts, Trump gave his eldest children, Ivanka and Don Jr., oversight of the Trump SoHo condo and hotel. Not long after they cut the ribbon on the 43-story project in Lower Manhattan, the two, along with their father, were accused in a federal civil suit of "an ongoing pattern of fraudulent misrepresentations and deceptive sales practices." The Trumps had conveyed to potential condo buyers that the building was 60 percent sold, when in fact it was less than 15 percent sold.
The office of the Manhattan District Attorney, Cyrus Vance Jr., opened a criminal case zeroing in on Ivanka and Don Jr. When prosecutors found emails showing that Trump's adult children knowingly defrauded potential buyers, Donald Trump's team hired a set of well-connected lawyers to make the case that the younger Trumps' statements were mere puffery—harmless exaggeration. Their argument didn't work. Then Donald Trump's personal attorney, Marc Kasowitz, who had been one of Vance's most generous donors, met with the D.A. Three months later, Vance overruled his own prosecutors and closed the case. After that, Kasowitz gave even more money. Years later, when my colleagues and I at WNYC published a story along with ProPublica and The New Yorker about the case, Vance gave the money back.
The Trumps suffered no consequences.
New York's system was already corrupt, but the Trumps pushed it even further. Each time Trump called a politician and demanded to know where his tax abatement, or regulatory change, or financing package was, each time he pointedly noted his large donations, he helped normalize the influence of money over political power.
Now that Trump is president, he can be on the receiving end of this system.
When he was elected, Trump proclaimed that he would not divest from his company, saying that he would turn over control to his adult children. By announcing that, in effect, he'd still take profits from his company, the transactional businessman sent a clear signal to wealthy people around the world: To gain influence with the president, they need only book rooms in his hotels, buy memberships for one of his golf courses, or purchase one of his condos. Previously, wealthy people wishing to influence the president largely did so through contributions, often through super PACs and dark-money accounts.
With Trump in the White House, there are now numerous direct entry points to the U.S. executive across the globe, and world leaders have acknowledged—boasted, even—that they have patronized the president's businesses. President Volodomyr Zelensky of Ukraine, for instance, made a point of telling Trump in their infamous July 25 phone call—after Trump said the part about doing him "a favor"—that the "last time I traveled to the United States, I stayed in New York near Central Park, and I stayed at the Trump Tower." Many other world leaders have stayed at his hotels too.
The lobby for the Trump International Hotel in Washington has become an important place to advertise one's fealty, or one's proximity to the president. It has also become a site of dealmaking—a place where insiders meet to slash regulations and expand loopholes, to permit mergers, to put their thumb on the scales of government on behalf of the ultra-rich.
The president's relationship with the wealthy has not been one-sided. Trump's signature piece of legislation, the Tax Cuts and Jobs Act of 2017, drastically slashed rates for the richest Americans. And the wealthy have shown their appreciation. The Trump campaign and the Republican National Committee raised $463.6 million in 2019, an all-time record that does not include money spent on Trump's behalf by outside groups.
During the impeachment hearings, current and former diplomats testified about the U.S. policy to bend governments in the former Soviet Union toward democracy. Trump, as a businessman in New York and now as president, has bent our system toward theirs. We are not yet in a world where America's richest can simply buy the government they want. But we are perilously close.