Senators Know They Don't Know the Whole Story
As Trump's impeachment trial looms, much of the relevant evidence remains just out of Americans' sight.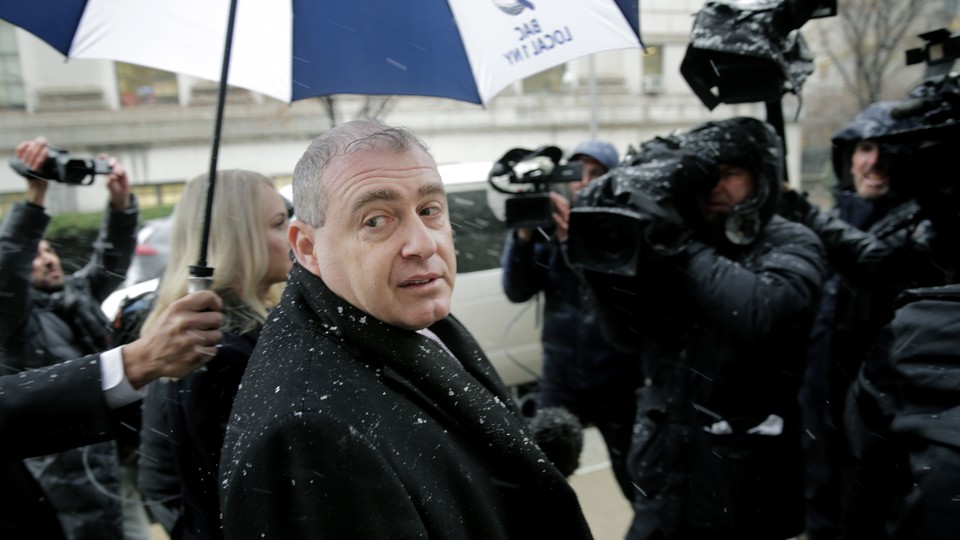 This week's allegations by Lev Parnas—a federally indicted associate of Donald Trump's personal lawyer Rudy Giuliani—render downright quaint the debate over whether the Senate should call live witnesses in the president's impending impeachment trial. Of course the American public deserves to hear from witnesses at the trial, and not just the four whose testimony Senate Minority Leader Chuck Schumer is requesting (thus far to no avail).
Parnas maintains that the scheme to force Ukraine to announce an investigation into Joe Biden's family was widely known in Trump's circle and that, as The New York Times put it, "the president was fully aware of the efforts to dig up damaging information on his behalf." In an ideal world, the entire impeachment trial would be put on hold pending a thorough investigation of the new claims. Americans need to know the full story before their representatives in the Senate decide what—if anything—to do about it.
Instead, something disturbing is about to happen: The Senate is poised to make a monumental decision about the office of the presidency while knowing full well that much of the sordid tale has not even been told.
Trump's trial, which is scheduled to begin Tuesday, will have some trappings of a normal trial. The president will, for example, have an expansive defense team that includes former Independent Counsel Ken Starr. (I worked for Starr during his investigation of Bill Clinton.) What the trial won't have—because Trump, his lawyers, and his allies in Congress have been so successful in blocking live testimony and the release of information—is all the facts.
And yet troubling leads keep turning up anyway.
Parnas's recent media interviews did two crucial things that deserve urgent attention. First, he directly linked President Trump to the delivery of an ultimatum to Sergey Shaffer, a senior aide to Ukrainian President Volodymyr Zelensky. Parnas told MSNBC's Rachel Maddow that he was instructed to deliver what he described as "a very harsh message," and to do so in "a very harsh way, not in a pleasant way." Parnas explained, "Mayor Giuliani, Rudy, told me after, you know, meeting the president at the White House. He called me. The message was, it wasn't just military aid, it was all aid. Basically, their relationships would be sour, that he would—that he would stop giving them any kind of aid … unless there was an announcement made."
The key words here? That Giuliani spoke to Parnas "after meeting with the president at the White House."
All along, Republicans have struggled to come up with a sound explanation that would justify Trump's withholding of $391 million in Senate-approved aid to Ukraine until Zelensky did him the "favor" of investigating the Bidens. They've also emphasized a perceived lack of evidence directly linking Trump to the quid pro quo. But the notion that Trump was genuinely interested in fighting corruption in Ukraine looks more and more preposterous, as does Republicans' winking suggestion that he had no idea what was happening. On Thursday, the nonpartisan Government Accountability Office released a report stating that Trump's halting of aid to Ukraine broke federal law for no good reason. "Faithful execution of the law," the report said, "does not permit the President to substitute his own policy priorities for those that Congress has enacted into law."
The other major thing Parnas has done is implicate figures beyond Trump and Giuliani in the Ukraine scandal—specifically in efforts to destroy the career of Marie Yovanovitch, the U.S. ambassador who Trump infamously said would "go through some things" in his July 25 call with Zelensky, and to trash the reputations of a primary rival for the presidency, Biden, and his only remaining son, Hunter. Parnas has been emphatic that Vice President Mike Pence was "in the loop" on all of it, that Attorney General William Barr "had to have known everything," and that Representative Devin Nunes "knew very well" what was going on. And like Ambassador Gordon Sondland in his testimony in the House impeachment inquiry, Parnas corroborated that the president's goal was to strong-arm Zelensky into announcing an investigation into Biden—not to root out Ukrainian corruption, as the president and his defenders weakly claim.
Parnas, who started a company called Fraud Guarantee, is not the most reputable of potential witnesses. Predictably, Trump's allies have responded by calling Parnas a liar and highlighting the criminal charges against him, which include conspiracy to violate laws banning foreign donations to federal and state elections on behalf of Republicans. The wrinkle for Trumpians is that documents don't lie, and they don't misremember. Parnas gave Congress a trove of notes and communications that could corroborate some of his testimony. Moreover, the existing House impeachment record includes phone logs of Parnas's communications with Nunes as well as the July 25 call summary memorializing Trump's suggestion that Zelensky call Barr.
The scheme to force the Ukrainian government to sully Biden was, at its root, an effort to deny American voters an honest choice in the 2020 election. What the rule of law would require now is a sharp investigative team to follow the evidence wherever it leads and develop a thorough and cohesive picture of what Trump and his allies did. To be sure, House Democrats gambled in pushing through articles of impeachment quickly—without first suing Team Trump to force compliance with Congress's constitutionally legitimate requests for information bearing on impeachment. Every scrap of relevant data in government hands should have been turned over to Congress and the American public, subject only to discrete and legitimate claims of executive privilege. Former National Security Adviser John Bolton, former Secretary of Energy Rick Perry, Acting White House Chief of Staff Mick Mulvaney, and top officials within the Office of Management and Budget should have been called to testify too—not to mention Pence, Giuliani, Barr, and Secretary of State Mike Pompeo. All of these people have been identified in one way or another as having firsthand knowledge of the events giving rise to the articles of impeachment.
As House Speaker Nancy Pelosi noted Thursday, impeachment is probably the most serious of tasks, short of declaring war, that the Constitution assigns to Congress. The decision to convict or acquit the president should not be made with incomplete information and serious lingering questions—and yet that is precisely what the Senate is about to do.
No process is in place that could produce the needed investigation, because political forces preclude it. To Trump's chagrin, former Attorney General Jeff Sessions properly recused himself from the Russia probe due to his role in the Trump campaign, leaving then–Deputy Attorney General Rod Rosenstein in charge. Rosenstein appointed Special Counsel Robert Mueller, who—unlike Congress but like Starr during his investigation of Clinton—had the power of a grand jury and a cadre of prosecutors and FBI agents to help him gather relevant facts.
Under Barr's leadership, in contrast, the whistle-blower complaint flagging the Ukraine scandal itself was initially withheld from Congress, in violation of a federal statute requiring its disclosure to congressional intelligence committees. Barr is certainly not going to recuse himself (as he should) or appoint a special counsel to investigate his boss—even if upholding the rule of law cries out for it.
That leaves Congress as the sole would-be investigator. But Pelosi already spent her political capital on the truncated House investigation. Although she could reopen it for consideration of additional articles of impeachment, or just call for oversight hearings of the Cabinet-level officials implicated in the potential conspiracy, her caucus is now deeply invested in the impeachment trial, which has implications for numerous House and Senate races.
Alternatively, Senate impeachment rules would allow a majority to agree to impanel a committee of senators to do a mini investigation of the Parnas information in advance of trial. The Senate resolution that governed Clinton's impeachment trial required that any new witnesses be deposed in advance of testifying before the full Senate. But Senate Majority Leader Mitch McConnell has made no secret of his slavish dedication to protecting his party and Trump—never mind McConnell's oath to uphold the Constitution and act impartially in the Senate trial. No Senate investigation is going to happen either.
Absent a full investigation of the president and his underlings, though, the Senate's seemingly preordained decision not to remove Trump is a risky decision that degrades our system of government.