The Bill That Could Make California Livable Again
S.B. 50 would make the state denser, cheaper, greener, and more affordable.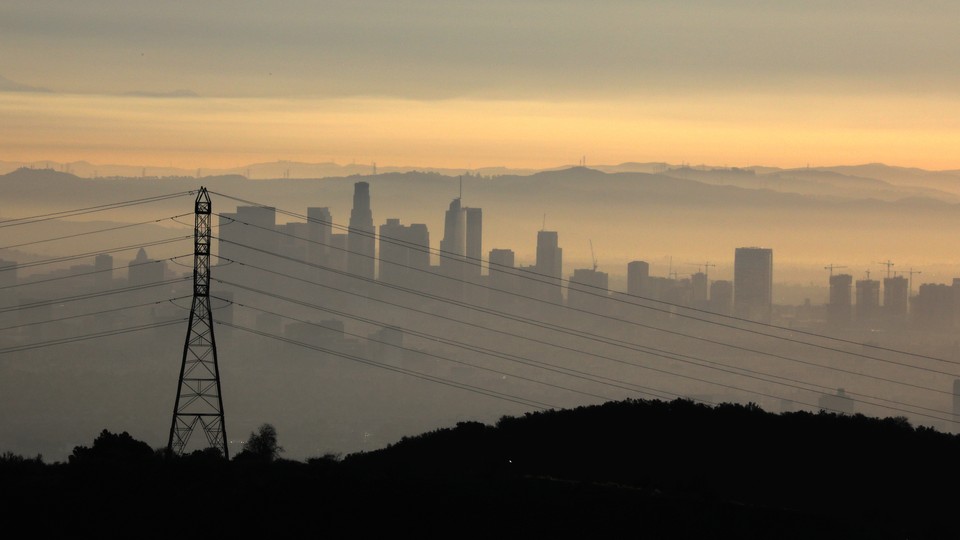 You've probably never heard of the most economically transformative legislation of the Trump era. Granted, it has not yet passed and it might not pass. If it does, it would affect a large portion of Americans, but hardly all of them, unlike the Tax Cuts and Jobs Act. And its potential effects are hotly contested by policy advocates, politicians, and economists.
Still, California Senate Bill 50, winding its way through the state legislature again this month, could generate tens of thousands of new jobs and billions of dollars of new investment, reshaping the geography of the biggest state and solving a large chunk of the cost-of-living crisis the Trump administration has assiduously avoided addressing by, essentially, forcing California communities to allow more construction.
It, or some version of it, desperately needs to pass. California has a hyperacute version of a problem affecting a number of states and, especially, metro regions within those states. Based on the housing-unit-to-population ratio in similarly wealthy and urban states, such as New York and New Jersey, California is short 2 million to 3.5 million housing units. (California has 358 homes per 1,000 people, whereas New York and New Jersey each have more than 400.) Right now, the state ranks 49th in units per capita, behind only Utah.
This deficiency has driven a cost-of-living crisis, leading to long commutes, desolate retail corridors, plunging net worths, bankruptcies, and shortages of child care, elder care, and other services. The average home in California sells for more than $600,000—far out of reach for many families. In San Francisco, the average sales price is $1.6 million. Spiking rents and hefty mortgage payments have worsened the state's inequality, dimmed the economic prospects of millions and millions of families, and fueled the growth of the state's homeless or housing-insecure population. There are 130,000 people experiencing homelessness on any given day in California, despite the state's strong economic growth.
Any number of trends have collided to foster the housing shortage: surging income and wealth inequality, in-migration, growing construction costs. But in policy terms, there is one central culprit: zoning regulations, including local oversight rules. Neighborhoods have the ability to kibosh too many projects, and zoning rules favor sprawl over infill housing.
S.B. 50 would override local restrictions on building, letting developers create more housing and denser housing near train stations and high-frequency bus stops. Homeowners would be able to build accessory dwelling units or casitas; companies would be able to build small apartment complexes. The bill stalled in the California legislature last year. But earlier this month State Senator Scott Wiener announced changes that would give localities more flexibility in implementing the law, provided that they allow as much construction as S.B. 50 itself would allow, and would ensure that low-income residents get access to the new housing.
The bill is a technical one, steeped in arcana on parking requirements, height limits, and bus frequencies. But it would be a transformative one, both its detractors and its supporters agree. It would effectively disallow single-family zoning in many neighborhoods. It would force wealthy suburbs to permit the construction of apartment buildings and duplexes. And it would reorient the state's growth away from sprawl toward infill. Housing would get more plentiful, and thus cheaper.
Its detractors sit in two camps. Tenants-rights groups and low-income-housing advocates argue that S.B. 50 would not do enough to create housing for the poor, and might supercharge displacement in neighborhoods where even high-income residents are seeing themselves priced out. "Incentivizing more luxury development and inflating property values in San Francisco will further exacerbate real estate speculation, which has already played a key role in displacing low and moderate-income tenants, immigrants, seniors and families across California," argues the Housing Rights Committee of San Francisco, which advocates for tenants.
Then there are the NIMBYs, who argue that S.B. 50 will destroy neighborhoods' homegrown character, hurt home values, and harm the environment: Goodbye to green, single-family neighborhoods, and hello to traffic-gnarled, high-rise apartments. Livable California, for example, is warning that the legislation will turn "thousands of streets into free-for-alls where cities have NO planning powers."
But S.B. 50 would not suddenly convert single-family neighborhoods into high-rise condo villages; it would merely stop some rich neighborhoods from disallowing multifamily housing. More to the point, it would stop neighborhoods from casting themselves in amber, preventing new building and forcing younger, poorer families to urban peripheries. As for the concerns about low-income housing and gentrification—they are fair. But California cannot fix its housing crisis without much, much, much more building, and fast.
If the bill passes, California would become denser, cheaper, greener, and more affordable—a state less centered on car culture, and more centered on walkable neighborhoods; less responsive to the aesthetic complaints of longtime property owners, more responsive to the needs of young families. The central economic crisis of the Trump years—high inequality, a shrinking middle class, and an excruciatingly high cost of living—would become less daunting. And California would be a lesson to other states whose residents are facing jumping rents and long commutes.