The Best Advice Kobe Bryant Ever Gave Me
When I profiled him in 2007, the NBA star said something I've never forgotten.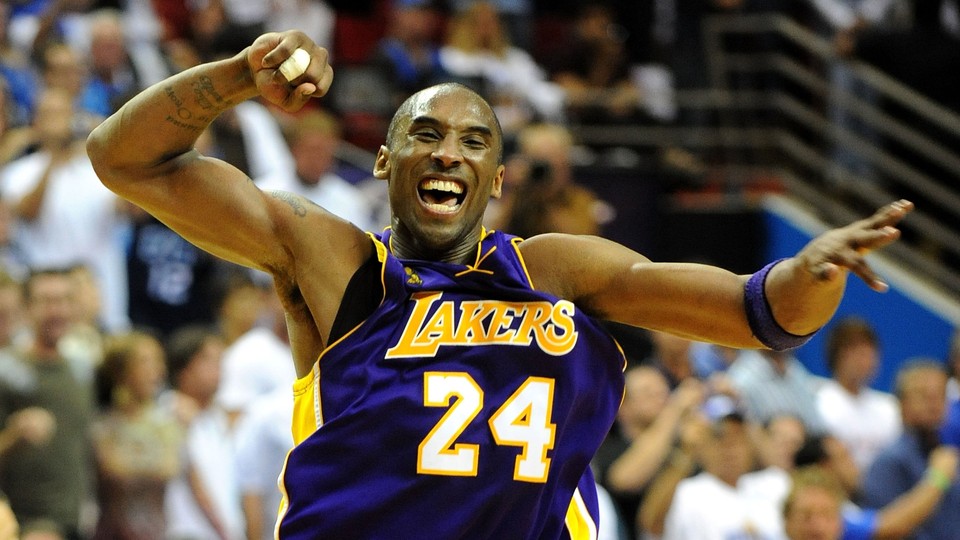 Kobe Bryant spent the greater part of his adult lifetime in one of the most traffic-clogged areas of the country. He lived in Orange County and worked in Los Angeles—the Lakers' practice facility is near the airport; the Staples Center is downtown.
Sitting in a classic Southern California traffic jam—it has taken me up to three hours to drive the 40-odd miles between Staples and Kobe's neighborhood—I have often thought wistfully about taking a helicopter.
Kobe looked at life as a skill set to be mastered, a mountain to climb, a list of problems to solve. It makes no sense to waste your life in traffic if you can fly right over it.
Kobe actually took the helicopter.
The year I moved to Southern California, 1997, happened to intersect with Kobe's first season in the NBA. As a husband and the father of a toddler, with quite a few career aspirations of my own, I had little time for personal diversions. The Lakers became my haven.
And Kobe. You just couldn't keep your eyes off of him.
Love him or hate him—from the beginning, fans' attitudes about him were polarized—Kobe played with an intensity and a focus and a desire for mastery that rose to the level of art. Like a painter or a musician or a writer, he seemed to be in thrall to his creative spirit.
Clearly, he wanted to be the best at something. But he didn't understand other people very well.
I first met Kobe in 2007, when I was assigned to write a profile about him for Esquire. At that time, he was not the beloved figure whose tragic death we now mourn.
The initial reaction to Kobe and his achievements was puzzling—or predictable, depending on your take on human nature. America has always loved an underdog. Kobe was distinctly not an underdog.
Early in his career, he was criticized for holding himself aloof from his teammates. He seemed to have zero sense of humor. When the rest of the team was playing cards or going to clubs—talking about wives and children and alimony—Kobe was more interested in reading Harry Potter or studying game tapes, or doing other things befitting a teenager, like going to prom. He was seen as a selfish player who thought only about himself, whose pursuit of basketball excellence outweighed all else. There were a lot of haters.
Kobe was selected to the All-Star game as a second-year player (he was the sixth man on the Lakers at the time), the youngest to have made the game. Rather than sit back and have some fun, like the rest of the players, Bryant decided to make a run for All-Star MVP, inciting an electric duel with the reigning king, Michael Jordan, in a game in which usually nobody plays any defense.
In 2003, Kobe battled injuries to his knee, finger, and shoulder. Then a Colorado woman alleged that he had raped her, and although criminal charges were dismissed, he offered an apology in which he acknowledged, "I now understand how she feels that she did not consent to this encounter." He eventually settled a civil lawsuit. His ongoing feud with Shaquille O'Neil, his partner in three NBA championships, led to the departure of L.A.'s beloved big man in 2004. Soon after, disillusioned with the subsequent fall of the once-ascendant Lakers, Kobe was asking for a trade.
All in all, Kobe was seen around the league as a one-dimensional basketball machine, a guy who lacked a soul.
That's when I met him.
I spent about eight days with Kobe and his wife, Vanessa, in 2007. He was 29. He'd already experienced a rise and a fall. I found a young man who loved ice cream and Kahlúa milkshakes, soccer, and the sci-fi thriller Ender's Game—about a boy who suffers greatly from isolation and rivalry but ultimately saves the planet.
After his fall from grace, Kobe was by all appearances a devoted family man. He called his wife Mamacita, and held her hand everywhere they went. The names of his first two daughters, Natalia Diamante and Gianna Maria-Onore, are tattooed on his right forearm—they faced the basket on every jump shot. Gigi, the younger of the two, was 18 months old when I met the girls with Vanessa at a Lakers game. Natalia was already tall and into soccer. She called Kobe "Tickle Man."
When, deep into our time together, I asked Kobe about the rape allegations, he pushed aside my questions. "I ... uh ... hum," he said. "I don't know how to touch on that without really sayin'—you know what I'm sayin'?"
When I asked him about the charges of aloofness, he had an answer I didn't expect.
"The aloofness thing, honestly, I didn't really hear about it until later," he said.
"A lot of it was just naive, because I didn't read the papers. I didn't watch, like, the news. I had no clue what was going on, what people were saying about me. It sounds silly to say, but it's true. And I think because of that, a lot of people looked at it like, 'Woah, he must be arrogant.' But I didn't know what the hell was going on. I had a reporter one day come up to me and ask me about it, you know, 'People think you're arrogant, what's up with that?' And it absolutely just seemed to come out of left field. I was just like, 'What are you talking about?' And he was like, 'Haven't you read the papers?' From that day forward, I started reading the papers."
After he said that, I started to understand him better.
The last day we met, I asked Kobe if he'd sign one of his size-14 Nikes for my son, whose birthday was in a few weeks. He'd grown up watching Kobe with me. To us, Kobe was more than just a player, and the Lakers were more than just a team; our fandom was something we shared, game after game, season after season. It was woven into the fabric of our relationship.
After Kobe signed the shoe, I took it from him and put it safely with my things, made ready to get on with the formal interview we had scheduled.
Kobe held up the other shoe. "You want me to sign this for you?" he asked.
Although his last years in the league were hard to watch, the years that followed were different.
Just as he'd remade his body and his shot, time and again throughout his career, in retirement, Kobe transformed himself into an Oscar-winning Renaissance man—a doer of good deeds, an unparalleled basketball analyst, an enthusiastic coach of his own children and others', a much-sought-after pro-basketball-player-whisperer. A distinguished new elder statesman for the league, he was eternally a star among the stars.
When the news of Kobe's death first came across the transom—the first thing I saw was an alert from TMZ—my son and I were driving home from a boys' weekend we'd enjoyed with his best pal. My son is 25 now. The night before, we'd watched the Lakers game together as LeBron James surpassed Kobe's NBA scoring record. Kobe's tweet of congratulations was shown during the TV coverage. It was a classy move, we agreed, with a certain pride of ownership. More than a player, Kobe is a bond we share. We knew him when. And thanks to the magic of video, what he did on the court will always remain.
As I write this, that second shoe, the one he signed for me, is sitting on a shelf here in my office, the place where I have always pursued my own craft. Like Kobe, I have spent a lifetime of effort and dedication trying to be the best I can be. And like Kobe, I have endured my share of ups and downs.
Often, I remember something he told me.
"You have to be open-minded and not be rigid," he said. "If you're rigid, that's weakness. All you can do is forget about the bad stuff and then move on. You just kind of roll with it; you just kind of learn. I will not make the same mistakes in the future that I have made in the past. I will make new mistakes, I am sure. And I will learn from them, too."