The Rust Belt Didn't Have to Happen
Columbus, Indiana, thrived while other cities declined. Why?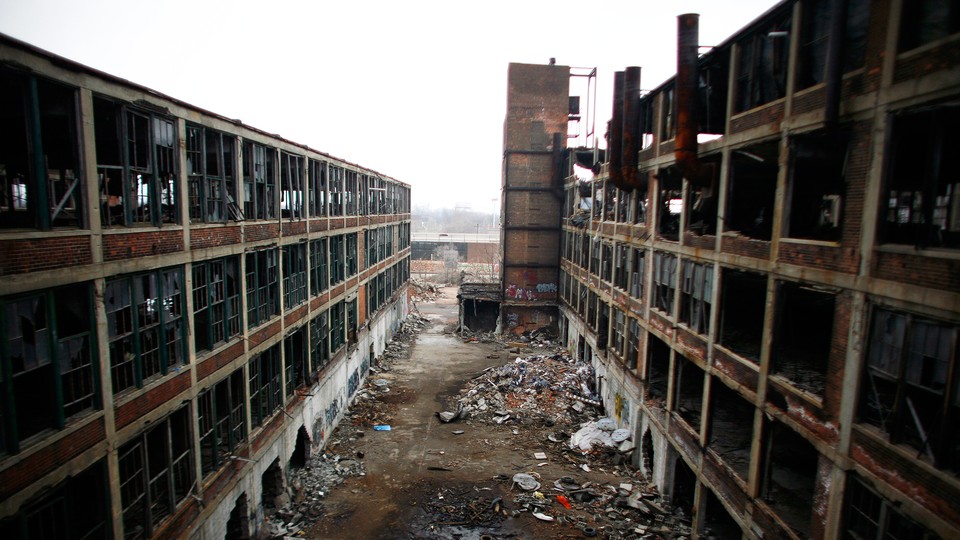 The long list of decaying Rust Belt communities gives the impression that their decline must have been inevitable. Detroit's fall is often discussed as merely the most famous example of a regional rule. But the story of a small Midwest manufacturing city that didn't rust shows that they didn't all have to go this way.
Vice President Mike Pence's hometown of Columbus, Indiana, thrived while other cities declined, because J. Irwin Miller, its wealthiest and most prominent industrialist, remained deeply rooted in and committed to his city. He used his clout, money, and a visionary progressive approach to build up Columbus for long-term success. A new biography of him called J. Irwin Miller: The Shaping of an American Town, by Nancy Kriplen, reveals not just the story of a city but one of a lost model of American leadership that the country badly needs to recover if many of its communities are to ever turn around.
Miller was the fourth-generation scion of Columbus's premier banking family, who became the CEO of Cummins, a major diesel-engine manufacturer originally bankrolled by the family. He was farsighted enough to see, even in the 1950s, that the ability to attract highly educated talent would determine whether his company survived in a small Indiana city. He felt that talent acquisition and retention required, above all else, good schools. So he approached Columbus with an offer it couldn't refuse: The Cummins Foundation would pay the architecture fees for all new schools in the community if the city picked an architect off his list. His program resulted in a world-renowned collection of schools and other buildings by a who's who of architects, including Eliel and Eero Saarinen, I. M. Pei, César Pelli, and Harry Weese. The American Institute of Architects ranks Columbus as the sixth-best architectural destination in the United States.
Miller's approach was superficially similar to many of today's public-private partnerships. The difference is that his program invested in building up public goods and services, whereas all too many of today's partnership's are about enriching private parties at the public's expense. When dedicating a new Cummins-financed public golf course, Miller said:
Why should an industrial company organized for profit think it a good and right thing to take $1 million and more of that profit and give it to this community in the form of this golf course and clubhouse? Why instead isn't Cummins—the largest taxpayer in the country—spending the same energy to try to get its taxes reduced, the cost of education cut, the cost of city government cut, less money spent on streets and utilities and schools? The answer is that we should like to see this community come to be not the cheapest community in America, but the best community of its size in the country.
A Rockefeller Republican, Miller was also a social progressive with national impact. He served on the boards of MoMA, the Ford Foundation, and Yale. A lifelong member of the Disciples of Christ, he was a key ally of Lyndon B. Johnson in getting the Civil Rights Act passed while serving as president of the National Council of Churches. Closer to home, he used his clout to get anti-discrimination ordinances passed in Columbus. Miller was globally minded but also deeply rooted in his community, a combination that steered the local conservative culture in a more moderate direction.
That moderation also helped Cummins and Columbus avoid the labor strife of other Midwest cities. When national unions attempted to organize Cummins, the employees instead elected to form their own, independent Diesel Workers Union, over the objections of the United Automobile Workers. The relationship between the Diesel Workers Union and firm was much warmer than usual, with Miller given honorary union membership. As he put it, "Unions are management's mirror. They tell you things your own people won't admit."
The results speak for themselves. Cummins has remained a successful global enterprise. And Columbus has prospered, never experiencing a major period of decline. Today it's still growing in population and adding jobs faster than the nation as a whole. It's more educated than the country at large and boasts a GDP per capita higher than Portland, Minneapolis, and Houston.
This model of forward-looking social and economic elites using their influence and money to pull their community into the future, remaining rooted and investing heavily in their hometown, is not unique to Columbus. It's also been a key factor in the success of western-Michigan communities such as Holland, as documented in these pages by James Fallows. Local industrialists there retained control over their firms, stayed living in and committed to their hometown, and invested their money heavily to build up the public realm of the city, such as when Edgar Prince paid to install an automated snowmelt system under downtown sidewalks.
Too many wealthy elites and corporations today, however, only talk about social responsibility as they pad their bottom lines. Companies such as Amazon and Foxconn, for example, have mastered the art of extracting subsidies from communities. This reality has soured much of the left on the wealthy and corporations; the idea that old-money power brokers would lead communities simply doesn't sit well with them. On the Tea Party right, meanwhile, fiscal hawks embrace the very cuts to public goods and services that Miller rejected.
If America's corporate and other elites want to actually defuse the populist anger being directed their way, they might want to think about emulating Miller. That's what Pence arguably did: He was originally an advocate of the Tea Party approach, but as governor of Indiana, he implemented a program called the Regional Cities Initiative to use state funds as an incentive for private benefactors to start investing in public goods and services in local communities.
Columbus's success can't be solely attributed to Miller's approach, though. Success in the real world is complex, and involves good fortune as well as good decisions. Nor has Columbus been totally immune to industrial transition over the years; for example, it lost its other Fortune 500 company, Arvin Industries, to a merger. Despite diversifying its economy, it still remains heavily dependent on Cummins, a firm facing global competition and a looming transition away from fossil fuels. And while Cummins remains an unusually civically committed company, Miller himself passed away in 2004, and his children have all left Columbus.
Still, thanks to Miller's and Cummins's decades-long commitments, Columbus is in a place most other Midwest manufacturing towns can only envy. America has a lot to relearn from them about what it actually takes to build long-term community prosperity. It's not just about macroeconomic policy, but also about the behavior of corporations and local elites.