We Still Don't Know What Happened
Through a combination of White House obstruction and Democratic political calculation, the climax of the impeachment story has passed, but the plot is still unfolding.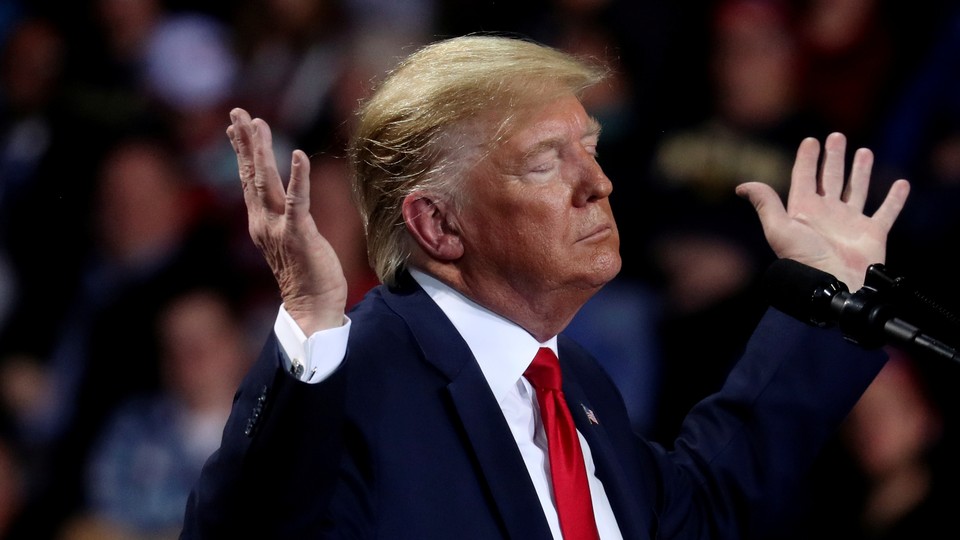 One month ago, on November 21, the House Intelligence Committee held its final public hearing on the impeachment of President Donald Trump, wrapping up the fact-finding portion of the inquiry. On December 3, the committee released its report on Trump and Ukraine. And on Wednesday, the House impeached Trump.
But something peculiar has happened since November 21: More and more factual information about the affair has continued to dribble out in other venues. While these morsels do add some understanding to the picture, they also underscore how much remains unknown about Trump and Ukraine, even with impeachment complete. Through a combination of White House obstruction and Democratic political calculation, the climax of the story has passed, but the plot is still unfolding.
For example, one mystery of the whole matter has been where Trump got the idea that there was a server that would prove that Ukraine, not Russia, was behind interference in the 2016 election. Amid a vast universe of conspiracy theories, Trump seemed to have created a new one. The Washington Post reported yesterday that, according to senior White House officials, the president heard the idea from none other than Russian President Vladimir Putin, whose account he inexplicably believed. "Putin told me," Trump said, according to the Post's reporting.
On Tuesday, federal prosecutors said in court that Lev Parnas, the Rudy Giuliani associate who has been charged with several federal crimes and is implicated in the Ukraine scandal, had received $1 million from a lawyer for the Ukrainian oligarch Dmytro Firtash, who is wanted in the United States on bribery charges. Parnas seems to have been both a client of and aide to Giuliani as he railroaded U.S. policy and conducted an investigation for Trump, designed to aid his reelection.
Also on Tuesday, Acting U.S. Ambassador to Ukraine William Taylor, one of the star witnesses in the impeachment hearing, told The New York Times that he was leaving his post in early January—the first clear case of an administration official being pushed out after testifying. Moreover, the Daily Beast reported that Trump vetoed a trip by Secretary of State Mike Pompeo to Ukraine amid the investigation. Pompeo was also reportedly planning to avoid the embassy in Kyiv, an ironic choice, given that the existence of an alternative foreign-policy channel was central to the inquiry.
Meanwhile, Giuliani returned from a trip to Ukraine, where he continues his skulduggery, and briefed the president on what he supposedly found. Senate Judiciary Committee Chairman Lindsey Graham said he would call Giuliani to testify, though he now—probably prudently—seems to be having hesitations. Giuliani also acknowledged to The New Yorker that he pushed for the firing of former Ambassador to Ukraine Marie Yovanovitch. "I believed that I needed Yovanovitch out of the way," he said. "She was going to make the investigations difficult for everybody."
And all of that is just a sampling of a week's news—and most of it was uncovered not by investigators with subpoena power, but by reporters. Imagine what an exhaustive legal investigation could do!
There are some known unknowns—things that we know we don't know. Although there is substantial proof that Trump engaged in a scheme to extort Ukraine for investigations into the Biden family in order to assist his reelection campaign, and there's no longer plausible deniability through claims that Giuliani or government officials were working without his knowledge, the extent of his direct involvement in the scheme remains unclear.
We also still don't have a great sense of the scope and scale of Giuliani's work. He is working for the president for free, which means he must be getting paid by someone—but it's not clear by whom. He both employed Parnas and Parnas's partner Igor Fruman to assist in his investigations and was a business client of theirs. He considered contracts from the Ukrainian government. But Giuliani did not testify, and the range of his work as well as the content of his communications with the president are still unknown.
Beyond that, there is a hefty list of semi-unknown unknowns: places where we don't know what we don't know, but we know where it might come from. Some of the witnesses most able to shed light on the specifics of the Ukraine case have not spoken. The administration refused to allow them to testify, and House Democrats opted to shorten their investigation rather than force testimony through court battles, choosing instead to impeach Trump for obstructing them as well as abusing his power.
This includes Acting White House Chief of Staff Mick Mulvaney, who told reporters in a briefing that of course Trump asked for a quid pro quo from Ukrainian President Volodymyr Zelensky, and instructed people to "get over it." It also includes former Energy Secretary Rick Perry; Pompeo and one of his top aides; former National Security Adviser John Bolton and his deputy, Charles Kupperman; the acting head of the Office of Management and Budget, which held up aid allocated to Ukraine; and the lawyer who placed a transcript of Trump's call with Zelensky on a special server.
The public doesn't know what other transcripts were kept on that server. It doesn't know the nature of calls between Devin Nunes, the ranking Republican member on the Intelligence Committee, and the White House. And it hasn't seen documents that several witnesses testified the State Department would not provide to them.
There are also, as always, the truly unknown unknowns.
The peculiar situation of an investigation complete but large pieces of essential information still hidden is reminiscent of Special Counsel Robert Mueller's investigation into Russian interference in the 2016 election. Though Mueller submitted his report on March 22, the public continues to learn new information, and still doesn't have a full picture.
As I reported in November, when Roger Stone was sentenced for obstruction of justice in connection with the Mueller probe, we still don't have a full understanding of what happened between Trump and Russia, in part due to obstruction by Stone and others. Still, additional information continues to emerge, both through reporting and also in additional investigations. Justice Department Inspector General Michael Horowitz's recent report added some new facts and context, and a probe by U.S. Attorney John Durham is expected to add more. During sentencing for the former Trump aide Rick Gates this week, Judge Amy Berman Jackson—who has access to nonpublic information from the Mueller probe—seemed to telegraph some sense of how serious the still-classified material is.
Will there be a true public reckoning anytime soon? In theory, Trump's pending trial in the Senate on the impeachment charges could add more information, but Senate Majority Leader Mitch McConnell has signaled that he is not interested in a substantial factual phase to the trial, and wants to get it over with as quickly as possible. Some House Democrats have also floated the idea of impeaching Trump again if new information comes to light. As a matter of law, this is plausible; double jeopardy does not apply to impeachment.
As a matter of politics, however, it's laughable, at least during Trump's first term. (Making predictions about how a second Trump term might go is surely as futile as predicting the first would have been.) House Democrats kept the impeachment inquiry short because of political concerns; they didn't want to endanger the political prospects of vulnerable members, prevent other legislative work, or bleed into the presidential election. As a cold political calculus, this may have been correct, though it's impossible to know how the alternative scenario might have turned out.
In other ways, however, it's an abdication. As my colleague Yoni Appelbaum wrote in March, deliberate hearings allow a national reckoning. The pace of this inquiry meant that the nation was often still reeling from one revelation when it was hit with another; then the inquiry was over and the vote was held. Trump has now been impeached, and for good reason, but although justice has been done to the president, the nation remains substantially in the dark about one of the more troubling episodes in the country's history.