The Ukraine Transcripts Are a Road Map for Impeachment
Witnesses are providing Congress with the record of presidential misbehavior it needs.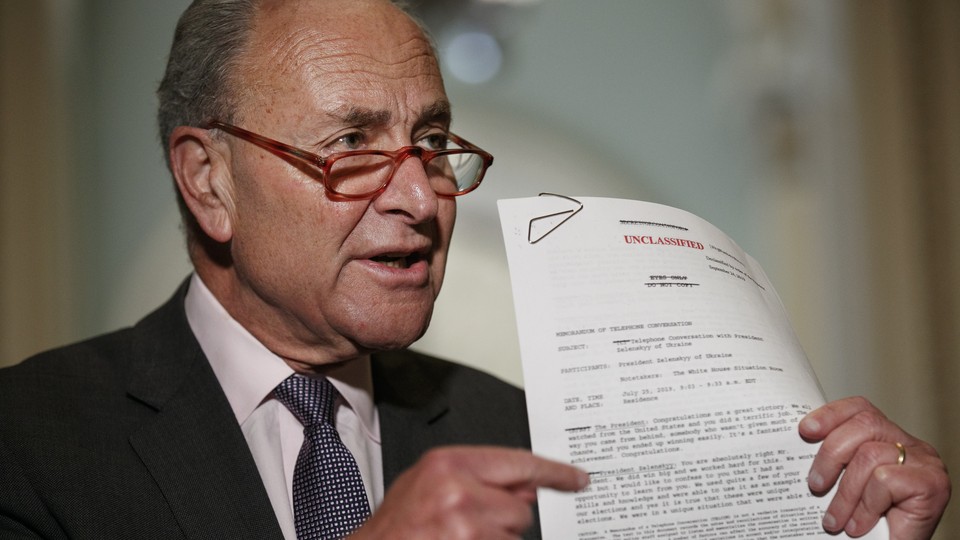 The experience of following the impeachment inquiry over the past week has been a bit like that old Buster Keaton skit of a man being taken down by an ever-expanding newspaper. The 1921 clip from the silent movie The High Sign shows Keaton settling down on a park bench to read the day's paper. He crosses his legs and unfolds it. Then he unfolds it again. And again. And again. Eventually, struggling under a shroud of newsprint, he crashes down through the bench.
The transcripts, like Keaton's newspaper, are relentless. They keep coming. They are huge—endless and repetitive—and they grow more and more detailed. As the week went by, they got longer and longer, as though the early part of the week, when one was a mere 156 pages, was just a warm-up. By week's end, the House of Representatives was releasing transcripts weighing in at 446 pages—enough to send anyone crashing through a chair.
The transcripts released so far do not present a definitive picture of what transpired. For one thing, they do not include the sum total of all the interviews conducted by the committees leading the impeachment inquiry: Among others, the full testimony of the National Security Council's former lead official on Russia, Tim Morrison, has not been released. And key figures like Acting Chief of Staff and Office of Management and Budget Director Mick Mulvaney and former National Security Adviser John Bolton have so far resisted appearing before Congress at all.
But taken as a whole, the transcripts—all 2,400 pages of them—provide an extremely detailed account of what took place both between the United States and Ukraine and within the U.S. government over the course of the summer and early fall of 2019. Despite what Trump's defenders might say, it's a story that looks horrible for the president. And it will amply support congressional articles of impeachment.
Perhaps the clearest overall narrative of events comes from the current U.S. chargé d'affaires in Ukraine, Ambassador Bill Taylor, whose testimony describes a splintering of U.S. policy on Ukraine into two "channels." One channel, in Taylor's telling, was "regular," consisting of the usual bureaucratic processes of the State Department and the National Security Council. Another channel—involving President Trump's personal lawyer Rudy Giuliani, as well as then–Special Envoy to Ukraine Kurt Volker, Ambassador to the EU Gordon Sondland, and Energy Secretary Rick Perry—Taylor understood to be "irregular."
While the regular channel focused on maintaining U.S.-Ukraine ties and security assistance by building a healthy relationship between Trump and Ukrainian President Volodymyr Zelensky, Taylor describes the irregular channel as settling by midsummer on an approach built around the famous quid pro quo. In order to obtain a meeting between Trump and Zelensky, and later in order to obtain U.S. security assistance as well, the new Ukrainian government would have to announce investigations of the Ukrainian energy company Burisma—on whose board Hunter Biden served—and of supposed Ukrainian interference in the 2016 U.S. presidential election.
With the exception of Volker and Sondland, themselves key figures in the irregular channel, the witnesses' assessment of this approach is withering. "The irregular policy channel was running contrary to the goals of long-standing U.S. policy," Taylor tells Congress. To a person, these witnesses reject the notion that Ukraine interfered in the 2016 election—a conspiracy theory voiced by the president in his now-notorious phone conversation with Zelensky—and express strong views as to the impropriety of the United States asking a foreign country to undertake a politically motivated investigation of, among other things, a U.S. citizen.
"I understand how the justice system works" in Ukraine, testified Lieutenant Colonel Alexander Vindman, a National Security Council aide working on Russia and Europe. "It's not the rule of law that governs." At another point, addressing an article in The Hill suggesting corruption on the part of the U.S. ambassador to Ukraine, Vindman allowed that at least the "grammar might have been right." Fiona Hill, Morrison's predecessor on Russia matters at the National Security Council, bulldozed over suggestions by some Republican members of Congress that there might have been merit to concerns over supposed Ukrainian interference: "I'm worried that all of you are going to go down a rabbit hole, you know, looking for things that are not going to be at all helpful to the American people or to our future election in 2020."
There's really only one thing missing from this large pile of paper: a precise account of Trump's own role and that of Mulvaney. The idea that Trump was uninvolved, unaware of what his personal lawyer and government officials were carrying out—a notion currently being floated by some defenders—is risible. The text of the call memorandum with Zelensky makes his involvement obvious, as does the testimony of several of the officials as to his comments about Ukraine at various points. That said, we still don't have a clear account of exactly how the aid got frozen; who, other than Sondland, stalled on arranging the Trump-Zelensky White House meeting; or what the president's personal role in either of those actions might have been. This is inconvenient for congressional Democrats, for whom it would be useful to be able to provide a long list of specific things Trump himself did—as they can, for example, with respect to obstruction of justice in the Mueller report.
That is, however, the only thing in the transcripts that can remotely pass for good news for Trump. By and large, they tell an unremitting story of the hijacking of a policy process on a sensitive matter for personal political purposes. They aren't subtle. They aren't ambiguous. And the added details tend to make the story worse, not better.
But Donald Trump, unlike Buster Keaton, will not be taken down by transcripts. He won't do the work of reading them. And his defenders won't either—as Senator Lindsey Graham made abundantly clear this week in announcing that he would refuse to read the documents as a matter of principle, despite aggressively advocating for their release. Perhaps more importantly, the public is not going to read them. The record released by the House is the length of War and Peace without Tolstoy's narrative flair, or even that of Special Counsel Robert Mueller. It's dense and complicated, and while it actually has a great deal of dramatic tension—an incredible story lies beneath it all—one has to read through the repetition, the formal questioning style, and the bickering over Republican procedural complaints to get to anything of substance.
The transcripts ultimately aren't a threat to the president in and of themselves, but they present two distinct harbingers of threats that are coming down the pike. At the most granular level, the transcripts are the raw material out of which the House will craft some sort of narrative report that will, in turn, lie beneath its articles of impeachment. In other words, this is the record of the conduct for which the House will impeach the president. It won't be the paper that will consume Trump, as in the Keaton clip—but the words contained in those many pages will be condensed into something like an indictment.
The more immediate role the transcripts play is that each of them represents an actual person—several of whom will testify live this week. These people are going to be hard to dismiss. They are figures of substance and consequence. Unlike Michael Cohen, they are not criminals who have flipped on the president to reduce their own criminal exposure. Several of them are long-serving career officials who served in political roles in the Trump administration itself.
Their shock and dismay at the fleecing of a vulnerable ally for domestic political purposes is apparent in the transcripts. Ambassador to Ukraine Marie Yovanovitch's confusion and fear at her sudden removal from Kyiv at Trump's demand presents a very human drama. Hill and Vindman's account of an eventful White House meeting in which Hill confronted Sondland over his apparent extortion of the Ukrainians makes for a compelling story. And so the task for this week is to bring that story to life, to turn this raw material into a narrative drama that busy people can actually absorb—to turn, in the public mind, raw transcripts, piles of paper, into the real people whose words have been transcribed.
Will it make a difference? It would be foolish to predict that it will. Nothing so far, no matter how appalling, has moved the 41 percent or so of American adults who persist in professing to approve of the president's performance in office. There's no particular reason to imagine that the earnest testimony of several long-serving diplomatic, military, and National Security Council officials will sway people who have been unswayed by anything that has happened to date, or by Trump's own daily behavior.
Yet an impeachment requires a record. And while the transcripts can serve as a technical record, the hearings represent a kind of formal presentation of that record—a book report of sorts where the House committees stand before the class and show the public what they've found.
The transcripts aren't going to envelop the president and bring about his collapse. And the public hearings will probably, in the short term anyway, be less a turning point than another occasion for him to tweet bile at his critics and attack the press and congressional Democrats.
But assembling a clear record is exactly what Congress should be doing right now—whatever the results may be. The legislative branch is, at very long last, doing its job.