The Trump Presidency Is in Free Fall
A series of crises has again brought the administration below its baseline of chaos—but this time, can the president recover?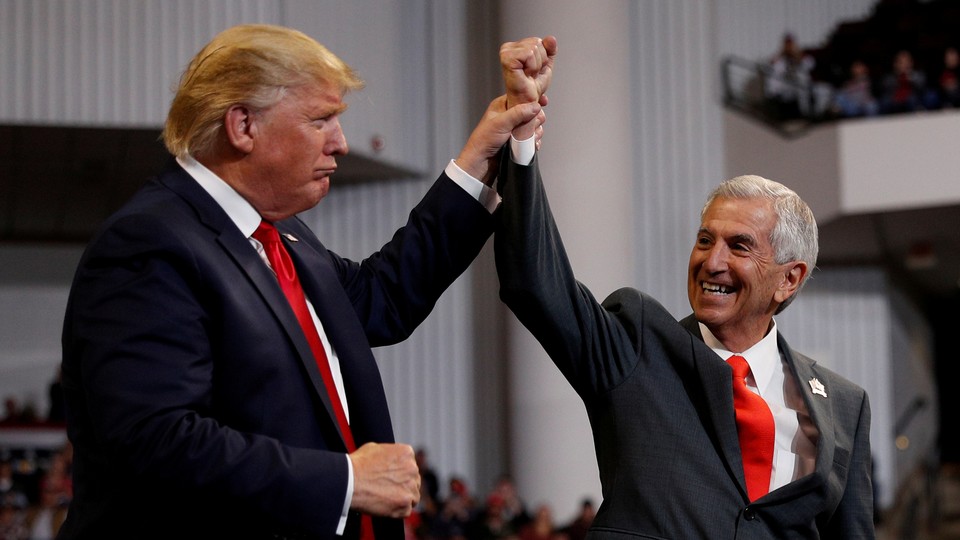 That old sinking feeling is back.
There have occasionally been stretches of time that are good for the Trump administration. There have more often been stretches that are bad, though there is a baseline of chaos that has come to feel almost normal. And occasionally, there have been truly hellacious stretches: May 2017, when Donald Trump fired then–FBI Director James Comey; August 2017, around the white-supremacist march in Charlottesville, Virginia; January 2018, around the release of Fire and Fury; December 2018–January 2019, when Defense Secretary James Mattis quit and Trump forced and then blinked on a government shutdown.
Now the administration is experiencing another one of those stretches. Even by the strained standards of the Trump presidency, the past couple of weeks have brought an astonishing raft of bad news for the White House.
On Capitol Hill, a parade of impeachment witnesses continues to deliver damaging revelations about his handling of Ukraine. First, testimony from embassy staff in Kyiv has demolished the (latest) Republican defense of Trump, that although his aides may have pressured Ukraine to start investigations into the Biden family and the 2016 election, the president was not involved and unaware. In truth, that excuse was always a fallback and always implausible—Trump demanded the investigations in his July 25 call with President Volodymyr Zelensky—but news of an overheard call between Trump and Ambassador Gordon Sondland shows the president's personal connection. The reported substance of that call also waves away the claim that Trump was earnestly concerned about corruption in Ukraine.
Second, deposition transcripts have undercut another defense of the president, which is that Ukraine was not aware that U.S. military aid was delayed in connection with the president's demand for announced investigations, and that therefore there could be no extortion or bribery in the withholding of funds.
Meanwhile, the impeachment inquiry continues to widen. Yesterday, CNN reported that the House is investigating whether Trump lied to Special Counsel Robert Mueller. His account of conversations about WikiLeaks appears to be at odds with testimony offered by Rick Gates, his former deputy campaign chair, in the recent trial of Trump's longtime adviser Roger Stone, who was convicted of seven felonies last week, related to his obstruction of investigations.
Impeachment is damaging to Trump, of course, though at the moment the chances of his removal by the Senate still seem remote. Electorally, however, Trump has suffered a trio of political blows over the past fortnight. In Kentucky, Republican Governor Matt Bevin hugged Trump close, but he lost to the Democrat Andy Beshear. In Louisiana, the Republican Eddie Rispone failed to unseat Democratic Governor John Bel Edwards, despite Trump holding two rallies in the state in two weeks. And in Virginia, Democrats captured control of both chambers of the state legislature.
There are extenuating circumstances in each of the gubernatorial races: Incumbents like Edwards enjoy an advantage; Bevin was running against the scion of a popular Democratic family. But at rallies for both Republicans, Trump predicted that if his allies lost, it would look bad for him—and he was correct.
On Friday evening, with a series of negative stories weighing on him and the Stone verdict fresh, Trump announced pardons for three members of the armed services who were accused or convicted of war crimes. The move seems to be a way of appealing to some rank-and-file members of the military, though the decisions place him in conflict with his own top leaders, including his defense secretary, who opposed the pardons. Whether the moves will have much political effect is unclear, but they are morally appalling and risk long-term ramifications for American soldiers, sailors, airmen, and marines overseas.
Then, over the weekend, Trump made an unannounced, apparently unplanned trip to see a doctor at Walter Reed National Military Medical Center. The White House insists that the visit was routine and that Trump is healthy. It is a different sort of problem for Trump if he is unwell, but the fact that few seem willing to take the administration's explanations for the visit at face value show the credibility crisis that the president confronts—a problem that would be more serious in a national emergency.
In all, it adds up to one of the bleakest stretches the president has experienced. As always, the question is: Does any of this matter? Trump has weathered these periods before, and nevertheless he persists. One answer is that defeats like the ones in the 2018 midterm elections and then in Kentucky, Louisiana, and Virginia are all evidence of Trump paying a political toll for his record. Trump enters the 2020 election with less of an advantage than most incumbents enjoy. Then again, he may still be a slight favorite.
But three elements of this debacle ought to be particularly concerning for the Trump White House. The first is that Trump has alienated key constituencies. His pardons for war criminals are apparently intended to pander to a certain variety of jingoistic militarism, but they have upset many other members of the military community, in addition to Trump's own appointees in the Defense Department. Yesterday, Trump also reversed course on a promised ban on flavored vapes—whatever the merits of the proposal, he angered his supporters in the vape community by floating the plan, only to abandon it, an unforced political error.
Second, although the president famously values personal loyalty, a long line of his aides have marched to the Hill and offered testimony that is damning to Trump. The president and some of his allies have repeatedly insisted that the witnesses in the impeachment hearing are "never Trumpers" or part of a deep state, but for the most part they have been appointees or hires made by the president or his aides. Ambassador Marie Yovanovitch was sent to Kyiv by Barack Obama, though the Trump administration initially asked her to extend her term before Trump abruptly sacked her. But Ambassador Bill Taylor was handpicked by Secretary of State Mike Pompeo to replace Yovanovitch. Jennifer Williams was hired by the Trump administration. George Kent, though a career diplomat, was appointed deputy assistant secretary of state by Trump; Lieutenant Colonel Alexander Vindman, though a career military officer, was hired to work on the National Security Council under Trump.
Third, one lesson of the Kentucky and Louisiana elections is that Trump cannot effectively protect his political allies. The thing that has insulated the president from the consequences of so many of his disastrous weeks is the sense among Republican officeholders that whatever qualms they may (or may not) hold about his leadership and decision making, they are politically better off staying close to him than breaking with him. Matt Bevin and Eddie Rispone adopted that intuition not just as a political tactic but as the central strategy of their campaigns. Trump played along, telling voters that the races were personal reflections on himself. Yet voters in deep-red states elected Democrats anyway.
Off-year and midterm elections are not the same as a national election in a presidential year. But Trump's failure to deliver on behalf of those candidates should worry Republicans around the country—and that, in turn, should worry Trump.