Ralph Waldo Emerson's American Idea
He co-founded The Atlantic 162 years ago this month. His vision of progress shaped the magazine—and helped define American culture, in his time and in ours.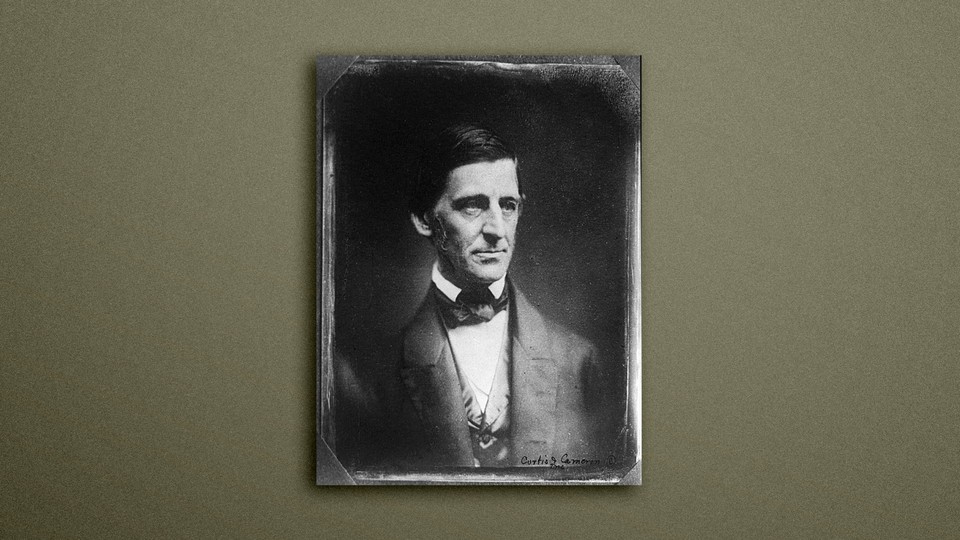 During Harvard University's commencement week in 1837, Ralph Waldo Emerson took the podium at the annual meeting of the Phi Beta Kappa society. The group, composed of the top students in the graduating class, was gathered in the First Parish Church in Cambridge. Emerson, the class poet of his own Harvard class a decade before, and a writer and philosopher of growing stature, had been chosen as the honored guest to address the future intellectual elite of New England.
The event was a capstone in a week of ceremony and tradition. That changed when Emerson began to speak.
In his speech, titled "The American Scholar," Emerson called for the young country to develop a national intellectual life distinct from lingering colonial influences. He also delivered an incisive critique of his audience, condemning academic scholarship for its reliance on historical and institutional wisdom. The eponymous scholar, he argued, had become "decent, indolent, complaisant." To become more than "a mere thinker, or, still worse, the parrot of other men's thinking," a scholar must begin to engage with the world for oneself.
Emerson was an unlikely critic of the country's intellectual establishment. The son of a Unitarian minister, he had attended Harvard Divinity School and taken a position after graduation as a junior pastor at Boston's Second Church. But the loss of his young wife to tuberculosis shortly after his ordination—just 16 months into their marriage—had shaken the foundation of his faith, and he had begun to chafe against the restrictions of institutionalized knowledge.
A similar frustration with New England's dominant religious and academic culture was growing among many of the region's other young intellectuals. In 1836, Emerson had joined a handful of them in founding the Transcendental Club. As Emerson laid out in his essay "Nature," published the same year the club began, the transcendentalists sought freedom from the "poetry and philosophy of … tradition" and "religion by … history." They believed that moral truth should be sought not in accepted wisdom, but through individual thought and experience.
With "The American Scholar," Emerson gave voice to the movement's individualism: envisioning an independent American intellectual culture premised not on any kind of nationalist pride—nor on any particular doctrine or political system—but on a dedication to independence itself. He would later define the "American idea" he sought to promote through his work simply as "Emancipation."
The speech elicited praise from many of Emerson's fellow transcendentalists and anger from the Harvard administration; after giving a similarly critical address at the divinity school the following year, he was banned from speaking on campus for three decades.
But "The American Scholar" had made its mark. Emerson's speech left a particular impression on two members of the Harvard community, a troublemaking undergraduate named James Russell Lowell and a recent alumnus named Oliver Wendell Holmes.
"The Puritan revolt had made us ecclesiastically and the Revolution politically independent, but we were still socially and intellectually moored to English thought," Lowell later wrote, "till Emerson cut the cable and gave us a chance at the dangers and the glories of blue water."
Holmes called the speech America's "intellectual Declaration of Independence."
Emerson's appeal for cultural independence coincided with the nationwide struggle toward another kind of emancipation. As transcendentalism began to take root in New England, abolitionism was gaining fervor across the Northern states. The debate over slavery seeped into churches, literature, and colleges, dominating conversations about America's future.
Though he was initially hesitant to speak publicly about slavery, by the 1840s Emerson came to believe that American culture could be used to advance the cause of emancipation. He wasn't alone: His view was shared by many other transcendentalists and prominent New England abolitionists. In May 1857, he convened at the Parker House Hotel in Boston with several of them, including Lowell, Holmes, and the poet Henry Wadsworth Longfellow. Together they founded a magazine dedicated to advocating abolitionism and promoting American voices: The Atlantic Monthly.
The mission statement printed in the first issue of The Atlantic that November echoed Emerson's expansive philosophy. The founders disavowed prejudice and promised to "be the organ of no party or clique," and to pursue morality and truth no matter where they stemmed from or led to. They sought too to advance American writing and the "American idea" "wherever the English tongue is spoken or read"—a reflection of Emerson's desire for a national intellectual identity that could transcend the country's institutions and borders.
In his earlier work, Emerson had emphasized the importance of great American writers who could offer insight into national life and introduce readers to new moral truths. "We love the poet, the inventor, who in any form, whether in an ode or in an action or in looks and behavior has yielded us a new thought," he wrote in 1844. "He unlocks our chains, and admits us to a new scene." He saw the same potential in The Atlantic. He backed Lowell for the role of founding editor, believing that he would act as an effective guide for the publication rather than pander to its readers.
He also supported the choice to exclude bylines from early issues of The Atlantic, explaining, "The names of contributors will be given out when the names are worth more than the articles." In fact, the magazine included the work of some of the nation's most notable literary figures, many of them connected to Emerson through his work and his carefully cultivated intellectual circles.
As his influence had grown as a writer and lecturer, Emerson had helped inspire and support some of the 19th century's best-known American writers. Primary among these young protégés was Henry David Thoreau, whom Emerson befriended in the late 1830s. He introduced Thoreau to transcendentalist ideas, encouraged him to begin writing journal entries and essays, and provided him land with which to conduct his experiment in simple living. In 1840, Emerson urged another friend and protégé, the journalist and women's-rights activist Margaret Fuller, to publish Thoreau's first essay in the Transcendental Club's magazine, The Dial (a publication that Emerson also helped establish). Following Thoreau's early death, in 1862, Emerson helped champion Walden and secure the book and its author vaunted positions in the pantheon of American literature.
In 1842, Emerson gave a lecture appealing for a distinctly American writer who could give voice to the yet "unsung" nation. In attendance was a 22-year-old Walt Whitman, who was determined to answer his call. "I was simmering, simmering, simmering," Whitman later said. "Emerson brought me to a boil."
In 1855, Whitman paid for his first collection of poetry, Leaves of Grass, to be printed at a local shop, and sent one of the first copies to Emerson. Emerson responded soon after with a laudatory letter. "I find it the most extraordinary piece of wit and wisdom that America has yet contributed," he wrote.
Inspired by the positive response, Whitman passed Emerson's letter on to an editor at the New York Tribune and quickly paid to produce a second edition of Leaves of Grass. He printed a phrase from Emerson's letter on the book's spine: "I greet you at the beginning of a great career."
Early issues of The Atlantic featured Whitman's poetry and Thoreau's essays, along with short stories from Louisa May Alcott, the daughter of Emerson's close friend Bronson Alcott; Nathaniel Hawthorne, Emerson's neighbor in Concord, Massachusetts; and Henry James, a friend of Emerson's by way of his father. The community he had created would help establish the new magazine, and further his vision for a generation of American writers who could put the spirit of the young country into words.
Emerson's vision of emancipation shone through in the magazine's approach to slavery, women's rights, and labor rights, among other topics, in the years that he served as a regular contributor. He himself became a leading voice for abolitionism in The Atlantic as the country entered the Civil War, making a passionate moral case that the nation could not survive unless slavery was extinguished.
In one of his most famous lectures, "American Civilization," published in the magazine's April 1862 issue, he reiterated his call for independence from the past. "America is another word for Opportunity," he observed. "Our whole history appears like a last effort of the Divine Providence in behalf of the human race; and a literal slavish following of precedents, as by a justice of the peace, is not for those who at this hour lead the destinies of this people."
He beseeched the government to abolish slavery immediately and permanently. After Abraham Lincoln issued a preliminary version of the Emancipation Proclamation six months later, Emerson hailed the measure as a "heroic" and "genius" step forward in the long fight for moral governance—a fight that would not end when slavery did, but that would continue to march toward ever greater political liberty.
In other essays for the magazine, he urged readers to seek their own freedom outside the bounds of politics. A measure of individual solitude, he wrote, was necessary for the endurance of society. He argued that power was derived from wisdom, and wisdom from the accumulation of personal experience. And the best personal experience was to be found walking in nature alone: nature that "kills egotism and conceit; deals strictly with us; and gives sanity." Out of nature, he believed, could grow good and wise men; out of good and wise men, perhaps, a good and wise nation.
Published over the course of 50 years, his dozens of essays, poems, and lectures in The Atlantic were an encapsulation of the same vision of independence that he'd outlined in "The American Scholar" and that had, by the time he co-founded the magazine, earned him international recognition.
But while Emerson's work was widely read in his time, none of his writing for The Atlantic—nor the hundreds of other essays, lectures, poems, and books he produced over the course of his career—has endured as popular reading in the way of contemporaneous works like Alcott's Little Women or Whitman's "Song of Myself." The selections from Emerson's expansive body of work that have found places on modern syllabi or in anthologies are, in the way of most literary classics, more often referenced than read. He remains perhaps one of the most cited American authors, but his words surface now mainly in the form of decontextualized aphorisms and inspirational quotes: "To be great is to be misunderstood," or "Nothing can bring you peace but yourself."
Reading Emerson's essays, it's not hard to understand why his words have found their most enduring currency in this form. As the literary critic Alfred Kazin observed in a July 1957 Atlantic article, "Emerson's genius is in the sudden flash rather than in the suavely connected paragraph and page."
His writing, on the scale of pithy phrases—or even of paragraphs or brief sections—can be eloquent, clear, moving. On the scale of whole works, however, he charts convoluted, snaking routes toward his point. He overuses rhetorical questions; he tends toward rambling tangents; he dwells overlong on obscure concepts and metaphors; he becomes mired in dense, verbose passages that are at best tangential to his core ideas.
And his ideas were often as convoluted as his writing. He enshrined individualism, urging readers to "trust thyself" rather than being drawn in by "the lustre of the firmament of bards and sages" or relying "on Property, or the … governments which protect it." But he dismissed the idea of deep or lasting individuality, insisting that truth was ultimately universal and "within man is the soul of the whole … the eternal ONE." He argued that society suppressed liberty and that "the less government we have, the better." But he also asserted that "government exists to defend the weak and the poor and the injured party," and called for the state to promote virtue and to protect and secure individual rights. He spoke out against the immorality of slavery and the forced removal of Native Americans. But he also espoused a belief in absolute racial hierarchy even decades after he became a vocal abolitionist.
Yet even these inconsistencies were consistent, in the broadest sense, with Emerson's American idea. For him, emancipation was an eternal work in progress—dependent on an unlimited openness to change, and an endless accrual of new insights and observations. Over the course of a lifetime, he noted, any single person accumulates knowledge through successive years of education, experience, and imagination; over the course of many lifetimes, society en masse incorporates the knowledge of individuals into a broader understanding of the world. He regarded perfect understanding as unachievable, so to him, virtue lay not in achieving it but rather in trying to move closer to it—imperfectly, inconsistently, humanly, the only way it could be done.
In this way, his ideas persist at the very heart of American culture, largely decontextualized from any particular piece of his work.
"Emerson, by no means the greatest American writer .... is the inescapable theorist of virtually all subsequent American writing," the Yale literary critic Harold Bloom wrote in a 1984 article for The New York Review of Books. "From his moment to ours, American authors either are in his tradition, or else in a countertradition originating in opposition to him."
Even if Emerson's most influential lectures and essays are no longer universally read, the works he helped bring to life—such as Thoreau's Walden and Whitman's Leaves of Grass—endure as cornerstones of the nation's literature. His essays shaped a tradition of American essay-writing. His poetry gave rise to some of the country's greatest poets: Emily Dickinson treasured a book of his verse; Robert Frost called him his favorite American poet. Even Hawthorne and Herman Melville, co-signers of The Atlantic's founding manifesto who expressed reservations about the transcendentalist movement—what Melville once, after attending one of Emerson's lectures, referred to as "myths and oracular gibberish"—committed a distinctly Emersonian individualism to the page with characters such as Hester Prynne and Captain Ahab.
Transcendentalism went on to inform subsequent generations of philosophical and religious thought, including the existential musings of Friedrich Nietzsche and the civil disobedience of Mohandas Gandhi and Martin Luther King Jr. Though Emerson never ventured into the visual arts, he influenced the paintings of Georgia O'Keeffe and the architecture of Frank Lloyd Wright.
"Great men," Emerson wrote, "exist that there may be greater men." So he set out to build a culture that could evolve beyond any one moment or person, even himself.
Emerson's house in Concord is surrounded by more famous historical sites. About a mile to the north lies the reconstructed bridge where one of the first battles of the American Revolution was fought in 1775. To the south stretches the northern shore of Walden Pond, where Thoreau retreated to "live deliberately" for two years, beginning in the summer of 1845.
Between them, the boxy white house rises up from the edge of the Cambridge Turnpike like an afterthought, an unremarkable Federal-style structure distinguished from its neighbors only by two neat signs proclaiming it to be "The Home of RALPH WALDO EMERSON." Of the hundreds of thousands of visitors who traveled to the town in 2018 seeking some insight into the nation's history—and some resplendent fall foliage—just 3,000 stopped by to see the home.
Emerson purchased the house in 1835, in the early stages of his new career as a writer and lecturer. When he first moved in, he set out to cultivate a garden. He planted hemlocks when his oldest son was born; pine trees after delivering "The American Scholar"; a fruit orchard as his first collection of essays launched him into international fame.
"I am present at the sowing of the seed of the world," he wrote in 1841. More than a century and a half later, by the side of the Cambridge Turnpike, some of the things he planted still grow.